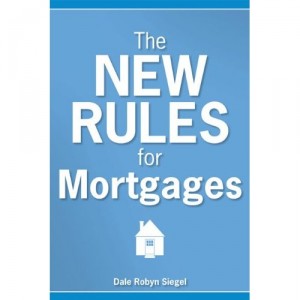 "The New Rules For Mortgages" by Dale Siegel provides a fantastic understanding of everything you need to know about mortgages.  For many, a home is the single biggest purchase of their lives, and the mortgage is a necessary instrument for making homeownership dreams a reality.
Qualifying for a mortgage is daunting, but it doesn't have to be under Dale Siegel's guidance.  After all, who's better to give instructions than the president of her own mortgage company?  It's important to highlight that Dale truly tries to provide readers knowledge about mortgages and doesn't use her book as a sounding board for her company.  The book is like a secret weapon for first time home-buyers who dare tip-toe past enemy landmines.  The enemy is the industry which has adeptly blown off many appendages via exotic liar loans and oh-too-high fees.
Dale prepares you to be the most mortgage ready as possible by going through your FICO score's importance and discussing what your income and financials can provide in terms of debt qualification.
The most helpful chapter for me, and perhaps many readers is Chapter 5, discussing which mortgage is best for you.  As you can imagine, there are many different types of loans, and it's important to match the right mortgage for your income and home ownership duration.
First time home buyers will take comfort in Chapter 7, which guides buyers through the loan process.  There is a lot of paper work, and like a good college application, you need to have your paper work in order to make yourself as presentable an applicant as possible.  Good preparation means money saved!
In summary, "The New Rules for Mortgages" is a great read for anybody looking to buy a house today.  Dale's book will likely save you a ton of headache, and a lot of money because trust me, after buying several properties and going through many refinances myself over the years, I know!
Wealth Building Recommendations
Invest in real estate more surgically: If you don't want to constantly pay massive property taxes, don't have the downpayment to buy property, or don't want to tie up your liquidity in physical real estate, take a look at RealtyShares, one of the largest real estate crowdsourcing companies today. You can invest in higher returning deals around the country for as little as $5,000. Historical returns have ranged between 9% – 15%, much higher than the average stock market return. It's free to explore and they've got the best platform around.
Shop around for a mortgage: Check the latest mortgage rates online through LendingTree. They've got one of the largest networks of lenders that compete for your business. Your goal should be to get as many written offers as possible and then use the offers as leverage to get the lowest interest rate possible from them or your existing bank. When banks compete, you win.
Updated for 2017 and beyond.