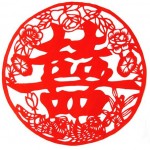 What a coincidence that both Valentine's and Chinese New Year fall on the same day.  In fact, if you're Chinese who celebrates Valentine's Day, this could be the luckiest year of your life!  For those who aren't, you still have 20 more years until 2030 to change your identity.  Let's look at a couple of similarities between Valentine's Day and Chinese New Year.
COLOR: Red is the default color for love and happiness.  Love > Money = Happiness as we explored recently.  If you've got love in addition to money, well then, you're really one lucky barbecue pork bun!
TRADITION: The Chinese give young-ins "hong bao", or red envelopes stuffed with money to sway them to be good.  Lovers also give their honeys money indirectly through dinners, flowers, chocolates, and spa massages, to sway them to do…. you decide.
Chinese civilization has been around for over 5,000 years.  Perhaps they are the original inventors of Valentine's Day, spaghetti, sushi, and the running man dance.  Hmmmm.
The Samurai Fund: We are killing it team!  We didn't capitulate on Toyota Motors, and dog poop Monster Worldwide wins this year's #1 Super Bowl commercial.  TSF is up 0.13% year to date vs. the S&P 500 down 3.55%. As a result of our massive outperformance in this rocky market, Warren Buffet is giving us another $100 million to invest.  With these new proceeds, I invite Flexo to be our newest member.  His selection is Flextronics (FLEX), a vertically integrated electronics manufacture based in Singapore.  Welcome aboard!  (Click TSF link for updated chart.)
Week In Review: Gotta say, it was fun auditioning for Cosmopolitan Magazine with "How To Get Your Super Motivated Boyfriend To Marry You".  The post turned off some women, found support from other women, while speaking to some fellas as you can see in the comments.  Of course, when the guys went back and asked how their girlfriends felt, they all disagreed.  After the 5th year of dating, have a read again and share your thoughts.
Every guy has some degree of SMB in them.  It's not possible to always feel secure, never have any pressure, and marry the girlfriend by year two.  The 50/50 equal effort split is also just a pipe dream.  Someone will always feel more affection than the other.  Persecuted men out there, this one's for you!  Helping ladies help men so men can help ladies sounds like a win-win scenario.
Rest of the Month: We're going to slowly blend back into more personal finance related topics.  I'm happy to present a couple more guest posts, and at least one more book review and giveaway to readers.  As part of the Yakezie Alexa Challenge, I will continue highlighting your work here and on Twitter.  Perhaps you will do the same.
HIGHLIGHT POSTS OF THE WEEK
* "The Difference Between Lifestyle Creep And Inflation" from Money Reasons.
* "A Very Useful List Of Credit Card Calculators" from Credit Card Chaser.
* "If Money Can't Buy Happiness, Should We Just Get Rid Of It?" by Amateur Financier.
* "Be Careful What You Say And Do At Work" from Cash Money Life.
* "Interview With 23 Year Old Poker Player Extraordinaire" from DINKS Finance.
* "Sorry Roger You Tiger Now" by Comcast Cable to celebrate the new year!
Regards,
Sam @ Financial Samurai – "Slicing Through Money's Mysteries"
Follow on Twitter @FinancialSamura and subscribe to our RSS or E-mail feed.
PS, Always appreciate readers who point out typos and grammatical errors.