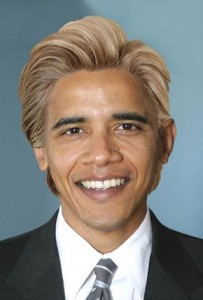 Insensitive statements by Senate Majority Leader Harry Reid (D) not only infuriates many, but also raises one titillating question: Why isn't President Obama considered white? Obama's mother is white, and his father is black. He relates more to his white side of the family given his father left him as a child. Hence, isn't it logical to think Obama is more white than black? Let's see if we can change Obama's default setting to the world.
THREE SUGGESTIONS AS TO WHY



1) "He doesn't look white."
Well, what does "white" look like? Yes, Obama doesn't look like a Norwegian Viking, but you can still tell he's mixed. Since when does being half black mean that he's full black?  If a white person is only supposed to look like Tiger Wood's wife Elin, then we need to revise what the definition of white is.