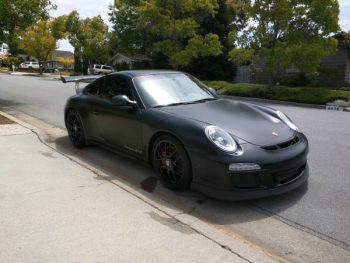 To err is human and frugal living is a necessary element to building long term wealth. At the very least, one has to spend less than one earns to accumulate savings and give oneself a chance of making profitable investments. The financial community has beaten to death basic financial practice such as: Paying oneself first, saving early and frequently to maximize compounding, and budgeting. Hence, we'll skip these common sense practices here on Financial Samurai, and go for a new method of building wealth: Going Broke to Win Big.
The concept of Going Broke to Win Big is simple. Essentially, if you see nothing in your bank account, you're going to do the darndest to try and build some savings and wealth. You're also not going to be tempted to spend frivolously, either. I don't literally mean bankrupting yourself, but simply create three separate banking accounts, and not just three separate accounts within one bank.
If you are like me, you've blown yourself up through dumb investments and unscrupulous spending in the past. The key is to protect yourself, from yourself, and create that renewed sense of urgency to forge ahead and stay disciplined in your finances. You may laugh at the concept of protecting yourself from yourself, but everyone of us has the means of blowing ourselves up financially every single day. We are bombarded with temptations and we have collectively taken down the economy with overspending in recent years.
Below are the basics of "Going Broke To Win Big."
Create three separate bank accounts as follows:
1) The Go Broke Bank. The first bank account is for working capital needs, namely where your paycheck goes, and where you pay all your bills. This bank is your operationally efficient bank which has the best tools for bill pay with the most branches for accessibility. Citibank is a good example, a ubiquitous bank with good online tools, but provides ridiculously low savings rates and horrible credit card rates. Bank #1 is where you are constantly "Going Broke." Your paycheck must be managed so that it lasts to cover all your expenses. But before you pay all you expenses, you must pay yourself first by transferring your target savings automatically to a Bank #2.
2) The Freedom Bank. The second bank is strictly for long term savings via money markets and CDs. This bank may not have as big of a footprint, but it doesn't matter because you don't need to access money from this bank. That's what bank #1 is for. Due to lower overhead, Bank #2 provides better long term savings rates. Online banks such as Ally, and boutique banks such as First Republic provide fantastic rates, often 500-100bps higher than the competition. Do not tempt yourself by creating a checking account. You want money to easily come in (ever notice tellers don't require IDs when depositing?), but very difficult to go out.

3) The Lockdown Bank. The third and final bank is for your debt, namely mortgages, personal loans, and car loans. By loading the majority of your debt with one bank, you compartmentalize your debt which may relieve you of any mental stress related to this debt. It's easier to tackle your debt at one bank and employ the "Snowball Method." Furthermore, from the bank's point of view, you may get better rates given you are such a good debtor customer. You're buying debt in bulk from Costco if you will, and in normal times, they want your business and will give you discounts. During crisis times, it's also good to have all your debt in one place b/c your bank doesn't want you to cause a default cascade and will do their best to work with you.
For insurance purposes, one should set up a "checking plus" account which serves as an insurance mechanism just in case you go past $0 in your main checking account.  I've come close, and have breached zero multiple times over the years, and the $5,000 checking plus account I have has served as a handy buffer.  I've never been over by more than $300, and interest on $300 for one day is nothing.  A checking plus account should be free. If it's not free, ask for it to be free, and if they don't budge, find some other "go broke bank" to use.
Related: Check out CIT Bank for the highest online savings account today.
CONCLUSION
All banks strive to cross sell as many products as they can. They try and capture you with rewards points and so forth. The goal is to protect yourself from spending unscrupulously with the commingling of monies through one bank, and to force yourself to actively manage your budget. Humans are weak, and we need to constantly remind ourselves to focus on our finances.
After using the "Go Broke" system for the past 5 years, I know exactly what's going into and out of my checking account within 10 dollars. When the fuel tank is running low with only $200 left for the month, I should probably go on a nature hike than go play poker with the buddies this weekend. Lavish spending has gone out the window since employing this method as well. I pretend everyday that all I have left in the world is in Bank #1. The dearth of money keeps me motivated to work hard, keep on budgeting, and focus on my finances. Meanwhile, the growth of savings in Bank #2, and the decline in debt in Bank #3 is optimized and automatic.
Wealth Building Recommendations
* Shop Around For A Mortgage: Credible offers some of the lowest refinance rates today because they have a huge network of lenders to pull from. If you're looking to buy a new home, get a HELOC, or refinance your existing mortgage, consider using LendingTree to get multiple offer comparisons in a matter of minutes.When banks compete, you win.
* Manage Your Finances In One Place: One of the best way to become financially independent and protect yourself is to get a handle on your finances by signing up with Personal Capital. They are a free online platform which aggregates all your financial accounts in one place so you can see where you can optimize your money. Before Personal Capital, I had to log into eight different systems to track 25+ difference accounts (brokerage, multiple banks, 401K, etc) to manage my finances on an Excel spreadsheet. Now, I can just log into Personal Capital to see how all my accounts are doing, including my net worth. I can also see how much I'm spending and saving every month through their cash flow tool.
Finally, they recently launched their amazing Retirement Planning Calculator that pulls in your real data and runs a Monte Carlo simulation to give you deep insights into your financial future. Personal Capital is free, and less than one minute to sign up. Ever since I started using the tools in 2012, I've been able to maximize my own net worth and see it grow tremendously.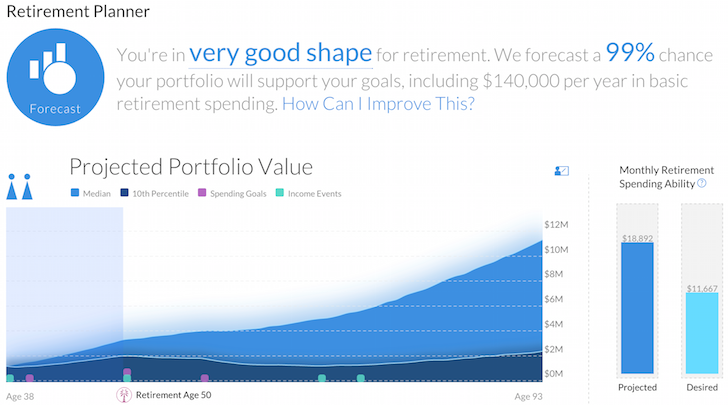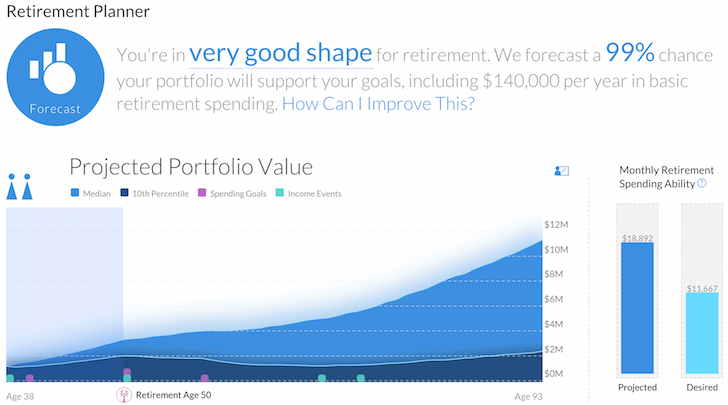 Is your retirement on track? Check with PC's Retirement Planner
Updated for 2020 and beyond. Now is more important than ever to track your net worth because the easy money has already been made.