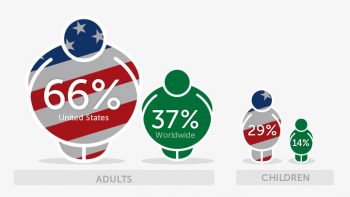 As a healthy 39 year old male who doesn't have a day job, I pay roughly $700 a month for healthcare in the US. I've often wondered why healthcare costs so much in America when it's free or extremely affordable everywhere else in the world. Despite helping subsidize my lower income brothers and sisters under the Affordable Care Act, I looked at recent pictures of myself and realized I'm part of the problem, not the solution.
At 167-170 lbs, I'm considered overweight for a 5'10" male. I should be closer to 150 – 155 lbs according to my doctor I visited for sleep apnea earlier in the year. It's hard to hear that I'm overweight, but deep down I know I am because I once weighed 150 lbs in college. Further, every time I travel to Asia, I'm reminded how much skinnier folks are there compared to in the US.
Every year I have a goal of trying to hover around 160 lbs. I realize being overweight can lead to heart disease, type 2 diabetes, stroke, cancer, osteoarthritis, fatty liver disease, kidney disease, and ultimately an early death. Treating all these problems costs the system money and I apologize for losing my battle against the bulge. I've invited Financial Samurai reader JW from The Green Swan to share his thoughts about healthcare as a healthcare investment banker. In the meantime, I'll be going for a jog.
Who am I and why am I writing about healthcare?
I've had the benefit of working as a healthcare banker for the last five years during some of the most interesting times in healthcare in the U.S. Not only have we approved and implemented the Affordable Care Act (Obamacare), this is also one of the most active acquisition environments in the history of healthcare and healthcare continues to be a primary political issue in the upcoming election as a certain contingent of folks want to repeal/replace Obamacare.
One of the primary focuses of my job is to dig in and understand the broad and multi-faceted healthcare industry, I've had a number of shocking and eye-opening experiences. I've grown to be a major skeptic of our healthcare system and its various flaws. And on top of that, I've had some of the most expensive healthcare years in my lifetime in the last couple years which has given me further insights into various treatment and billing practices, none of which I would describe as being consumer friendly.
I'm not here to say there aren't issues with our healthcare system. Of course there are, but put the skepticism aside for a moment and I'd still argue the greatest issue with our healthcare system is the patient, not the system.
What are some of the issues driving up costs in our healthcare system?
I don't want to be accused of being short-sighted, I recognize there are a number of issues currently plaguing our healthcare system, and I've touched on a few below. This includes waste, a significant variation in hospital prices, non-profit hospitals acting like for-profits, and pharmaceuticals being overly expensive.
Waste
Yes, there is plenty of waste in the system and there are many smart people working to solve this problem. Technological advancements and electronic health records are part of the solution. But there is a lot of waste in the form of (1) redundant or unnecessary services and testing being completed, (2) excess, unused and disposed pharmaceuticals, (3) missed opportunities for earlier diagnoses and prevention, etc.
This has been a constant issue and it can be hard sometimes to draw the line between unnecessary testing and being legitimately cautious or concerned about an ailment and therefore ordering additional testing and analysis.
However, a report from the Institute a Medicine quantified these categories of waste to amount to approximately $475 billion in 2009, or 20% of the total healthcare spend in the U.S. Fast forward to a healthcare budget of $3 trillion today, that would amount to an estimated $600 billion in wasted spending on healthcare.
Significant Variation in Hospital Prices
Prices have shown to vary widely, not only across the U.S. but also within certain geographic areas. Naturally, you would expect that hospitals with higher quality ratings would charge a higher price, but that hasn't been shown to be the primary driver to price variances. Instead, it has a large part to do with competition within geographies. Hospitals with monopolies or even a duopoly have shown to be the primary driver to charging higher prices.
The fact that a hospital may have a monopoly may be attributable to certificate of need (CON) laws enacted in many states. CON laws were originally designed to limit the construction of excess hospital capacity that would cause competitors to over-charge to cover the high fixed costs of operation. However, CON laws may actually result in higher prices as they ultimately provide significant barriers to entry by competitors and cement monopolistic advantages.
Today, 38 states have CON laws in place (including Puerto Rico and DC). However, the 14 states that have discontinued CON programs have retained some provisions to regulate costs and duplication of services.
Non-Profit Hospitals Acting like For-Profits
A wide amount of literature has documented that non-profit hospitals behave very similarly to for-profits in terms of prices they charge including those that have monopolies in certain communities. Non-profits do provide free services for those who can't afford it (uncompensated care), but so do for-profit hospitals. And non-profits receive subsidies due to being exempt from income tax which amounts to approximately $30 billion per year. When compared to the total cost of healthcare in the U.S. of approximately $3 trillion, this amounts to only 1%. Collecting an incremental $30 billion from non-profits would be a good start; however, this won't fix the underlying issue.
Pharmaceuticals are Overly Expensive
Well, yes and no. It is true that the U.S. pays more for drugs than even other wealthy nations such as Canada, Germany, and Japan. This is largely due to the U.S. lacking any sort of central or universal healthcare system responsibility for negotiating or regulating such costs. To me, this appears fixable and definitely something policy experts should consider.
While it is difficult to find specific data showing the price variances of pharmaceuticals country-by-country (primarily just anecdotal information is available), a recent example would be the disclosure by Novartis in April 2016 of general price levels for one of its recently launched drugs. Entresto, for treatment of heart failure, costs about 50% less in Europe than in the U.S. Why? Simply because they can, it is an economic consideration they've made.
Novartis' drug Entresto is not the only example, it is just a readily available example provided directly from the Company, but basically all companies operate under this strategy. It has even led to a new business opportunity for some in Florida where there are currently about 15 stores that help customers place pharmaceutical orders in Canada and overseas at prices up to 70% off U.S. prices (per Kaiser Health News).
But on the flip side, it is important to remember that drug prices are also dependent on the complex and lengthy drug development and approval process, helping to justify the high prices. They also help to reduce and prevent future ailments and healthcare expenditures down the road (i.e. ongoing hospital visits).
On average, it costs pharma companies $350 million to advance a drug through development, clinical trials and approval, a process that on average takes 12 years. And only 1 in 10 drugs reach FDA approval and even fewer are considered a commercial success thereafter. This means that the successful drugs need to offset not only its own development costs, but also the failed development of other drugs.
So the price of pharmaceuticals can be justified to an extent based on the significant costs pharma companies need to recoup plus an acceptable level of profit considering the incredible market risk in developing drugs. And quite honestly, I feel drug development is worth encouraging with good profits due to the long term humanitarian benefit of having some of the cures we take for granted today.
The biggest issue driving up healthcare costs…
While I've acknowledged the above issues have driven up the cost of medical care, the biggest issue driving up healthcare costs is poor health!
It is time we take some responsibility too…
The price we most frequently see as consumers is our health insurance premiums and annual deductibles which have been increasing year after year. And the reason health insurance is becoming more expensive is because the cost of healthcare continues to increase. And one of the main reasons why the cost of healthcare is increasing is because we require and utilize healthcare services more frequently (including physician visits and use of pharmaceuticals)!
The most expensive form of healthcare by far is an emergency room visit as it is very expensive to staff the ER with doctors around the clock. According to a Center for Disease Control (CDC) report titled Health, United States, 2015: At a Glance published in 2015, the number of visits to the ER increased over 26% from 2000 to 2011 (the latest year available). Meanwhile, the US population over that time period only increased a cumulative 10%. And more generally, all types of doctor visits over that time period increased over 23%, significantly outpacing population growth.
According to the same CDC report, the use of pharmaceuticals in the US has also significantly increased. Individuals using at least one prescription has increased from 39.1% over the years from 1988-1994 to 47.3% from 2009-2012. Over the same time periods, individuals using 3 or more prescriptions have increased from 11.8% to 20.6% while those using 5 or more prescriptions have increased from 4.0% to 10.1%!
While healthcare costs cannot be avoided entirely, there are lifestyle choices we make that can impact the likelihood of being diagnosed for many ailments in the future. For example, smoking cigarettes has been clearly linked to a higher incidence of lung cancer and poor eating and exercise habits have led to a higher onset of obesity, diabetes, and cardiovascular disease.
Let's not forget that type 2 diabetes (caused by obesity and lack of exercise) used to be referred to as "adult onset diabetes"; we can't call it this anymore because of the increased prevalence of being diagnosed in children! This goes to show that poor lifestyle habits can be developed early and modeled after the poor decisions of adults and parents.
Yes, some of the other issues with our healthcare system could benefit from more transparency along with more dynamic and competitive markets. That leads us to another problem: how political healthcare is. The amount spent on healthcare lobbying in Washington D.C. is incredible, especially for the pharma lobby. But each one of the issues above is derived by an underlying need for healthcare services. And frankly, the inefficient and excess costs outlined above may only be exacerbated by the fact that we utilize more healthcare services.
Conclusion
I hope you come away enlightened as to a number of the issues negatively impacting our healthcare system today. There is no doubt that healthcare has been a crisis in development over the last few decades. And if you ask me, the root cause is we do not take ownership for our own health. If we want to manage healthcare costs, we should start by managing our lifestyle. Focus on improving our health, eating better foods and exercising regularly.
I recognize poor lifestyle choices and bad habits are not the only cause for increased medical care, but it is a significant issue and one that we have direct control over. I also recognize this is a personal finance blog, but it is foolish to not see the direct impact of maintaining good health has on our wallet as well as the quality of life in retirement. Time to take action and take control of your health!
Related:
How Much Life Insurance Do I Really Need?
Should I Get Long-Term Care Insurance?
Almost Everyone Is Overweight Or Obese It's Frightening
Author Bio: JW is just an average Joe that worked hard and saved $1 million in ten years.  He grew up in a small town in the Midwest, got average grades at an average school, but after graduating he worked hard to advance his career, saved everything he could, and is now on the path toward Financial Independence in 5 years at age 35. He is also a recently published author of The Green Swan: Work Harder, Work Smarter, Retire Earlier and Find Your Beach.  You can find out more about his new book and most recent articles on his blog, The Green Swan.