You can't schedule storms.  If I could, I would schedule all my snowboarding trips around them.  There's nothing better than going up to the mountains after a big dump and floating on fresh powder.  If you've ever watched the movie Point Break, you realize the holiness of perfect conditions.  Instead of getting locked up for the rest of his life given all his bank robberies, Bodhi paddles out into 40 foot swells and rides his last wave.  That's kind of how I feel when mega storms arrive.  I drop everything and make it a point to go out and hit the slopes.
Perhaps part of the reason why I love San Francisco so much is because of the great outdoors.  Where else do you feel happy instead of depressed when it starts raining in the city because you know it means it's snowing in Lake Tahoe, just a 3-4 hour drive away?  Where else can you ride 3 feet of powder and drive back into the city and play golf in 70 degree weather the next day?  Nowhere, which is why it's so hard for me and many residents in the Bay Area to leave.  It's hard to imagine living in freezing cold weather with no mountains close by.  It's like living on the top of the hill with no view.  What's the point?
LAST MINUTE TRIP
I decided last week to take the following week off to hit the slopes.  The other option was spending $1,000 on a plane ticket to Maui to see some friends, lay on the beach and ride some waves.  Maui will always be there, but the storm of the decade is only once every 10 years you know.  I'm renting a house that's too big for us (see picture) since that's all they had left on such short notice.  Don't ask me how much it costs a night, because it's kind of scary!  Everything costs a little more thanks to my lack of planning.  But again, you can't schedule storms.
I'm thankful for work's flexibility in allowing me to take off on short notice.  The freedom to be able to just get up and go is due to a proper system put in place that ensures seamless work.  I'm a fan of The Clock Builder, which is what allows organizations to thrive due to a collective force.  It's also one of the reasons why I love my organization so much.
VACATIONS ARE (MORE) FUN BECAUSE OF WORK
I always wonder whether vacations would be as fun if I didn't have to work.  The more I experience, the more I'm afraid the answer is "no."  When I'm on vacation for more than 10 days, I start itching to get back to work because there's so much going on in the world!  When I've worked for three consecutive months, I start itching to go away for a week.  Funny how things find a way to naturally balance out.
I've discovered that six weeks off a year is the optimal amount.  It allows me to explore one or two new countries a year on my quest to visit 60 or more before I die.  Six weeks also allows for a couple weeks in the mountains and a couple weeks on the beach.  If I take much more than six weeks off, it starts getting expensive as I'll then need to start dipping into my savings instead of simply using cash flow.
Yes, vacations are fun because of work.  Meanwhile, work is fun because of the freedom to chase storms.
Readers, what is your ideal amount of vacation a year?  Are there some events in nature or in life you have to pursue at all cost if they happen? Besides freedom and income, what other things make you appreciate or even love your job?

I always book through Expedia given their great deals. Click the banner below to book your own vacation adventure!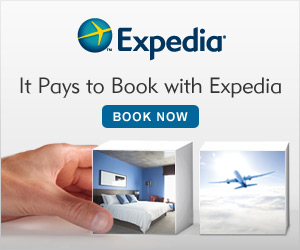 Best,
Sam Bodhi