After June 2017's rate hike, the Fed has now raised their Fed Funds rate by a full 1% since the financial crisis began in 2008. The benchmark interest rate range is now between 1% – 1.25%, with more Fed hikes likely to come. See chart below.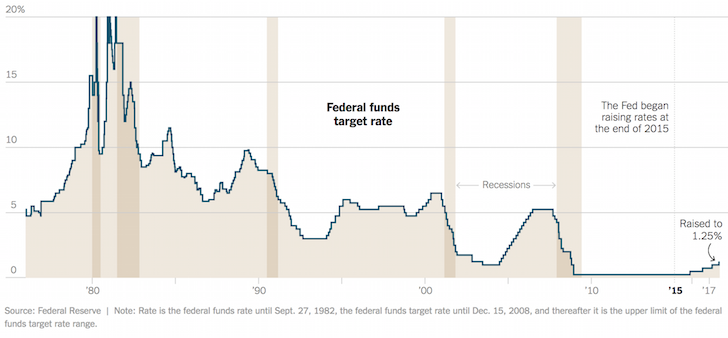 Despite the Fed raising interest rates three times since December 2016, mortgage rates have actually declined during this period. For example, the average interest rate for a 30-year fixed mortgage has declined from roughly 4.35% in December 2016 down to 3.9% today. Meanwhile, the average 5/1 ARM has declined from around 3.55% down to 3.17% during the same period. What gives?
The simple answer is that the Fed does not control mortgage rates. The bond market does.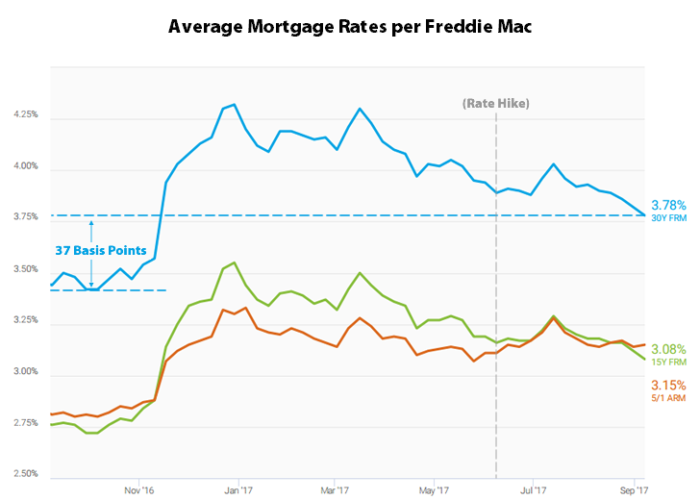 The Federal Reserve sets the overnight lending rate (Fed funds rate), which determines how expensive it is for banks to lend money to each other on overnight transactions. This short-term rate helps determine money market rates, checking account rates, short-term CD rates, and even egregious credit card rates.
Mortgage rates, on the other hand, are influenced by the 10-year US Treasury bond, which is determined by the market, not the Fed.
After President Trump got elected on November 8, 2016, the US Treasury bond market sold off aggressively due to investors' expectations that Trump would be good for growth and therefore cause inflationary pressure. Bond yields and therefore mortgage interest rates surged by roughly 0.75% during a one and a half month period of euphoria.
Since the beginning of 2017, however, you've seen a steady rise in Treasury bond values, resulting in declining interest rates. Why? Because the market is realizing that tax cuts, deregulation, increased infrastructure spending, and all sorts of other promises Trump made during his campaign may take longer than expected to implement, if at all.
Further, given the amount of uncertainty in the world, from North Korea's saber rattling to the refugee crisis in Syria to hyperinflation in Venezuela, foreign investors have sought to park their cash in US Treasury debt because we're seen as a safe haven.
Despite the 10-year US Treasury bond only yielding roughly 2.2%, that's still much higher than 10-year Treasury bonds from countries like France (0.6%), Germany (0.3%), Japan (0.0%), and Switzerland, where you actually lose money lending (-0.2%). Remember, everything is relative in finance.