The best online brokerages are rated based on the following criteria:
Platform
Technology
Ease Of Use
Cost
Accessibility
Picking stocks is a losing proposition in the long term because most people are not professional investors and most professional investors UNDERPERFORM the S&P 500 index. Therefore, it's best for individual investors to stick to low cost index funds and ETFs instead. The following are the best online brokerages for investors to leverage today.
What Is A Robo Advisor?
A robo-advisor (robo-adviser) is an online wealth management service that provides automated, algorithm-based portfolio management advice without the use of human financial planners. Robo-advisors (or robo-advisers) use the same software as traditional advisors, but usually only offer portfolio management and do not get involved in more personal aspects of wealth management, such as taxes and retirement or estate planning.
Robo-advisors are typically low-cost, have low account minimums, and attract younger investors who are more comfortable doing things online. The biggest difference is the distribution channel: previously, investors would have to go through a human financial advisor to get the kind of portfolio management services robo-advisors now offer, and those services would be bundled with additional services.
Firms like Raymond James, Edward Jones, BoA Merrill Lynch, and Goldman Sachs charge 1.5% – 3% of your assets under management and often require minimums as high as $500,000 to start. With robo-advisers, the fees are in the 0.15% – 0.5% range, and you can start with as little as $500. In other words, robo-advisers are great for everyday people to get similar investing know-how based on Modern Portfolio Theory for less.
#1 Wealthfront
Wealthfront – Based in the San Francisco Bay Area, Wealthfront is the original robo-advisor and launched in 2011. Its board includes Dr. Burton Malkiel, professor of economics, emeritus and senior economist at Princeton University. He is most known for authoring the classic finance book, A Random Walk Down Wall Street, now in its 12th edition. Wealthfront charges just 0.25% to manage your money, with the first $15,000 free using my link.
Sign up for Wealthfront for free and have them construct a model portfolio for you.
Read the full Wealthfront review here.
#2 Motif Investing
Motif Investing – Motif Investing is unique because it allows you to build a portfolio of up to 30 positions for only $9.95. Rather than building positions one by one for $7.95 each, for just $9.95 you can invest in an idea or theme. For most people, this is a much more efficient, risk appropriate way to invest. You can also rebalance your entire 30 position portfolio as well for only $9.95. Too many retail investors take outsized risk by investing too much in one position. Motif Investing solves this problem.
Read the full Motif Investing review here.
#3 Betterment
Betterment was founded in 2008 and is the largest online-investment advisor with over $5 billion in assets under management (AUM). In March, 2016 Betterment raised $100 million in a Series E round venture funding led by Kinnevik, a Swedish investment firm. With over $200 million in total funding since inception, it's clear Betterment is here to stay for the long term. Clients pay as little as 0.15% for Betterment to manage their money.
Read the full Betterment review here.
Bonus: Best Free Financial Software
Personal Capital – Personal Capital has the best financial tools for investors and people who are the most serious about planning for a healthy retirement. You can easily x-ray your portfolio for excessive fees, get a snapshot of your asset allocation by portfolio, track your net worth and plan for your retirement. Personal Capital is free and should be used by all serious investors looking to retire comfortably.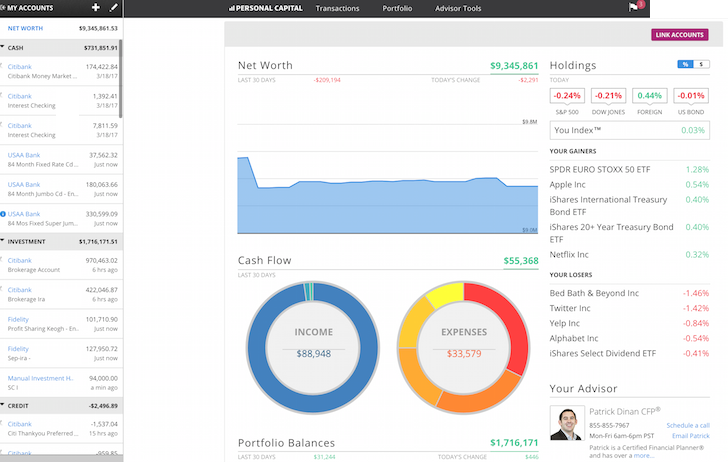 Read the full Personal Capital review here.
About the Author: Sam began investing his own money ever since he opened an online brokerage account in 1995. Sam loved investing so much that he decided to make a career out of investing by spending the next 13 years after college working at Goldman Sachs and Credit Suisse. During this time, Sam received his MBA from UC Berkeley with a focus on finance and real estate. He also became Series 7 and Series 63 registered.
In 2012, Sam was able to retire at the age of 34 largely due to his investments that now generate roughly $200,000 a year in passive income. He spends time playing tennis, hanging out with family, consulting for leading fintech companies and writing online to help others achieve financial freedom.
FinancialSamurai.com was started in 2009 and is one of the most trusted personal finance sites today with over 1 million pageviews a month. Financial Samurai has been featured in top publications such as the LA Times, The Chicago Tribune, Bloomberg and The Wall Street Journal.