Online finance startup SoFi has confirmed that it raised an additional $500 million in equity financing led by private equity firm, Silver Lake. The new funding round brings total equity financing to $1.9 billion, making SoFi the most well-funded fintech company in history. Other investors in the round include SoftBank and GPI Capital.
The $500 million in equity funding is a Series F round that values San-Francisco SoFi somewhere in the range of $4 billion and $6 billion as of February 26, 2017. The value will remain at this range until the next round of funding some time in 2018-2019.
SoFi is best known as an online lender targeting so-called HENRYs (high earners, not rich yet) with student loan refinancing and other financial services. Rather than look strictly at FICO scores as a measure of credit-worthiness, SoFi also takes into account factors like income and cash flows as it evaluates potential "members."
While SoFi more than doubled from 100,000 members in 2015 to 225,000 at the end of 2016, that's still a very small number relative to the size of the U.S. financial services market.
In addition to offering more services, SoFi is also looking beyond U.S. borders. The company says it plans to expand service offerings to Australia and Canada by the end of the year.
SoFi Company Overview
Date Founded: August, 2011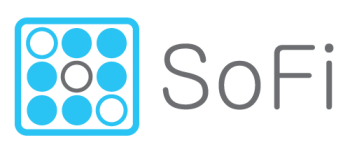 Founders: Michael Cagney, Ian Brady, Daniel Macklin, James Finnigan
Headquarters: Building A, 1 Letterman Dr #4700, San Francisco, CA 94129
Description: Social Finance (SoFi) is a finance company that offers a range of lending and wealth management services. The company primarily caters to early-stage professionals and offers variable and fixed rate parent, personal, and MBA loans, mortgage refinancing, and more.
Contact: pr@sofi.com | (866)357-6342
Sign-up link: SoFi
SoFi Management 2018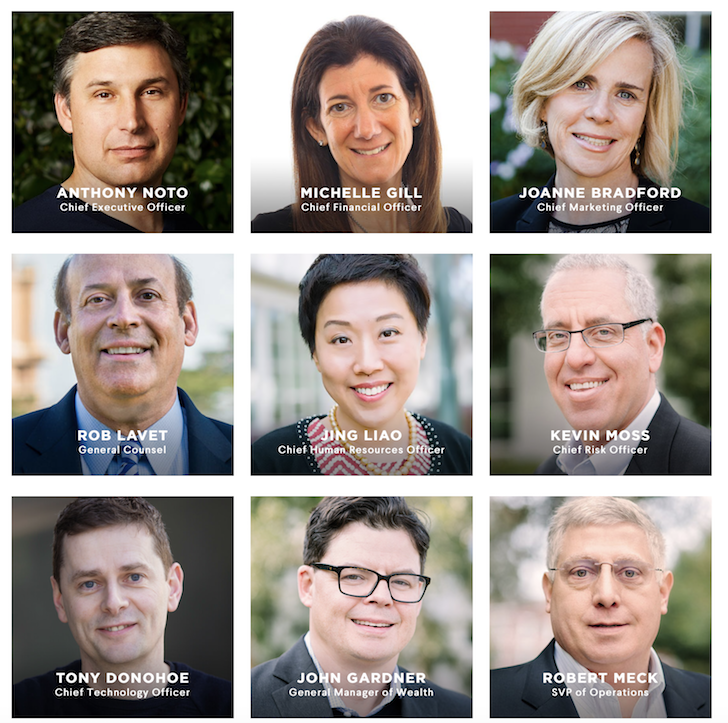 It's a small world because I used to work with SoFI's new CEO, Anthony Noto at Goldman Sachs between 1999-2001. He was their internet analyst and we used to call him Anthony "No Bonus" during the dotcom bust of 2000. But look at him now!
SoFi Funding History – $2 Billion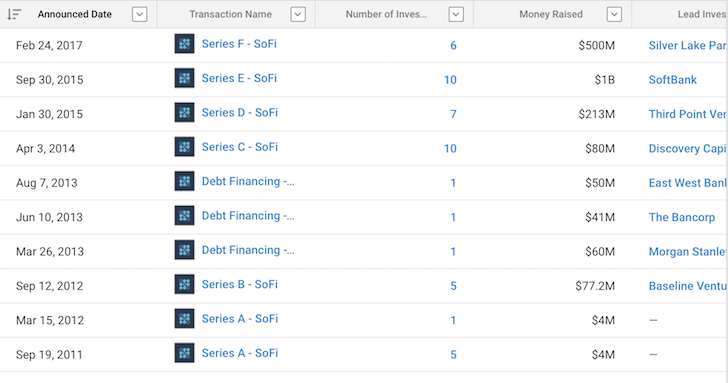 Feb, 2017: $500M Series F led by Silver Lake
Social Aspect To Lending
What I found most intriguing about SoFi's student loan refinance program is that it has this great unemployment benefit clause where it will pause your debt repayment schedule if you lose your job. Interest will still accrue while you are looking for work, but at least you're saving some cash flow when you need it most. Now that's some pretty good unemployment insurance!
SoFi also offers other benefits that traditional lenders don't. For example, career advising, networking events (which I've attended), and entrepreneurial support to help borrowers achieve financial and professional success. To date, SoFi has helped about 70 SoFi members secure new jobs through its Job Search. Another 30 have gone through their Entrepreneur Program. Participants from SoFi's first two classes boast two acquisitions, one merger and several rounds of multi-million dollar funding.
What I really like about SoFi is that their underwriting process takes into account merit, education, and quality of employment history, in addition to the traditional income, credit score, and existing debt levels assessed by traditional banks. I firmly believe that if I went through SoFi's mortgage refinance process back in early 2015 when the 10-year yield was at 1.68%, my refi would have passed.
SoFi's Two Main Products
Student Loans:
* Rates as low as 1.9% variable with auto pay and 3.5% fixed with auto pay
* Zero origination/prepayment fees
* Offer terms from 5, 10, 15, 20 in both fixed and variable
* Can refinance both private and public student loans.
* Offers Unemployment Benefits
You can apply to refinance a student loan here.
Personal Loans
* Rates from 4.04-8.99%
* Can lend up to $100K
* No origination/prepayment fees
* Unemployment benefits
You can apply to consolidate your high interest rate loans here.
SoFi has since expanded to mortgage loans and life insurance as of 2017.
SoFi Loan Application Snapshots
Here are a few snapshots to show you what the application process looks like for borrowers on SoFi.
Welcome screen: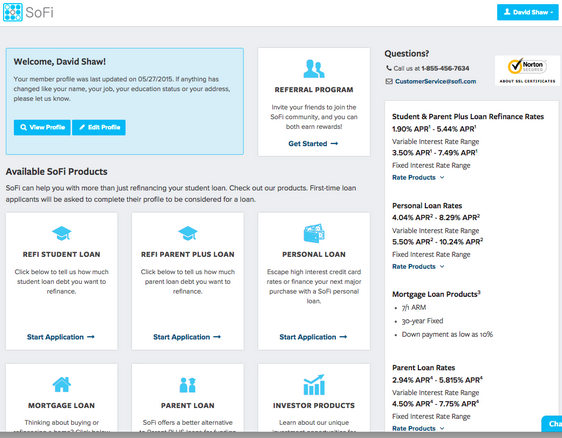 Step 1 of populating your Profile is basic personal information: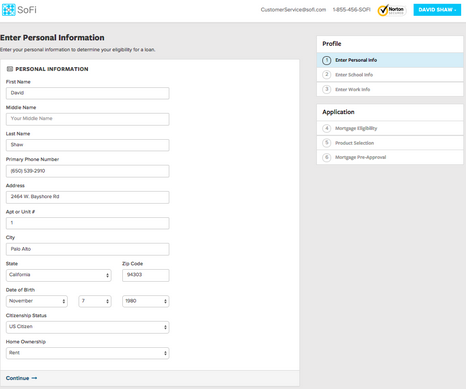 Step 2 is where you enter your education information including your graduation date: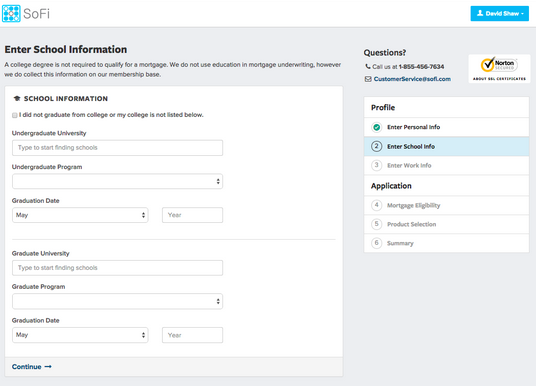 Next is typical employment information including your current employment status and salary:
And here's a snapshot of what the application form looks like for their mortgage products:
It's all very straightforward and doesn't take that long to complete.
Take Advantage Of SoFi For Lower Rates
Everybody who has a student loan or high interest personal loan should get a quote from SoFi to see if you can refinance your existing rates.
Click here to get lower rates on your student loans.
Click here to get lower rates on your personal loans.
About the Author: Sam began investing his own money ever since he opened an online brokerage account in 1995. Sam loved investing so much that he decided to make a career out of investing by spending the next 13 years after college working at two of the leading financial service firms in the world. During this time, Sam received his MBA from UC Berkeley with a focus on finance and real estate. He also became Series 7 and Series 63 registered. In 2012, Sam was able to retire at the age of 34 largely due to his investments that now generate roughly $200,000 a year in passive income. He spends time playing tennis, hanging out with family, consulting for leading fintech companies and writing online to help others achieve financial freedom.
About Financial Samurai: FinancialSamurai.com was started in 2009 and is one of the most trusted personal finance sites today with over 1 million organic pageviews a month. Financial Samurai has been featured in top publications such as the LA Times, The Chicago Tribune, Bloomberg and The Wall Street Journal.