People have been freaking out lately by a weak US dollar.  I'm here to tell you it doesn't really matter.  Did you know that 60% of Americans have never left the country and less than 25% of Americans own passports?  Most of the 40% who leave come back, so it's only a temporary amount of time when their purchasing power may be relatively hurt.
An even better statistic states that only 20% of Americans speak a foreign language.  Hence, where the heck are the 80% of Americans going to go if they can't communicate with the locals?  Ok, so they may understand what "I want a double quarter pounder with cheese please" in English means, but we aren't going very far if we can't speak another language.  Sure a vacation is fine, but it's not like we Americans are suddenly going to relocate overseas and establish roots.
If you are an American who makes a US$ denominated salary, buys US$ denominated assets like property, consumes Levi's jeans, and never plans to leave the country, what are you freaking out about? The US Dollar can depreciate by 90% against the Euro, and it still wouldn't really matter.  The government is crushing our currency on purpose and you know the government would never, ever, ever do anything to harm the people they serve.
INFLATION FEARS OVERBLOWN
Economic theory states that for every new dollar printed, inflation will rise by a commensurate amount, eventually.  You can read more about the IS/LM model at work here, but it's boring as hell. The issue is that the output gap is running at 7-8%, so there's still a ton of slack and you don't have to worry about inflation.
Yes, it might suck that your BMW becomes prohibitively expensive in the short run, but in the long run, if European and other foreign producers desire to sell to the US, they will find ways to lower their prices accordingly.  In the meantime, shouldn't you be buying American in this economy anyways?
You might argue that so much of the input costs of the final good comes from foreign labor and parts.  That's true, but all you have to do is move down the cost curve in your consumption patterns.  Instead of buying the TV from Best Buy, you go to Costco.  Instead of buying the couch from Pottery Barn, buy from WalMart.
GOOD FOR EXPORTS
A weak USD helps US exports, making our goods cheaper to foreigners.  If we can't sell goods at home due to a weak economy, what a blessing it is to sell to foreigners!  We dump our inventory on them, and make some money in the process!  The problem is the US is a relatively closed economy with exports as a % of GDP hovering at 11%, or #157 in the world compared to Singapore, at 173%.  In this regard, a weak dollar only helps a small percentage of the economy, but also  argues the point that we are a self sufficient country.
The most interesting exchange rate competition lies between the Korean Won and Japanese Yen.  Over time, you've seen Korea's export economy resemble that of Japan's export economy.  Toyota is matched up against Hyundai, while Sony battles with Samsung Electronics.  Korea's export manufacturers are eating a lot of their counterpart's bento boxes recently!
FUNDING OUR DEBT
Many fear that if the USD continues to depreciate, foreigners will stop funding our debt (buying our treasuries).  That could be true, but frankly, foreigners like the Chinese are STUCK with over $800bn in US treasuries!  If they stop buying our pitifully yielding 3.3% 10-year Treasuries,  their US Treasury portfolio is going to tank, and they are going to lose billions more!  Would you chop off your arm if you only had to chop off your pinky (accept lower rates)?
China can't help but not continue funding our debt because it is one big "virtuous" cycle.  Americans need cheap money to leverage ourselves to buy cheap Chinese goods (we imported $340bn worth of Chinese goods last year), and China likes selling their cheap goods to us.  The world knows Americans are addicted to consumption and in a way, foreigners are like junket Casino operators who extend credit to addicted American gamblers.  One day we will have to pay back the loan, or face a big man in a dark alley ready to break our knee caps. But, for now, the USD will remain the reserve currency of the world as foreigners can't live without our consumption power.
LET'S TANK THE US DOLLAR TO OBLIVION!

Let's be very clear here.  The fear of a weak USD stems from the protectionist mentality of America's business and political leaders whenever a recession hits.  A weak currency invites "foreign invaders" who end up purchasing more of our assets, goods & services which for some reason folks don't like.
There's also a pride issue for those who really care about our currency.  We're embarrassed when we see that the USD no longer buys 100 Yen to the dollar.  But, who cares?  Honda Accords are made in the US anyway!  A weak US dollar is a symptom, not a problem. Get over it and start chanting, "USA, USA, USA!"
Summary: Most Americans only speak English, seldom ever travel to a foreign country, and can't afford fancy BMWs and other foreign cars because they don't make at least 10X the cost of the car.  As a result, a weak dollar is actually good for USA. Let's go export industry!

RECOMMENDATION
Invest In Ideas Not Stocks: Motif Investing is a terrific company based right here in the San Francisco Bay Area. They've raised over $60 million dollars from smart investors such as JP Morgan and Goldman Sachs because they are innovating the investment landscape with their "motifs." A motif is a basket of 30 stocks you can invest in, which are aimed to profit from a specific idea or underlying theme. Let's say you think new housing construction is going to quicken in the US next year. You could buy a housing motif which might contains Lennar, KBH, Home Depot, Bed, Bath, and Beyond, Zillow, and more in various weightings.
You can buy a basket of 30 stocks for only $9.95, instead of buying them individually for $7.95 through a typical broker. You can build your own motif, buy one of the motifs created by Motif Investing, or buy a motif by a fellow Motif Investor with a great track record. You can even buy retirement motifs, much like target date funds, except you don't have to pay the 1% management fee. You get up to $150 free when you start trading with Motif Investing. Given my focus on buying winning long-term ideas and ignoring the short-term volatility, I really like Motif Investing's value proposition for retail investors.
Mobilize Your Idle Cash Earning Nothing: Wealthfront is an excellent algorithmic advisory choice for those who want the lowest fees and can't be bothered with actively managing their money themselves once they've gone through the discovery process. In the long run, it is very hard to outperform any index, therefore, the key is to pay the lowest fees possible while being invested in the market. Wealthfront charges $0 in fees for the first $10,000 and only 0.25% for any money over $10,000. Their minimum is only $500 to get started. Invest your idle money cheaply, instead of letting it lose purchasing power due to inflation.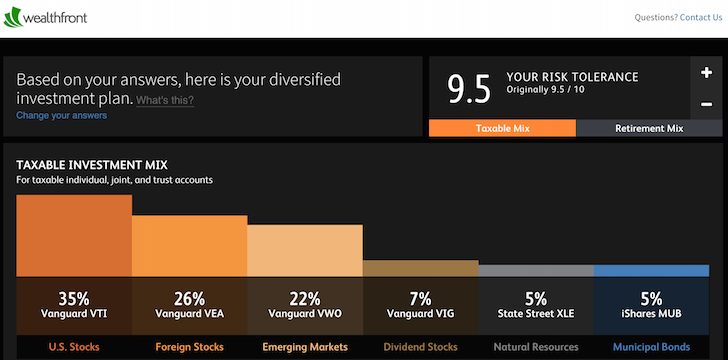 About the Author: Sam began investing his own money ever since he opened a Charles Schwab brokerage account online in 1995. Sam loved investing so much that he decided to make a career out of investing by spending the next 13 years after college working at Goldman Sachs and Credit Suisse Group. During this time, Sam received his MBA from UC Berkeley with a focus on finance and real estate. He also became Series 7 and Series 63 registered. In 2012, Sam was able to retire at the age of 34 largely due to his investments that now generate roughly $150,000 a year in passive income. He spends time playing tennis, hanging out with family, consulting for leading fintech companies, and writing online to help others achieve financial freedom.
Updated for 2016 and beyond.