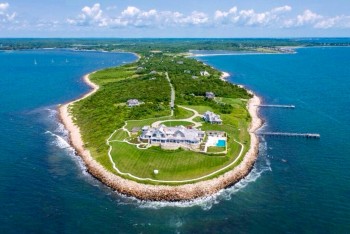 Real estate is one of the best asset classes to build long term wealth. As an owner of four properties (three in San Francisco, one in Lake Tahoe, and one in Honolulu), I've seen my net worth soar over the past 15 years as my principal values and rents have increased far beyond inflation. Real estate alone accounts for roughly $200,000 in gross passive income a year.
Now that I'm over 40, my attitude towards buying more physical real estate has changed because of three key reasons:
1) Property taxes. I'm already paying $50,000 a year in property taxes.
2) Dealing with bad tenants. Most of my stress comes from dealing with bad tenants who wreck my property or don't pay rent on time.
3) Too much financial risk. To add hundreds of thousands of dollars in illiquid real estate exposure near the top market in coastal cities sounds like a bad move.
Given these reasons, I decided to sell my rental house in San Francisco in mid-2017 for 30X annual gross rent and redeploy $500,000 of my $1,800,000 in proceeds in real estate crowdfunding to take advantage of lower valuations and higher yields in non-coastal city markets.

REAL ESTATE INVESTMENT SOLUTION
Real estate crowdsourcing is the best solution I've found for investors who want to continue investing in real estate, but more surgically with lower amounts, for potentially higher returns, and less hassle.
Based on my first-hand research meeting with various real estate crowdsourcing CEOs and testing out their platforms, I've decided that Fundrise is the most trusted real estate crowdsourcing platform today.
Fundrise offers a mix of fix-and-flip loans, preferred equity and mezzanine products, joint venture equity and commercial loans. They also offer eREITs for those investors who would like to invest in funds.
If you don't have the downpayment to buy a property, don't want to deal with the hassle of managing real estate, or don't want to tie up your liquidity in physical real estate, take a look at Fundrise, one of the largest real estate crowdsourcing companies today.
Real estate is a key component of a diversified portfolio. Real estate crowdsourcing allows you to be more flexible in your real estate investments by investing beyond just where you live for the best returns possible. For example, cap rates are around 3% in San Francisco and New York City, but over 10% in the Midwest if you're looking for strictly investing income returns.
Sign up and take a look at all the residential and commercial investment opportunities around the country Fundrise has to offer. It's free to look.
Review Summary
Reviewed by
Review Date
Reviewed
RealtyShares Real Estate Crowdsourcing
My Current Rating