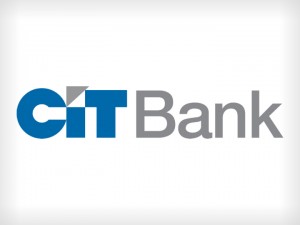 With interest rates finally moving higher, savers are finally able to earn a higher return on their hard-earned money.
The banks with the highest savings rates are online heavy banks because they don't have high overhead costs. Instead of spending money on rent, online banks can pass on part of their savings to you.
Aggressive saving is a fundamental pillar to good personal finance. The more you can save and invest, the sooner you can reach financial freedom.
CIT Bank is one of the premier online focused banks today. Here is a comprehensive review for 2019 and beyond.
About CIT Bank
Founded in 1908 and based in Pasadena, California, CIT Bank has more than $45 billion in assets, and over $30 billion in deposits. It's parent company, New York City-based CIT Group Inc. has more than $65 billion in assets. CIT Bank offers both online and mobile banking, and also provides mortgage loans, and business financing for small businesses.
CIT Bank (FDIC #58978) offers FDIC insurance of up to $250,000 per depositor.
CIT Bank Deposit Products
CIT Bank offers a high yield money market and savings account, and several high-yield CD products. Each of these products are available for custodial accounts, but not for IRA accounts. Interest on all deposit products is paid daily, and credited monthly. (All rates posted are as of January 8, 2019)
CIT Bank Money Market. This account is currently paying a rate of 2.45% APY on all balances. The account comes with PeoplePay, a free service that allows you to send money to just about anyone with an email address or a mobile phone number.
You can open a CIT Bank savings account by clicking this link.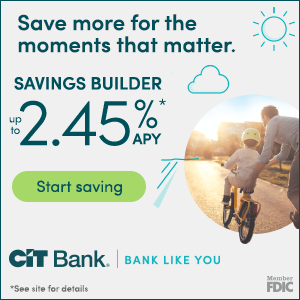 CIT Bank CDs
Term CDs. Requires a minimum initial deposit of $1,000, with terms running from six months to five years.
Rates are tiered, based on the term of the certificate:
6-month CD: 0.85% APY
1-year CD: 2.6% APY
18-month CD: 1.95% APY
2-year CD: 1.40% APY
3-year CD: 1.30% APY
4-year CD: 1.50% APY
5-year CD: 1.70% APY
No-Penalty CD. This is an 11-month CD, currently paying 2.00% APY on all balances, with a minimum opening deposit of $1,000. The major feature of this CD is that you can withdraw funds penalty free, any time after the first six days after the start of the certificate. That includes both partial and total withdrawals.
RampUP CDs. RampUP CDs give you the option to adjust your rate once during the term of the CD, if rates go up, which they are in 2018. The Fed is expected to raise rates 4X in 2018 and at least another 2X in 2019. If rates miraculously don't rise, you continue to get the original interest rate.
This CD is available in two terms:
3-year: 1.20% APY, with a minimum deposit of $25,000
4-year: 1.38% APY, with a minimum deposit of $50,000
RampUP Plus CDs. This version offers the same features as the RampUP CDs, but adds the ability to increase your deposit during the term of the CD at the original interest rate. That applies even if prevailing rates drop. The minimum initial deposit is $25,000. There are two terms, one year and two years. The one year currently pays 1.26% APY, while the two year pays 1.27% APY.
Jumbo CDs. These CDs require a minimum investment of $100,000, an offer tiered rates, based on four terms:
2-year CD: 1.45% APY
3-year CD: 1.40% APY
4-year CD: 1.60% APY
5-year CD: 1.75% APY
As you can see by the rates, they aren't much higher than non-jumbo CDs. Therefore, if you don't have at least $100,000 to invest, don't sweat it.
CIT Bank Is One Of The Best Online Banks
CIT Bank pays some of the highest interest rates available, even compared to most online banks. They pay those interest rates along with no fee banking. They also provide innovative, high yield CDs. These include the No-Penalty CD, which allows penalty-free withdrawals after just six days, and the RampUP CD that allows you to make a one-time upward rate adjustment, if rates increase after you open the certificate.
If you're looking for a bank that offers basic checking, credit cards, and auto loans, CIT Bank is not for you. But that's fine, because you should use online banks like CIT Bank strictly for getting the maximum interest on your savings accounts and CDs. Find a traditional bricks and mortgages bank for your checking, ATM-withdrawing and other day-to-day needs.
Take advantage of higher rates thanks to the Federal Reserve. The stock market volatility of 2018 shows that everyone needs to raise cash and de-risk in 2019 and beyond.
The CIT Bank 2.45% money market account is one of the highest rates on the market today. Click here to sign up and protect your wealth.
About the Author: Sam worked in investing banking for 13 years at GS and CS. He received his undergraduate degree in Economics from The College of William & Mary and got his MBA from UC Berkeley. In 2012, Sam was able to retire at the age of 34 largely due to his investments that now generate roughly $250,000 a year in passive income boosted by his investments in real estate crowdfunding. Financial Samurai was started in 2009 and is one of the most trusted personal finance sites on the web with over 1.5 million pageviews a month.
Review Summary
Reviewed by
Review Date
Reviewed
My Current Rating