The cost of a funeral has risen from just $983 in 1971 to over $7,000 today. Meanwhile, as a result of the rise in funeral costs, cremation rates have SOARED from just just 6% to now over 43% in the same time period. Cremations "only" cost $3,000 a body, or roughly 55% less than a funeral.
Take a look at these charts by the National Funeral Director's Association:
MEDIAN FUNERAL COST IN THE US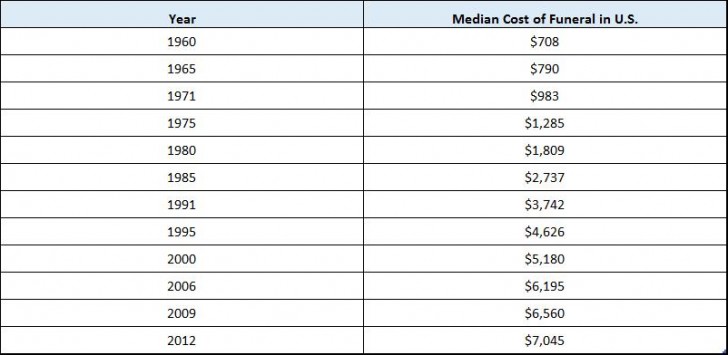 US CREMATION RATE
DEATH AND RELIGION

I used to think that cremation was more of a religious thing. If you ever travel around Asia, you'll find that cremation is the way to go, especially in Buddhist, Hinduism, Jainism, and Sikhism countries. Cremation is believed to not only dispose of the body in this life, but also usher the soul into the next world or its rebirth into the next life. 
Christianity, Judaism and Islam all have traditions that frown upon cremation, if not outright prohibit it. For those of you who represent one of these three religions, is cremation really that bad? Islam, for example, instructs its followers to bury their dead as quickly as possible, preferably within the day of the death.
Given the above charts are for the USA, it's curious to see such a high cremation rate when roughly 79% of the US population is Christian, 1.7% of the US population is Jewish, and 0.6% of the US population is Muslim. If cremation was really frowned upon in these three religions, one would expect the cremation rate in the US hover closer to around 20% rather than 43%.
So what gives? The answer must clearly have to do with the rapid rise in funeral costs. Money is trumping religion in this case, as it does in many cases in society. It costs a lot to die for average people nowadays, and folks who have estates in excess of $5.34 million per spouse thanks to the death tax.
WHAT WOULD YOU DO IF YOU HAD NO MONEY?
I'm not sure it's legally possible to take a dead body of a loved one and burn it yourself or bury him or her in your backyard. In other words, you're going to have to pony up at least $3,000 for a cremation and probably closer to $10,000-$15,000 for a burial and a wake. If you're one of the thousands of people out there who are living paycheck to paycheck for whatever reason, this could be a problem.
Solutions:
* Go into credit card debt.
* Borrow money from friends and family.
* Ask the funeral service for a payoff plan.
* Exchange funeral services for services or items (bartering).
* Create a fundraiser. If there's one time to ask for money from strangers, this could be it.
* Use a life insurance policy payout.
LIFE INSURANCE FOR FUNERALS
I haven't had to think about funeral costs yet because my immediate family are all still alive. But eventually, all of us will die, and this subject has really made me focus on what type of life insurance policy I have for my dependents. I gave USAA a call (20 year member) and made sure my life insurance policy would cover ALL debts by 150% in case of my death. Not only that, I increased my umbrella policy by 50% given my net worth has increased over the past two years.
RECOMMENDATIONS
Looking to find affordable term life insurance? Check out PolicyGenius, an independent insurance broker that is revolutionizing the way we shop for life insurance – for free! Answer a few simple questions on PolicyGenius's website and instantly receive free, personalized and comprehensive life insurance quotes.
PolicyGenius provides free, unbiased advice on more than 25 A-rated top life insurance companies they have thoroughly researched and vetted. Because life insurance prices are regulated, you don't have to worry about not getting the best deals. PolicyGenius helps you compare the best quotes all in one place.
Track Your Wealth For Free: In order to optimize your finances, you've first got to track your finances. I recommend signing up for Personal Capital's free financial tools so you can track your net worth, analyze your investment portfolios for excessive fees, and run your financials through their fantastic Retirement Planning Calculator.
Those who are on top of their finances build much greater wealth longer term than those who don't. I've used Personal Capital since 2012. It's the best free financial app out there to manage your money.
Updated for 2020 and beyond.