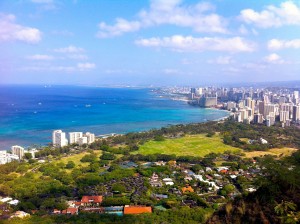 I've only got one personal credit card and that's my Discover rewards card. I like concentrating all my spending on one card so I can get maximum points to buy things like a home theater system, nights at the Halekulani Hotel, gasoline cards, and tennis racket grips!
Credit card reward points have value and like anything with value we tend to hoard. I know plenty of people who never use their reward points for years, only to see the cost of things skyrocket. Worse yet, some credit card reward programs expire after so many years.
My favorite example of a rise in rewards points cost is a round-trip ticket to Hawaii from California. Over the past 12 years, I've gone to Hawaii over 20 times. It's a direct 4.5 hour flight from San Francisco, and I absolutely love it there for obvious reason. If any readers want to meet up in Honolulu the second half of April let me know!
Before the year 2000 it cost 25,000 points for an economy class round-trip ticket valued at roughly $350. In other words,  it took 75 points to buy $1. In 2013, the same flight now costs 35,000 to 50,000 points depending on the time of the year. Meanwhile, you can get tickets during the off season through Hawaiian Airlines, Alaska Airlines, or United for just $300 from San Francisco! It now takes ~120-170 points to buy $1.
Not only does it now take 60-100% more points to get a similar ticket, the cost of directly purchasing a ticket has stayed relatively flat. As a result, whenever I can purchase a ticket for less than $350 to Hawaii, I do so without points.
CALCULATING THE VALUE OF CREDIT CARD REWARDS POINTS
The one thing I've struggled with my entire post college life is spending money. Saving money is part of my DNA, therefore it should come as no surprise that I tend to hold on to my rewards points until it's absolutely necessary to spend. I had over 100,000 rewards points with my American Express Corporate card when I left my job and didn't even realize it until six months later! Luckily AMEX was kind enough to let me redeem my points six months after I closed the account.
Nowadays, I'm much more in tune with my credit card usage and rewards points. Before spending any money on travel or any material items I do the following:
1) Calculate: Take the number of points divided by the market price of the item you find online. If it takes 100,000 points to buy a $1,000 LED TV, then 100 points equals $1. Some of us are better bargaining shoppers than others, so to keep the definition of "market price" standard, just use the price you would find at Amazon.
2) Compare: 100 rewards points for $1 is generally a good barometer to have. The higher the number above 100, the less value you are getting for your rewards points (takes more points to buy $1 of goods). Spend time comparing the different product substitues available in your reward network. Higher end versions of a product tend to require incrementally more points I've noticed.
3) Contrast: Now it's time to find the differences between the final products in terms of price, quality, features, and so forth. There's always going to be a selection of two or more things that are good enough for purchase.
I started off using my credit card points for gasoline cards given gas is a reoccuring expense. It wasn't until I really began hoarding my points and finding something more satisfying did I use my points to buy more expensive items. One caveat to remember is that many rewards cards have caps on how much you can get back on their teaser rates e.g. 5% cash back if you spend UP TO $5,000 and no more.
These are my simple Three C's to calculating the value of credit card rewards points.
ACCEPT THE FACTS ABOUT REWARDS PROGRAMS
1) Costs always rise. Just like rent, gasoline, food, and college tuition, it will take more and more rewards points to buy the same item. Therefore, I recommend you use your rewards points as soon as you've accumulated enough to buy what you want. Hoarding is a losing proposition and credit card companies every year hope that users forget, lose, or cancel their programs before use.
2) Costs depend on product. There is no set rewards points cost per item. Generally, the more expensive an item is such as a $1,000 LED TV, the less value you get out of your points. Conversely, you get a bigger bang for your rewards points by getting lower cost items such as $50 gasoline cards. The reason is because there is more margin for profits, and less elasticity in demand by the consumer the pricier the item.
3) Spending $1 is $1 more than spending nothing. Buying something without points is almost always "better value" than buying something with points. The simple reason is because the credit card company is an intermediary which involves a cost. Although it is almost always better value to buy something directly without points, it will ALWAYS cost you more because you are shelling out cash!
POINTS ADD UP WITH CONCENTRATION
My simple philosophy on spending is to never spend if you don't have to. Always first consider paying with points first. All of us have to spend money on necessities such as dry aged rib-eyes, Porsche 911 Turbos, Panerai GMT watches, and Hermes handbags so we might as purchase everything using a rewards card and let our points accumulate to purchase some more.