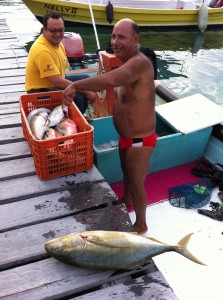 "I generated $100,000 from home in my underwear!" reads the headline. Immediately, you go ahead and click to see how, hopefully for free. But if not, maybe there's some type of infoproduct you can buy for $99.
Revenue is sexy no doubt. Large headline numbers are used to suck you in. They trigger a "Me too wow!" emotion, and most of us fall for it. For growth companies, top line revenue is important to show the investor the company is heading in the right direction. However, for the consumer, revenue is a gimmick if you don't highlight the net profit.
One of the greatest tricks in selling is to make something look so easy that any knucklehead can do it. Offer a 30 day money back guarantee, with processing fee of course, and a product that takes 100 days to complete to see results! By the time the consumer figures out what you're selling is difficult to achieve or a piece of crap, you'll have already taken their money and bought a nice trip to Maui thank you very much!
If your job is to sell the dream of making money online and following your glorious digital nomad lifestyle blogger, do us all a favor and be more transparent.
REVENUE DOESN'T COME CLOSE TO EQUALING PROFITS
There's an old saying that it's not how much you make, it's what you keep. It's easy to be lured into the fact that being an online entrepreneur is easy. The fact of the matter is, after you deduct costs and pay taxes, you're often left with less than a third of what you started with!
In any business, a 33% net profit margin is a fantastic return. In fact, a 33% net profit margin blows doors off of great companies such as Google and Apple. It takes a lot of time, money, and effort to generate profits.
As a business owner, don't lull yourself into stupid mode when you have a nice jump in revenue because you've got to watch your expenses. Cash flow is tantamount.
As a consumer don't be mesmerized by proclamations of huge revenue figures, especially when costs are not reported. Your dignity is paramount.
To lifestyle bloggers, if you are writing about how everyone should quit their jobs and follow your path, great! Just highlight what your revenue, costs, operating profits, and net profits after tax are so readers can decide for themselves whether your journey is right for them.  We must compare your operating profits before taxes to our day job incomes before taxes.
Generating $60,000 online a year is solid, but if you're only taking home $25,000 before taxes and saving no money, you might just misleading your readers and ruining their lives. Practically every full-time job in America pays $25,000 or more a year, and they come with healthcare benefits!
OPEN YOUR EYES
It's important not to fall for gimmicks. When people try selling you the dream, know that you are already awake.  Question everything before you do anything drastic such as spending $299 on an info-product, or quitting your job just because someone says so.  The worst is when someone makes you feel bad about having a job, and rubbing it in your face how good their lives are.
On Untemplater, I pen a fiery post entitled, "Quit Your Job And Die Alone". You'll learn about four examples of online entrepreneurs who are relatively popular in their respective niches who still can't save enough for their family, get a mortgage to buy a house, or quit their jobs even though that's what they're advocating.
If they can't do it, what chance do you have?  Bust open some popcorn and grab a drink, because the post is a long one.  If you've ever had aspirations of quitting your job to be an entrepreneur online, you won't want to miss this one!
STARTING YOUR OWN SITE
I never thought I'd be able to quit my job in 2012 just three years after starting Financial Samurai. But by starting one financial crisis day in 2009, Financial Samurai generates a very strong revenue stream with massive operating profit margins because the costs are so low to operate. If you enjoy writing, connecting with people online, and enjoying more freedom, see how you can set up a WordPress blog like mine in 20 minutes. It's cheap and easy to start. Take a look at all the income earning potential once you start your own site.
You never know where the adventure will take you.
RECOMMENDATION FOR BUILDING WEALTH
Manage Your Finances In One Place: Get a handle on your finances by signing up with Personal Capital. They are a free online platform which aggregates all your financial accounts in one place so you can see where you can optimize. Before Personal Capital, I had to log into eight different systems to track 28 different accounts (brokerage, multiple banks, 401K, etc) to manage my finances.
Now I can just log into Personal Capital to see how my stock accounts are doing, how my net worth is progressing, and whether I'm spending within budget. The best feature is the 401K Fee Analyzer which is now saving me over $1,000 a year in portfolio fees I had no idea I was paying! There is no better free online tool out there to manage wealth. It only takes a minute to sign up.
Photo: Mexican Fisherman for the ladies.  Don't get too excited.  Isla Mujeres.