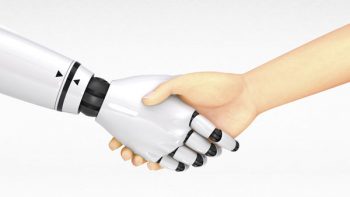 A robo advisor is an online wealth management service that provides automated, algorithm-based portfolio management advice without the use of human financial planners. Robo-advisors use the same software as traditional advisors based on Modern Portfolio Theory, but usually only offer portfolio management and do not get involved in more personal aspects of wealth management, such as taxes and retirement or estate planning.
The key advantages to going with a robo advisor are low cost and low minimums. With traditional wealth advisors, it typically takes a minimum of $250,000+ to have firms like Chase, Raymond James, Edward Jones, and Citibank actively manage your money. If you want firms like Morgan Stanley, UBS, or Goldman Sachs to manage your money, you need at least $1,000,000. If you comply, they'll usually charge you anywhere from 1% – 3% a year in fees based on your assets.
What's great about robo advisors is they lower the barriers to entry so all investors can benefit from risk-adjusted investing based on the same investment strategies used by traditional wealth advisors. The key to building wealth is to invest regularly. Robo advisors offer great features like setting up automatic contributions into your account every month or every paycheck, and allow their technology to automatically contribute your cash inflows to a risk-adjusted portfolio tailored to you.
Here's an example of a portfolio Wealthfront, a robo advisor pioneer, can build for you after answering their short questionnaire. It's free to sign up and see your own customized portfolio composition that their algorithm spits out based on your individual preferences.  You can also adjust your Risk Tolerance meter from 1 – 10 and see how the investment mix changes. The below example goes from a Risk Tolerance of 10 to a Risk Tolerance of 2.
Actionable Advice For All
Imagine you were with a traditional wealth advisor paying 1.5% – 3% of your assets under management in fees each year, only to see your investment portfolio drastically underperform your target benchmarks. This is what happens all the time when you invest with a traditional wealth manager because interest rates have declined and returns have compressed.
For example, the 10-year bond yield is roughly 2.5% as of 2017. It's been coming down for the past 35 years and will likely stay low for the foreseeable future as the world becomes more efficient. Meanwhile, the S&P 500 only returned about 1.3% in 2015. If you are paying each year the equivalent to more than an annual S&P 500 return or what you can earn risk-free investing in government Treasuries, how are you ever going to get ahead? You won't. Instead, only your financial advisor is guaranteed to make a guaranteed return.
The great thing about robo advisors is that low cost doesn't mean low performance. Here's an interesting survey done by Condor Capital Management, who opened up accounts with various robo advisors and answered the same way for all their questionnaires. Their model investor was a 40-year-old with a medium risk tolerance and a target 60% equity / 40% fixed income portfolio.

A Look At All The Fees
Most robo advisory firms charge between 0.15% and 0.5% as an annual asset management fee – a bargain compared to the 1-3% which many traditional advisors currently charge. The disparity is the reason why robo advisors have become all the rage since the movement first started in 2008. Investors realize that high fees are delaying retirements.
If you are paying an asset under management fee each year, you SHOULDN'T also be paying a transaction fee any time you buy or sell a security. Be aware though that there usually is an ongoing holding fee for any ETFs or Index Fund your robo advisor buys. The fee is tiny e.g. 0.05%, but there still is a fee.
If you can construct a risk-adjusted portfolio only with stocks, there will no holding fee. But robo advisors focus on building an ETF portfolio because it is more diversified and easier with less disruption. Main ETF providers include Vanguard and iShares.
Goals and Risk
Having financial goals helps make investing much more meaningful. Common goals include: 1) retiring by a certain age, 2) saving enough for your kid's education, 3) saving enough for a downpayment on a home, 4) generating enough dividend income to pay for basic expenses, and 5) consistently growing your net worth by 10% a year.
Once you have goals, you've got to figure out your own risk tolerance. Most people tend to believe they are more risk loving than they really are. It's only when financial losses start to mount that people realize they really are much more cautious.
You can follow my recommended allocation of stocks and bonds by age. It's easy to feel invincible in a bull market. Just know that stocks and bonds go in cycles.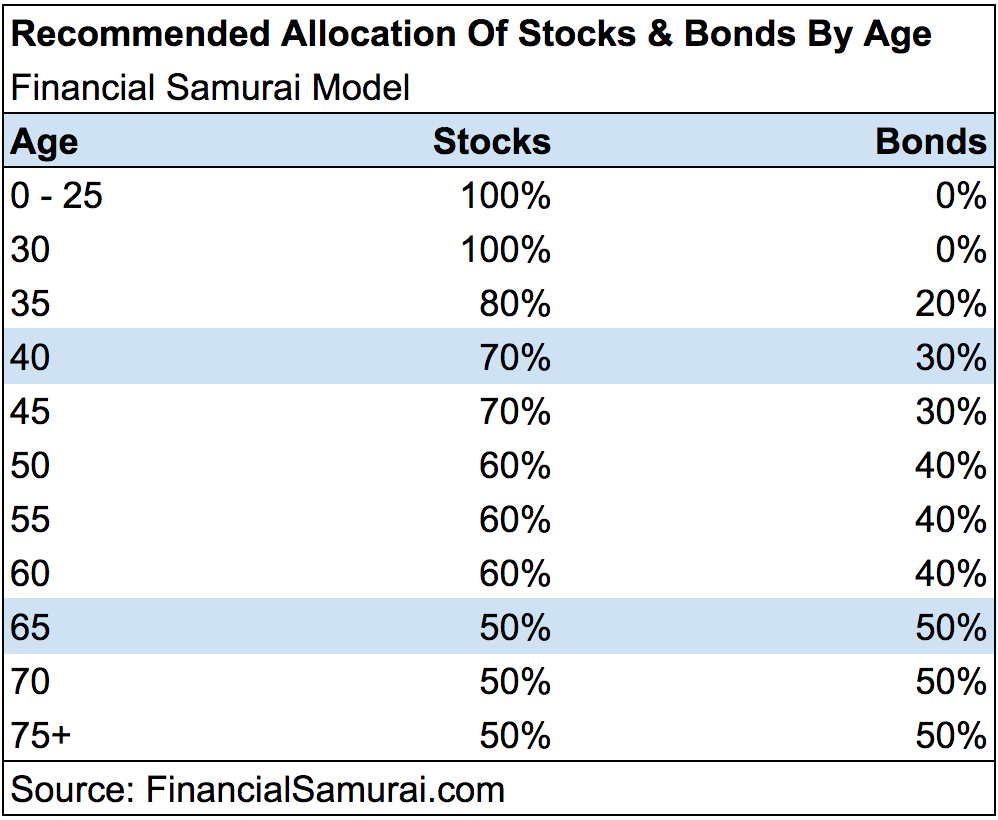 Account Minimums
Unlike the traditional wealth management industry with minimums ranging from $250,000 at Chase to $5,000,000 at Goldman Sachs, robo advisors require extremely low account minimums to take advantage of their services – often running as low as $500 for the likes of Wealthfront and Betterment.
Personal Capital used to have a minimum of $100,000 before 2017, but are now are accepting accounts with $25,000 minimums. Personal Capital also deploys a hybrid approach to robo advisory with human advisors to complement their algorithms.
Expected Returns
It's been proven time and time again that active investing proves inefficient and costly over time. As a result, robo advisors focus on passive index investing to generate the best returns. The key is really following an appropriate asset allocation based on your risk tolerance. If you can consistently invest in your target allocation and adjust your target allocation as your risk-tolerance changes, you'll probably be most happy with your returns.
A robo advisor's main value add is to be able to automatically take your monthly contributions and invest them according to the portfolio you agreed upon. The robo advisor will then automatically rebalance your portfolio, usually each month, to make sure you are always following your desired balance. This is an excellent benefit of using a robo advisor because it's very hard to rebalance consistently if you were to manage your portfolio yourself.
Tax Loss Harvesting Basics
Having a robo advisor consistently conduct tax loss harvesting can also help you improve investment returns. Tax loss harvesting is a tax deferral strategy which involves selling a security currently running at a loss and buying a correlated asset in its place to provide almost identical exposure. Through this process an investor is able to "harvest" a loss which they could then offset against future taxes while ensuring the portfolio retains its optimal portfolio mix.
Effective tax loss harvesting cannot be done efficiently on your own, unless you want to spend hours and hours going through each transaction. Instead, a robo advisor can it for you much more efficiently without you even having to think about it.
Personal Capital claims their tax loss harvesting strategy can help boost after-tax invest returns by as much as 0.5% a year. Just note that as of current tax law, you can only deduct $3,000 in annual capital gains per year, e.g. your $10,000 in taxable capital gains can be reduced to $7,000 in taxable capital gains.
Should You Use A Robo Advisor?
If you aren't currently investing (hoarding cash for a while because you don't know what to do with it) and have no interest in following the stock and bond market, then investing with a robo advisor is a good value proposition. The people who have invested for the long run are the ones who have seen their net worths grow much faster than those who haven't invested.
Inflation is too powerful of a force to go against. The things that costs X today will likely cost more in the future. Therefore, you should ride the inflation wave through investments, rather than get crushed by the inflation wave as your purchasing power loses power every year you don't invest.
The Future of Robo Advisors
Robo advisors are estimated to manage roughly $75 billion in assets as of 2015, compared to trillions being currently managed by traditional wealth advisors. The upside is huge, and it is no wonder why so many venture capitalists have given the robo advisory industry billions in funding.
Due to the low cost nature of robo advisors, it takes a lot of assets under management to generate revenue and become operating profit positive. Therefore, the key is to go with the robo advisors that have the largest amount of funding with the greatest amount of assets under management.
The three best-in-class robo advisors are:
Personal Capital ($200M in funding, $4B in assets)
WealthFront ($130M in funding, $3.3B in assets)
Betterment ($205M in funding, $5B in assets)
My personal preference is Personal Capital since they offer a hybrid robo advisory model of human + computer advice. It's the same reason why I'm willing to pay a premium for Apple products. I like being able to go to the Genius Bar whenever something is wrong. And the great thing is its free to sign up and use Personal Capital's online financial tools.
Personal Capital takes a holistic view of your finances because they can provide an overall picture of your net worth, not just a sliver of your net worth. For example, only about 25% of my net worth is invested in public stocks and bonds. Wealthfront and Betterment don't know this, which means they might not have an accurate risk adjusted model portfolio for me since they will think 100% of my net worth is with them. Of course, it's up to the individual to adjust the model portfolio outcome and agree before starting. Wealthfront is fantastic for managing that sliver of your wealth.
With Personal Capital, it's nice to be able to use their free financial tools to manage my net worth and then also speak to a human advisor to give him my entire financial picture. I've got real estate, private investments, locked up CDs, and a business, for example. Knowing my complete financial picture allows me to receive even more custom advice. You can get a free 1 hour financial consultation call with them as well when you sign up.
At the very least, I recommend you sign up with Personal Capital to at least get started using their free financial tools. You can check your portfolio(s) for excessive fees, track your net worth, manage your cash flow, conduct an investment checkup, and run your finances through their awesome retirement planning calculator to see if you are on track.
About the Author: Sam began investing his own money ever since he opened an online brokerage account in 1995. Sam loved investing so much that he decided to make a career out of investing by spending the next 13 years after college working at two of the leading financial service firms in the world. During this time, Sam received his MBA from UC Berkeley with a focus on finance and real estate. He also became Series 7 and Series 63 registered. In 2012, Sam was able to retire at the age of 34 largely due to his investments that now generate roughly $200,000 a year in passive income. He spends time playing tennis, hanging out with family, consulting for leading fintech companies and writing online to help others achieve financial freedom.
About Financial Samurai: FinancialSamurai.com was started in 2009 and is one of the most trusted personal finance sites today with over 1 million pageviews a month. Financial Samurai has been featured in top publications such as the LA Times, The Chicago Tribune, Bloomberg and The Wall Street Journal.