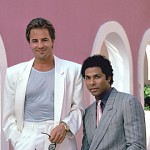 Over at "Laid Off And Looking", one of the bloggers posts about the "Perils of Interview Attire." He received positive feedback about his skills, but a middle manager told him after his second round that he was concerned about his attire.  "Too inappropriate, and casual" John was told.  When he dressed up in a suit for the final round, the CEO then mentioned to "never wear a tie to an interview at a startup!" Safe to say, John didn't get the job.  So what gives?
Honestly, it amazes me how clueless John is after 12 years in the work force.  If you are interviewing at a start up, there's no business looking like a penguin in the tropics.  And if you are interviewing at a law firm, you better not think a polo shirt and khakis is appropriate.
The rules of dress attire are very simple:
Always dress a half step up than what the company's dress code expects.  If the company is a startup where jeans and a t-shirt are the norm, wear khakis, loafers, and a long sleeve collared shirt.  If the company's dress code is khakis and a long sleeve collared shirt, wear the same but add a blazer!  And if the company's dress code expects a blazer, wear a suit!  The idea is to show your perspective employer R-E-S-P-E-C-T! The more traditional the employer, the more they demand respect through dress.  Be careful though, because you also don't want to look out of place and over address either.  Hence, you can never go wrong being a half step more formal.
First impressions count. Your objective is to blend in, but from an outsider's approach.  In other words, you must dress to give the employer respect, but not dress overly formal or casual so that they can't see you as one of them. Blend in like Rambo in the Jungle. If you have no idea how they address,  loiter in the lobby on a Monday to get a general sense.  There's been a slow loosening of the dress code over the years.  That said, there is an unwritten rule that you have to put in your time before you are allowed to dress down.  Hence, keep up with appearances.
For women, the same rules apply.  I've had so many interviewees dress like they are about to go clubbing, it's ridiculous.  The employer wants to imagine the interviewee as a future equal colleague not as a date! Dressing suggestively gives off very bad impressions, and is absolutely not appropriate.  You may get away with looking "cute or sexy" with some male interviewers, but you won't get away with it with a female interviewer.  In fact, you will likely immediately be vetoed out by your female interviewer.  Don't risk making a fashion statement and stay conservative!
Dressing appropriately should be one of the LAST things you should worry about during the interview process.  If you don't have this basic step down, you're going to have a snowball's chance in hell when the good stuff begins!
Keigu,
Financial Samurai – "Slicing Through Money's Mysteries"