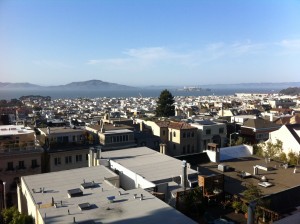 When I hosted my open house for one of my rentals last fall the demand was overwhelming. Over 50 parties showed up and by the end of the day I had 20 applications on my dining table. Each application contained at least one bank statement, an earnings statement, a letter of reference, sometimes a resume, and of course their latest credit score.
My asking price was $3,300, which in retrospect was probably $200 a month too low given the amount of demand I received. I felt too guilty raising the price after the advertisement, so I let it be, hoping someone would offer more instead. I was offered free meals and back massages instead curiously enough.
The good thing about so much demand is that I got to be more picky because nothing is worse than having a problem tenant who always complains, makes a lot of noise, and is always late on rent. Thank goodness I haven't had one of these type of problem tenants yet, and I don't ever plan to have one if I maintain a disciplined approach to screening.
With so many applications on the very first day, guess which document I looked at first to screen? The credit score report of course!
YOU NEED AN ACTUAL CREDIT SCORE TO BE CONSIDERED
About seven of the twenty applicants had a credit report, but no actual credit score. I was flummoxed, wondering whether the report was missing a page?  It turns out that the applicants used a service that provides one's credit history (important for fraud and false reports), but no actual score by which to judge!  Thanks to the comments on the post, "Who Should Check Their Credit Scores?" I finally realized what these reports were.
At the time I thought providing a credit report with no credit score was very fishy and annoying frankly.  As a result, I put those seven applicants in the bottom group.  Don't they want to know what their credit score is at least? I kept thinking to myself.
I then separated the rest of the applications between those who had over a 720+ (good enough for me) credit score and those who did not.
Best Group: Nine applicants all with credit scores above 720.
Middle Group: Four applicants with credit scores between 680-719.
Bottom Group: Seven applicants with good incomes but no credit scores, just reports.
After spending several minutes sorting out the applications by credit score, I then looked at income, assets, occupation, and any letters of references from the best group first. With nine applications in the best group with credit scores over 720, the other 11 applications really had little chance unfortunately.
Landlord's Perspective: If there are nine applicants with 760 credit scores, $80,000 in liquid assets, who all make over $150,000 income, why would anybody choose another applicant with a 680 credit score, with the same income and assets? Sure, the applicant with a 680 credit score might be really thoughtful and nice, but so are the other applicants! You can't risk going with a lower credit score applicant unless that's all you've got.
One of the applicants was a third year cardiologist who made $320,000 a year. Unfortunately, he only had a 675 credit score because he whiffed on his medical school payments! No thank you buddy! I don't care how much you make if you don't pay your bills!
THE CREDIT SCORE IS A WINDOW INTO ONE'S SOUL
Just like how employers screen the first cut of applicants based on grades, landlords do the same with credit scores. If you're one of those job applicants who purposefully omits their GPA on their resume, like the seven applicants who included a report but had no score, you're going to be looked at with suspicion. Your other criteria will be highly scrutinized to the point where the landlord/employer will find reasons not to choose you.
Don't provide a credit report without a credit score. If you do, it will drive your landlord NUTS! Spend the time to find out what your credit score is before you even bother applying.
Landlords don't have time to go through every single line-item in your credit report. They want that credit score and any explanations you care to add.  The credit score is the first thing landlords look at in a tight rental market.  Having a credit score is MUCH better than having a credit report with no score. Don't let landlords start wondering what else you may be hiding!
Finally, if you don't want to provide your credit score or credit report, that's fine as well. Just know that your landlord has every right not to accept you as a tenant. Nobody is forcing anybody to do anything on both sides. If you want a tenant bad enough as a landlord, you may let things slide. If you want the apartment badenough as a tenant, you're going to do everything possible to prove you are a credit worthy person.
RECOMMENDATIONS
* Check Your Experian Credit Score Today: Check your latest Experian credit score straight from their website. Experian is the most commonly sourced of the big three. It's a good idea to see what your credit score is before applying for a loan. If it's below 720, you won't get the best rate, but at least you can spend time to improve your score. Furthermore, 1 out of 4 credit reports have errors, negatively affecting one's credit score. I had a $8 late electric bill that crushed my credit score by 100 points and almost derailed my mortgage refinance. The scary thing is, I had no idea! A FTC study reported that roughly 25% of credit reports have inaccuracies.
* Get A Free Checkup On Your Finances: Sign up for Personal Capital, the web's #1 free wealth management tool to get a better handle on your finances. You can use Personal Capital to help monitor illegal use of your credit cards and other accounts with their tracking software. In addition to better money oversight, run your investments through their award-winning Investment Checkup tool to see exactly how much you are paying in fees. I was paying $1,700 a year in fees I had no idea I was paying.
After you link all your accounts, use their Retirement Planning Calculator that pulls your real data to give you as pure an estimation of your financial future as possible using Monte Carlo simulation algorithms. I've been using Personal Capital since 2012 and have seen my net worth skyrocket during this time thanks to better money management.
Photo: View Of San Francisco Bay, 2018