Dear Homeowner Or Potential Homeowner,
After mortgage rates jumped higher post Trump's victory, they've settled back down as the market realizes inflation expectations were much too high. Too much inflation and too high interest rates too quickly is bad the economic growth.
With this window, it behooves you to at least check what the latest rates are if you have not refinanced in the past six months. If you are a new homebuyer or want to refinance, it's important to get as many bids as possible to get the best mortgage rate and terms as possible. LendingTree, with its massive network of mortgage providers is the best solution I've found online. They get multiple banks to compete for your business by simply filling out a one-minute questionnaire.
My Take On Long Term Interest Rates
Mortgage rates have been going down for over 35+ years as you can tell by the chart. There is obviously a risk that interest rates will rise higher, as they have since Donald Trump got elected, but I'm in the camp that interest rates will stay low for years to come. 
I see a scenario where interest rates only inch up by about 1% maximum over the next five years because there's still a lot of slack in the economy. There's a large underemployed population and median household income has come down over the past decade from $59,000 in 2005 to now only $52,000 in 2017. The Federal Reserve will only raise the Fed Funds rate marginally. Even so, that doesn't mean mortgage rates will go up because mortgage rates are more tied to the 10-year bond yield, which is determined by the market.
In a continued low interest rate environment, I prefer taking out a 5/1 ARM amortizing over 30 years. Why pay a higher rate when the average length of homeownership is 7 years and interest rates are in a structural decline? You can certainly go for a 30-year fixed loan if you want absolute piece of mind and believe interest rates will be aggressively higher in the future. But if the 5/1 ARM mortgage rate is at least 1% cheaper, then I would strongly consider an ARM.
Take the monthly interest savings and save or invest it. There's a interest rate hike cap that's fixed for one year after the fixed adjustment of an ARM is done. There's also a lifetime interest rate cap that's usually no more than 4% – 5% higher than the initial rate. You can always refinance your ARM before the fixed period is over like I've done many times before.
If You Currently Have An ARM
If you have less than two years remaining on your adjustable rate mortgage before it becomes variable, I highly recommend you refinance today or before the fixed rate ends because ARMs are tied to LIBOR rates once they are variable, and LIBOR rates have surged higher.
The London Interbank Offered Rate (LIBOR) is a short-term rate tied very closely with Fed Funds rate, which is the overnight interbank lending rate in the US. As you should be aware, the Fed finally started raising the Fed Funds rate in December 2015 and will continue to do so to prevent inflation from going out of control.
Here is the latest LIBOR rate chart, which shows the climb.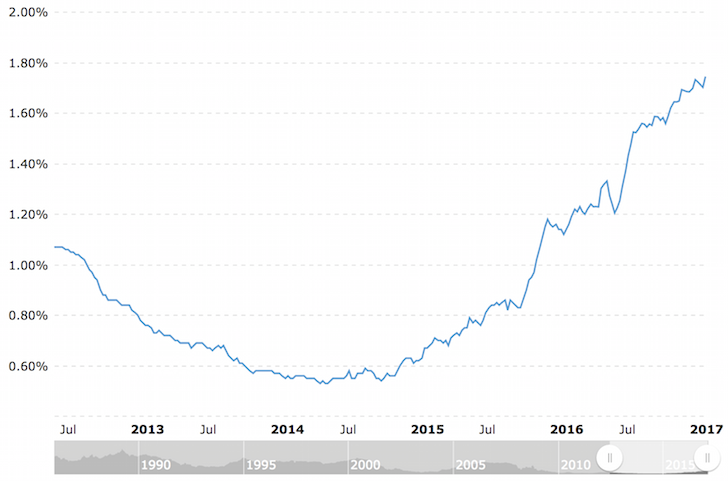 The great thing when you refinance an ARM is that banks based the initial 3, 5, 7, or 10 year fixed rate based on the 10-year bond yield, which has remained relatively stable. The banks are essentially SUBSIDIZING you with a lower rate in the beginning to get your business.
Take Advantage Of Lower Rates
The goal is to save money by locking in a new low rate now before they go up back up again. I've refinanced three different properties over the past 13 years multiple times, and my combined interest savings a month is roughly $4,000. That adds up to well over $1,000,000 in interest savings over the life of the loans! If you can find a home that's a good deal, you can afford the payments, and plan to stay there for 10+ years, then I would take advantage of record low interest rates and buy property.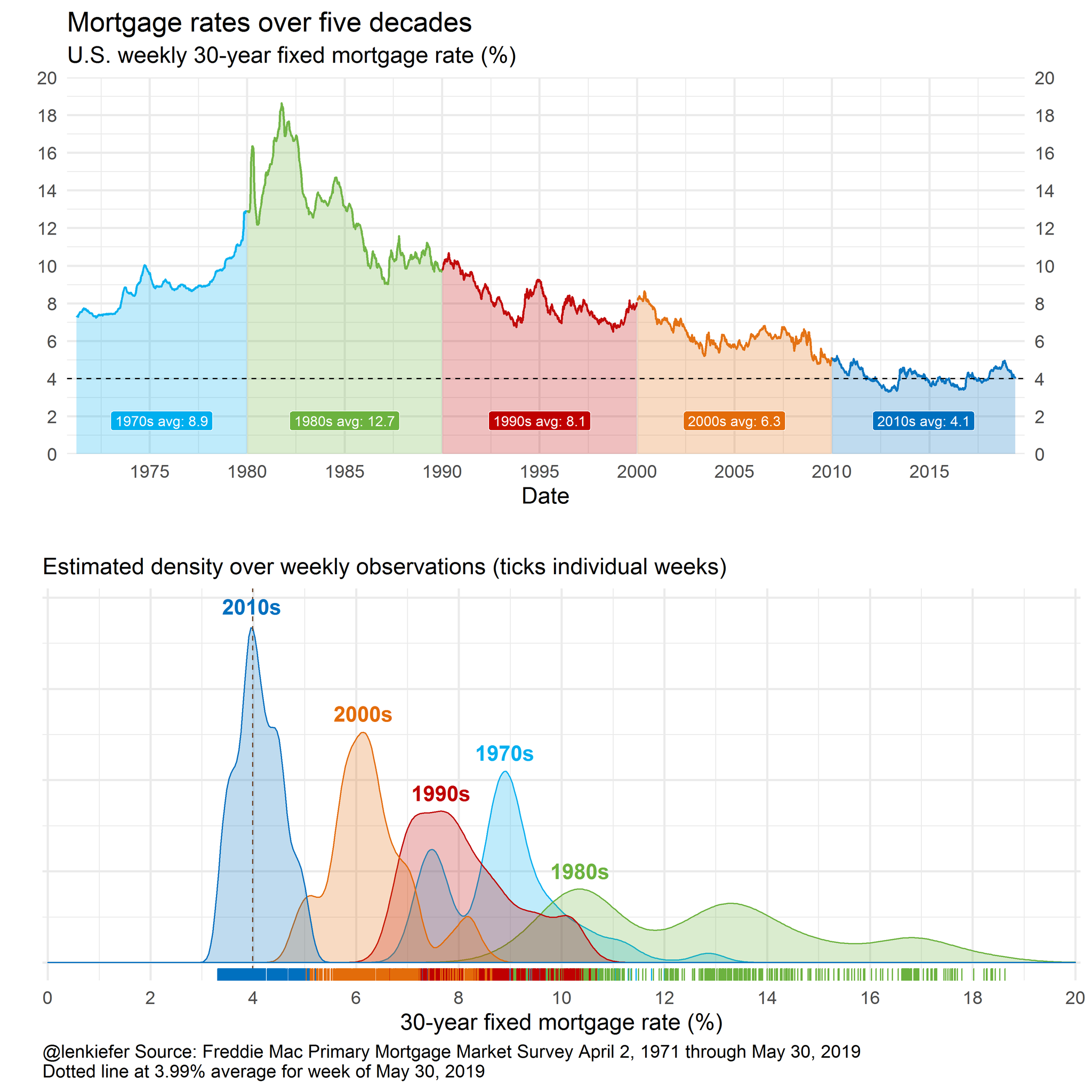 Real Estate Investment Alternatives
Refinance your debt: Check the latest mortgage rates, auto rates, personal loan rates, and more through LendingTree. They've got one of the largest networks of lenders that compete for your business. Your goal should be to get as many written offers as possible and then use the offers as leverage to get the lowest interest rate possible from them or your existing bank. When banks compete, you win.
Explore real estate crowdsourcing opportunities: If you don't have the downpayment to buy a property, don't want to deal with the hassle of managing real estate, or don't want to tie up your liquidity in physical real estate, take a look at Fundrise, one of the largest real estate crowdsourcing companies today.
Real estate is a key component of a diversified portfolio. Real estate crowdsourcing allows you to be more flexible in your real estate investments by investing beyond just where you live for the best returns possible. For example, cap rates are around 3% in San Francisco and New York City, but over 10% in the Midwest if you're looking for strictly investing income returns.
Sign up and take a look at all the residential and commercial investment opportunities around the country Fundrise has to offer. It's free to look.
About the author: Real estate is my favorite asset class to build great wealth over time because it is tangible, provides utility, and can generate perpetual income. I own three properties in San Francisco, one property in Lake Tahoe, and one property in Honolulu. Real estate makes up roughly 40% of my overall net worth, with the remaining portions in equities, private equity, and my online business. I worked in finance for 13 years at two major investment banks and received my MBA from UC Berkeley with an emphasis in real estate and finance. FinancialSamurai.com launched in 2009 and is one of the largest personal finance blogs on the web with roughly twelve million organic pageviews a year.