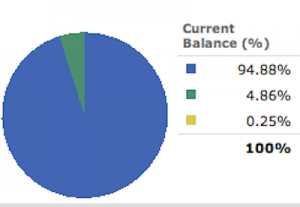 There are growing concerns that the 8 year bull market has come to an end in 2017 and it's now time to take profits. Downturns seldom ever last for just 6 – 12 months. It's never worth raising some cash to live to see another day. I finally sold my rental house in San Francisco that went up 60% from 2012 to 2017. That is nuts! I cashed out at $2,740,000 after buying it for $1,525,000 in 20014. With $1,800,000 in cash, I'm feeling GREAT!
Here's how I reinvested my proceeds. I'm all about making sure my profits last forever, or at least for as long as possible. The post below was written in 2012, and it goes through a thinking process I had. Amazingly, the stock market has reached all time highs in 2017 and will likely stay elevated for a long time to come. 
Below is a recap of my thoughts after the stock market started ramping aggressively from 2009 – 2012.
For 2010, my prediction was for the S&P 500 to rise to 1,265 (13%), and the markets rose by 12%.  For 2011, my prediction was for the Dow Jones to close up by 5%, and the Dow Jones closed up by 5.1%.  You might even want to read the post on Yakezie.com discussing how we should rebalance that end of April, 2011 because the markets were up a ridiculous 11% already.  If you did, you would have outperformed the stock markets by 600+ basis points and trounced the competition if you were a mutual fund manager.
I may be lucky, but maybe not that lucky if you read the assumptions.  For 2012, I truly believed this will be a banner year for stocks and the economy when I wrote the predictions post in December, 2011.  That said, the markets tend to discount 6-12 months in advance, and as such, I think we're just about there.
Sure, the markets could continue to keep going up and I'll miss the rally.  But you know what?  I'm more than happy if I miss the rally because I'll sleep well knowing I just locked in a 12% gain on my stocks.  That's 6X the risk free 10-year yield return, so I'll take it.  Furthermore, its not like I don't benefit from an improving economy and stock market in other areas.  Job income growth, job options, real estate, commodities and other real asset all benefit from an improving market as well.
Do I think the stock market can rally another 5% higher from here?  Yes.  Do I think the stock market can rally another 10% higher from here?  No.  Do I think the market could pull back by 5% from here?  Absolutely.  As a result, my expected opportunity cost of missing out is at most 5%.  Besides, putting my 12% returns into a stable value fund that yields 2.5% for the rest of the year will guarantee me a 1.5%+ return for a total return of 13.5%.  If the market takes a big dump (3-5% or more), I will likely buy back in.
THE PAIN COMETH AGAIN
1) Pain at the pump. Gas now costs $4.52 for premium unleaded.  As a result, it costs over $90 to fill up Moose.  Now that is pain, especially since the snow season in Tahoe is finally getting really good.  If I feel the pain only driving 7,000-8,000 miles a year with my income, and the average miles driving is 50% higher, I know others are feeling the pain as well.
2) Interest rate ramp. The 10-year yield has spiked massively to 2.35% from 1.85% just a month ago.  That is a huge jump which will put some serious brakes on the mortgage refinance craze right now.  The feeling is immediate and I've seen this rush and pause multiple times over the past 10 years.  Not only that, people who borrow money to buy cars, appliances, electronics, education, and so forth will all feel the squeeze.  The refinance window has closed.  Time to wait it out.
3) Rental increases.  As a landlord in San Francisco, I am intricately aware that rents are on fire in the city.  We are talking a 15-20% increase in the past couple years thanks to all the tech/internet money and jobs flowing into the city.  Rent is always a huge portion of one's discretionary income, and if that is being squeezed, other things are getting cut down.  It's not just SF, but other places such as New York City where rents have gotten aggressive.  The rent trend starts in the big urban centers and flows to the rest of the country at different magnitudes.
4) Market valuations.  You can value the S&P 500 in any which way you want.  Trailing Twelve Months, forward earnings, a composite, and so forth.  The market is fully valued.  We're not in a bubble, but a lot of earnings expectations have to be met in order for the party to continue.  Remember, the market discounts all news, good or bad, 6 months+ in advance.
5) Labor market.  Although the unemployment rate is heading to under 8%, it's clear that we aren't creating enough jobs (250,000+) to win back all the jobs lost over the past 3.5 years.  We have unemployment benefits that pay $1,850-$2,100 a month for almost two years, and people dropping out of the labor force because they've given up.  The labor market is improving, it's just not improving as much as I'd like for a +12% YTD performance by the S&P 500.
GOALS OF INVESTING
My number one goal is not to lose money. If I cannot make money, I sure as hell will do everything possible not to lose money. It was painful to lose ~20% of my net worth during the 2008-2009 collapse. I am all about capital preservation, and you will be too when you build your nut to a level which you deem as retirement worthy.  Losing 10% on a $100,000 portfolio stinks, but it's not that much at a $10,000 loss. If you lose 10% on $1.5 million, that $150,000 loss is painful for anybody, no matter how much you make.
When someone says, "I crushed the market and am up by 50%", make sure you ask what's behind the curtain. If their portfolio is $25,000, seriously, who cares.  Ask them about their 5 year or 10 year track record. Ask them for their reasonings for why they think the way they do if they can't discuss amounts.
I admittedly have a low hurdle, which is to return 2X the US risk free rate of return. That's the 10-year government yield, which currently is at 2.35%.  2X 2.35% is around 5%, so that is my hurdle return for new money. I'm not greedy. I'll take a 13.5% guaranteed return any day, every year for the rest of my life!  I can't predict the future, nor do I claim to know anything about Kim Jung Il's death in 2011 back when I wrote the prediction in December, 2010.
All I know is that you can never lose if you lock in a gain!
RECOMMENDATIONS TO BUILD WEALTH
* Manage Your Finances In One Place: The best way to become financially independent and protect yourself is to get a handle on your finances by signing up with Personal Capital. They are a free online platform which aggregates all your financial accounts in one place so you can see where you can optimize. Before Personal Capital, I had to log into eight different systems to track 25+ difference accounts (brokerage, multiple banks, 401K, etc) to manage my finances. Now, I can just log into Personal Capital to see how my stock accounts are doing and how my net worth is progressing. I can also see how much I'm spending every month.
The best tool is their Portfolio Fee Analyzer which runs your investment portfolio through its software to see what you are paying. I found out I was paying $1,700 a year in portfolio fees I had no idea I was paying! They also recently launched the best Retirement Planning Calculator around, using your real data to run thousands of algorithms to see what your probability is for retirement success. Once you register, simply click the Advisor Tolls and Investing tab on the top right and then click Retirement Planner. There's no better free tool online to help you track your net worth, minimize investment expenses, and manage your wealth. Why gamble with your future?
* Invest Your Money Efficiently: Wealthfront, the leading digital wealth advisor, is an excellent choice for those who want the lowest fees and can't be bothered with actively managing their money themselves once they've gone through the discovery process. All you'll be responsible for is methodically contributing to your investment account over time to build wealth.
In the long run, it is very hard to outperform any index, therefore, the key is to pay the lowest fees possible while being invested in the market. Wealthfront charges $0 in fees for the first $15,000 if you sign up via my link and only 0.25% for any money over $10,000. You don't even have to fund your account to see the various ETF portfolios they'll build for you based off your risk-tolerance. Invest your idle money cheaply, instead of letting it lose purchasing power due to inflation.
About the Author: Sam began investing his own money ever since he opened an online brokerage account online in 1995. Sam loved investing so much that he decided to make a career out of investing by spending the next 13 years after college working at Goldman Sachs and Credit Suisse Group. During this time, Sam received his MBA from UC Berkeley with a focus on finance and real estate. He also became Series 7 and Series 63 registered. In 2012, Sam was able to retire at the age of 34 largely due to his investments that now generate roughly $175,000 a year in passive income. He spends time playing tennis, hanging out with family, consulting for leading fintech companies, and writing online to help others achieve financial freedom.
Updated for 2018 and beyond.