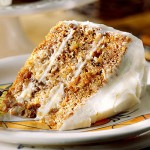 One of my best friends is blessed with skinny genes.  At 5′ 3″ tall, she weighs all of 105 pounds.  When we go out to eat, she doesn't just order a glass of iced tea and salad with dressing on the side.  She goes all out with mash potatoes, creamed spinach, BBQ oysters and then a nice juicy ribeye for a main course!  I gawk in amazement at her appetite while secretly groaning at trying to keep up towards the end.  After all, shouldn't she eat 40% less than me if she weighs 40% less?  Guess not!
Despite my friend's envious genetics, she isn't exactly iron woman when it comes to sports and outdoor activities.  After three miles on a 10 mile bike ride, she's pooped and waves at me to take a break.  Meanwhile, I'm going "lah, lah, lah" in my head, not even breaking a sweat as I soak in the glorious views of the Bay.  I let her catch up and we take a five minute pit-stop where she catches her breath as I go do some stretches and sit-ups.
THE GIMMICK
One day my friend tells me about a great incentive program at our local gym.  I kid her often because despite her $100/month membership, she never goes.  She comes up to show me a gleaming new card which says, "BURN TO EARN!"  Hmmm, what's that I ask her?  She tells me that if she goes to the gym 20X in the next two months, she will be entered for a chance to win a free t-shirt, socks, swimming goggles, a weekend in Napa, or two rounds of golf which she does not play at some country club somewhere.
Suddenly,  I notice a transformation.  From going maybe once a month, my friend starts going 3-4X a week!  All for what?  A chance to win a simple T-shirt?  Needless to say, after two months, she was absolutely ripped.  We're talking Madonna-like abs, and thankfully not Modonna-like arms, because that's just scary.  When the time for the drawing came, she gleefully whipped out her BURN TO EARN card and gave it one good luck kiss.
As fortune would have it she won absolutely diddily squat in the first round.  Luckily, there was a consolidation round and there she heard, "And the winner of  a brand new pair of tubular socks is….. Lisa!"  A shrill of joy belched out of her little frame as she jumped up and down "I won!  I won!  Wheeee!"  I think I rolled my eyes because I didn't win anything and couldn't believe her luck.  New tubular socks.  Sweet!
CONCLUSION
By just administering a small rewards program, our health club was able to get a notoriously great client (one who pays on time and never goes) the motivation to go 15X more than normal.  I go 10X+ a month anyway, so it wasn't a big deal.  But for Lisa, it was like watching a new person altogether.  The lesson learned is that the next time you want to get someone to do anything, tempt them with cotton that warms the feet!
Regards,
Sam @ Financial Samurai – "Slicing Through Money's Mysteries"
Follow on Twitter @FinancialSamura and subscribe to our RSS or E-mail feed.