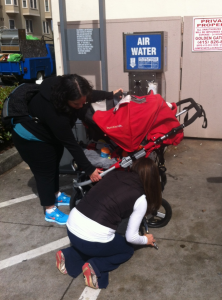 I was driving Moose to the local Chevron station to put air in his 18 inch beasty tires when I came across this picture to the right.  Study the picture carefully, what do you see?  What you see are two lovely moms trying to figure out how to use an industrial powered air pump to inflate their baby stroller!
The stroller was the deluxe version, with nice visor, four off-road looking tires, and space for two babies.  I looked it up online and it says I can buy the "Bumbleride Indie Twin Double All" for only $800.  Wow!
Anyway, I told the moms to be careful, because the industrial power air pump is meant for tires 100 times the size and they could literally blow up their stroller tires.  They brushed me off, and said "Oh not to worry, we've done this before."  Hmmm, OK!
10 minutes later….. seriously, 10 minutes later, they are screaming at each other!  "WTF is wrong with this thing!  Ugh, how come I can't the nozzle to fit?!  We need to get a hand pump next time!"  For someone who has "done this before", they sure are making a fuss and taking a damn long time!
I couldn't help giggling like a school girl and started taking a couple pictures.  It was seriously the funniest thing I've seen in a while.  When I first arrived, they were standing behind another car who was getting its tires pumped.  It's like waiting in line at the McDonald's drive-through in your spandex behind a fuming exhaust pipe!
ARE YOU FRUAL OR A CHEAP BASTARD?
I was trying to figure out why these women would not want to just buy a $10-$15 hand pump to inflate their overpriced super stroller.  The only logical conclusion I got was they there were being cheap.  Seriously, who spends 10 minutes and all that frustration and embarrassment to try and pump their stroller wheels at the gas station!
During my 10 minute wait, I also reflected on what type of cheap bastard things I've done.  Nothing at all!  Just kidding, I'm thinking things over now.
A List Of Things That Might Be Considered Cheap
* Haven't bought a new pair of jeans in 8 years because I think nice ones are a rip-off.  $200… really?!  Besides, the Diesel jeans I bought 11 years ago for $120 still fit me.  Cheap bastard?
* I saved years and years of living expenses by the time I turned 30.  Could have spent like Snoop Dogg, but didn't.  My reasoning was I needed to save because I was whipped so hard at my first job from ages 22-24, that there was no way I could survive if I had to work more than 20 years.  Cheap bastard?
* When I was in college, I bought my girlfriend an awesome fake Prada wallet when I went to a night market in China.  I didn't tell her it was fake, because it looked so real.  Besides, I didn't have money to spend $300 on a real one.  I think she finally figured it out, but im not sure.  Cheap bastard?
* When I go to one friend's tennis club, I'd rather drive around the block a couple times than pay the $3/hour parking fee.  If after 5 minutes, I will quit.  The club is in a sparsely populated area, so I feel bad paying for parking if I don't need to.  Cheap bastard?
* Even though it's 8pm, I'd rather wait 15 minutes for the bus to come, go on a 25 minute ride, and use my pre-paid monthly bus pass than pay $15 for a 10 minute cab ride home.  Frugal or wasting precious time?
* Rather starve than spend $13 on an over-priced sandwich at the airport, even if I know it won't be another 3-5 hours before my next meal.  Cheap bastard?
* Rather continue watching my 7-year old TFT-LCD TV with faded color than spend $800-1,200 for a new one because it is such a pain in the ass to change systems.  With new technology, I need to buy a new receiver and cable, leading to another $600+ in expenses.  Frugal?
* My furnace is around 13-15 years old, but still works.  It costs about $3,000 to replace with a more energy efficient, better looking, new one.  I don't want to bother until it breaks, unlike a water heater, where I highly recommend one change once the recommended shelf-life is over.  Frugal?
* Decided to put black tape on Moose's dashboard, rather than fix the traction control and ABS lights because it costs $1,500+ and my mechanic says don't fix it because the functions work, just not the useless circuit board.   I do feel a little embarrased if I take someone I don't know for a ride.  I hope they don't notice the black tape.  Cheap bastard?
FRUGAL OR CHEAP BASTARD?
People do stupid stuff with their time, all the time in order to save money.  As I've said before, there's no point making money if you don't spend your money!  As I get older, I realize this more and more.
After experiencing the Asian crisis in 1997, the dotcom bust in 2000, and the economic Armageddon in 2008-2009, it's very hard to change my cheap bastard tendencies, but I'm trying! It's 2015 now and the economy has fully recovered. Stocks are close to record highs and the real estate market is strong.
RECOMMENDATION
Track Your Wealth For Free: In order to optimize your finances, you've first got to track your finances. I recommend signing up for Personal Capital's free financial tools so you can track your net worth, analyze your investment portfolios for excessive fees, and run your financials through their fantastic Retirement Planning Calculator. Those who are on top of their finances build much greater wealth longer term than those who don't. I've used Personal Capital since 2012. It's the best free financial app out there to manage your money.
Updated for 2017 and beyond.