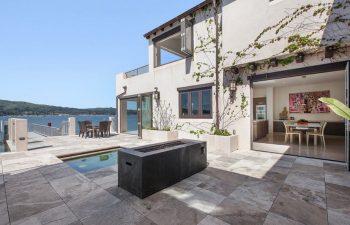 There are several key hurdles you need to meet before buying a home.  The rules can be encapsulated in the 30/30/3 principle.

1) Cash flow. Traditionally the industry says to spend no more than 30% of your gross income on your monthly mortgage payment, but I think you can stretch it to 50% if you think you'll be making more money in the future.  Don't bank on it though, as this downturn has shown many people, including myself.
50% of your gross income on $50,000/month is much different from 50% on $2,000/month mind you.  You must be able to take care of your basic needs with the money remaining.  Hence, I suggest spending LESS as a percentage of your gross income the more income challenged you are.  I wouldn't spend more than 30% of gross, if income is $10,000/month or less.
2) Down Payment. You should have at least 30% of the value of the home saved in cash.  20% is for the downpayment to avoid PMI insurance, and the other 8-10% is for a healthy cash buffer.  There are some high-risk people out there who want their home so bad that they put down only 10%, and take another 10% in the form of a maxed out HELOC loan just to get in the home.  If you don't have at least 30% of the value of the home saved up, then it's best to start eating only ramen to bolster savings!
3) Value of the home. Cash flow affordability is a function of the price you pay.  If you are able to meet the first two hurdles of cash flow and down payment, then you can tie it all together with a proper multiple of your yearly gross income to see what you can afford.  The MAX multiple I recommend is 5X if you meet the first two conditions, but 3X is better.  In this case, the more you make, riskier it is to go to an upper limit multiple because of  leverage.  5X $500,000 is much more daunting than 5X of a $50,000 salary for example.  You can always refinance your home, but you can never change your initial purchase price!
Good Example: $100,000/yr income, $120,000 in cash saved, $400,000 home no problem!  $320,000 mortgage after putting 20% down, and you still have a $40,000 buffer.  Your monthly payment is $1,918/month PMI at 6%, and is a suitable 23% of your monthly gross income of $8,333.  In case of layoff, you have 21 months of mortgage coverage with your $50,000 buffer.
Donkey Example: $120,000/yr income, $100,000 in cash saved, salivating for a $750,000 home.  10% down leaves $25,000 in cash, and a $675,000 mortgage since you're doing another $75,000 HELOC to avoid PMI insurance.  Monthly payment $4,000, or 40% of your gross income.  6 month mortgage coverage ratio before you run out of cash is not enough.  Don't do it!
I highly recommend making sure you pass the 30/30/3 principle before making the biggest purchase of your life.  It'll be good for you in the long run, and it'll be great for neighbors and the entire financial system as there will be less of a chance you'll foreclose.  Best of luck in your house hunt!
Related post: The Real Estate Investing Rule To Follow: Buy Utility, Rent Luxury
Recommendations
Explore real estate crowdsourcing opportunities: If you don't have the downpayment to buy a property, don't want to deal with the hassle of managing real estate, or don't want to tie up your liquidity in physical real estate, take a look at Fundrise, one of the largest real estate crowdsourcing companies today.
Real estate is a key component of a diversified portfolio. Real estate crowdsourcing allows you to be more flexible in your real estate investments by investing beyond just where you live for the best returns possible. For example, cap rates are around 3% in San Francisco and New York City, but over 10% in the Midwest if you're looking for strictly investing income returns. Sign up and take a look at all the residential and commercial investment opportunities around the country Fundrise has to offer. It's free to look.
Updated for 2019 and beyond.