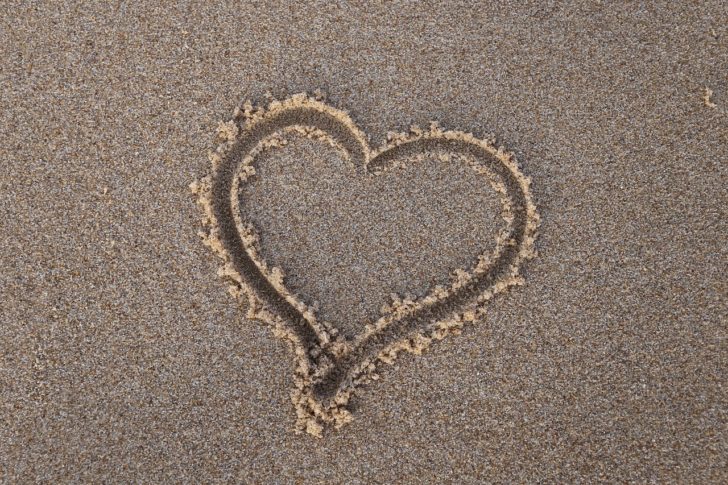 In the middle of the financial crisis, I decided to propose and get married to my lovely wife. It was the happiest moment of my life.
When people ask me to recollect the horrors of the financial crisis, I've got to think real hard because I proposed in early 2008, got married at the end of 2008, then started Financial Samurai in mid-2009.
Despite losing about 35% of my net worth, I'm overwhelmed with memories of joy during this time period. I knew that even if I lost everything, at least I'd still have my wife. We met in college when we had nothing. So starting over wouldn't be too bad.
For those of you love birds thinking about going the budget wedding route, this post is for you.
Spending ~$34,000 on the average cost of a wedding in America today feels kind of ridiculous. If you live in a coastal city like NYC or San Francisco, the average wedding costs closer to $80,000 and $50,000, respectively.
The Detailed Breakdown Of Our Budget Wedding
Our 16-person wedding on the beach ended up costing around $2,745. The costs included:
$700. Two roundtrip economy class tickets to Hawaii from San Francisco. Hawaiian Airlines has a two-seat, four-seat, two-seat configuration. We aren't very big, so sitting next to each other in a two-seat configuration in coach felt fine.
$1,100. Wedding ceremony on the beach performed by a licensed Hawaii officiate with a ukulele player in the background. The wedding package included two fresh flower leis, a floral bouquet, and a keepsake Hawaiian wedding certificate.
$300. Wedding photographer for our one-hour ceremony. We also got tons of free photographs and videos from our relatives, two of whom are really into photography and had all the fancy equipment.
$560. Reception for 16 people at our favorite Korean BBQ place where I first took my wife on a date.
$80. Wedding dress. My wife went to Target and got a simple white beach dress. I wore my favorite Aloha shirt that I bought a couple of years ago at Goodwill for $5, trousers, and flip flops.
Total: $2,745
The Average Wedding Cost In America
Here is the average overall wedding cost according to The Knot's 2017 Real Wedding Study. Due to inflation, the figures are higher today.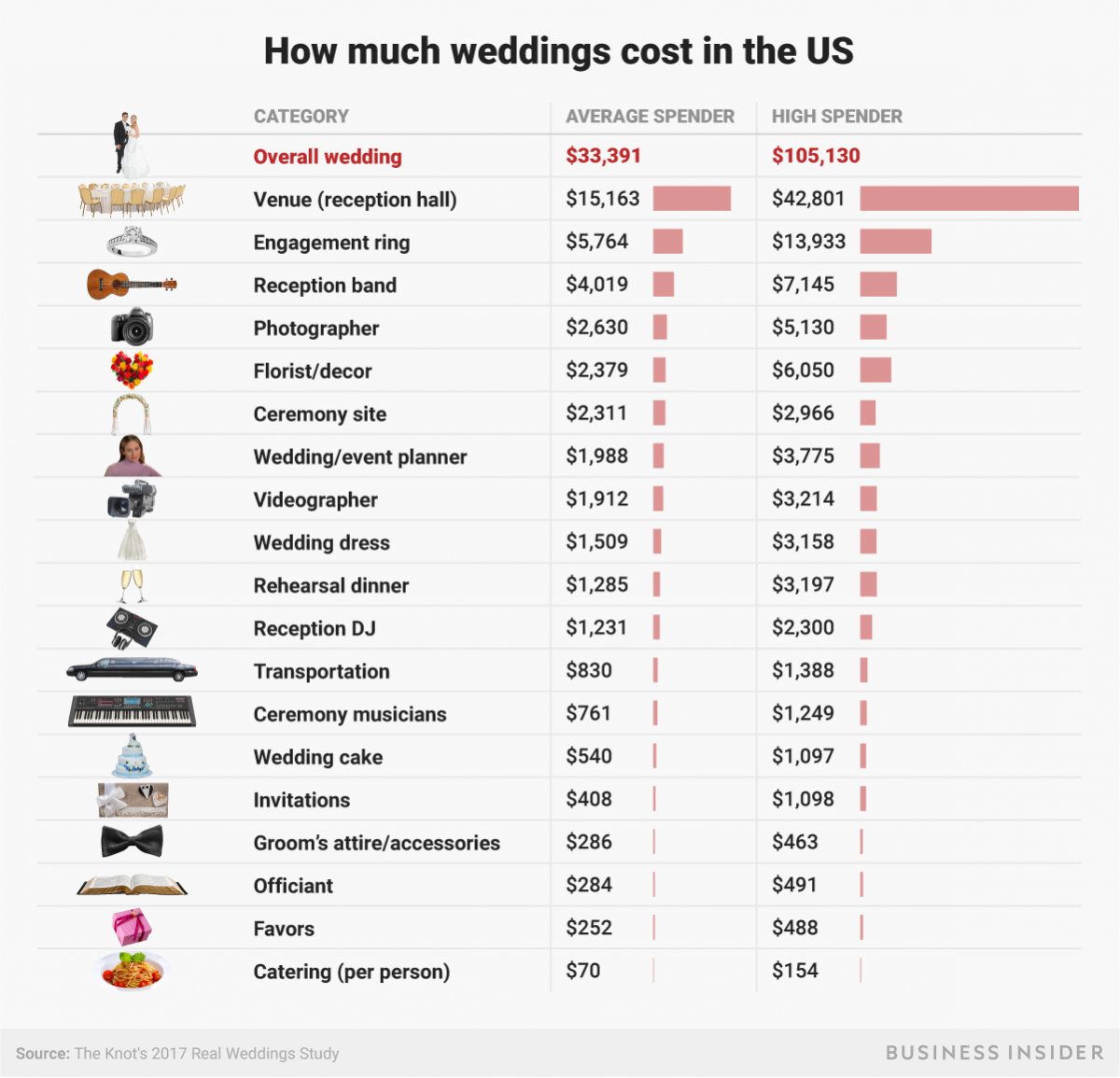 The main thing missing from my budget is the engagement ring, which was about $6,800. If the average cost of a wedding normally includes the engagement ring, then our wedding was closer to $9,500. Then again, I included the cost of our flights, which The Knot's study did not.
Thoughts On Having A Budget Wedding
1) There was no stress.
Not only was there no money stress, there also wasn't any planning stress. My wife found the wedding package online, paid for the ceremony via Paypal, and we e-mailed invites to our respective family members. We didn't want to be bothered with picking out a fancy stationery or going to the printers. We just typed in the basic details of our plan and clicked "send."
The day of our wedding, we got dressed, drove down the hill to the beach just seven minutes away and exchanged vows. Because only 16 people attended, everybody arrived on time.
There were no hiccups, which can happen at large and complicated weddings, and we all left smiling.
2) We started out on the same financial page.
Having a simple wedding reflected our values. We are simple people who like to be frugal. There wasn't a mismatch where one was a spender and another was the saver. My wife's favorite store is Target. And my favorite beverage is water with a slice of lemon.
We both found it unnecessary to spend tens of thousands of dollars in one evening. Instead, we were much more excited about investing the money we could have spent on a big wedding for our future.
In 2008, we were both already focused on reaching financial independence. Our original goal was to both work until 2017. Little did we know then that we'd exit much sooner.
3) A small wedding didn't put any pressure on our guests to give.
We knew from attending past lavish weddings there was sometimes an expectation for guests to give money or random presents. In some Asian cultures, couples sometimes wind up making more from monetary guest gifts than the cost of the wedding itself!
We didn't want anything from our guests, only their attendance. By keeping things simple, there were no expectations.
4) We avoided guest list complications.
Agreeing on a guest list for a wedding can be a very stressful process. What if you invite one colleague, but not another? You might limit your career!
Instead of inviting everyone to our wedding, we decided to invite only our immediate family members. By excluding distant relatives, friends, and coworkers, there was no discrimination or hard feelings. Plus, the savings and simplicity of the logistics were marvelous.
When we got home we threw a house party for friends and colleagues.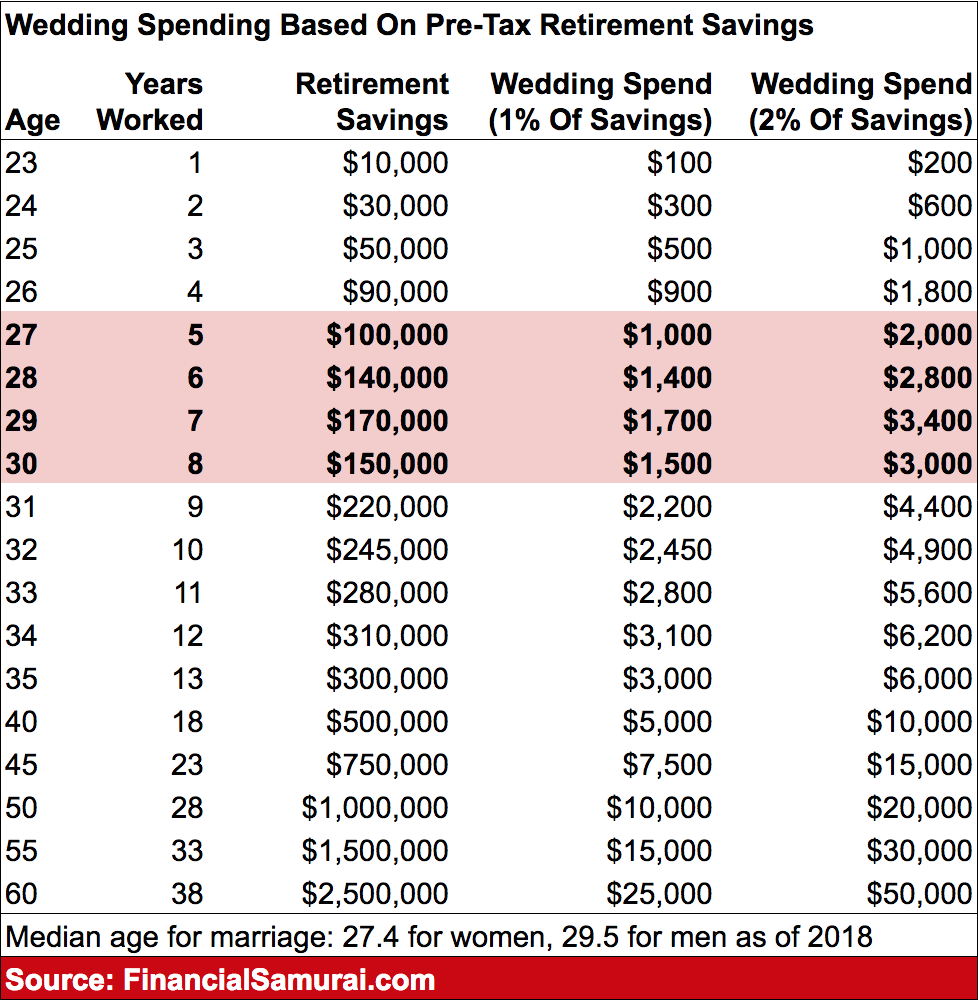 5) No drama over the bill.
When you're hosting an average $34,000 wedding in America, there might be some drama on how to divvy up all the expenses. After all, the average $34,000 wedding is spent by the median household income of roughly $62,000.
Some couples go into debt to pay for a wedding, which is a terrible idea. Other couples make the bride's parents pay, which might cause some resentment and vice versa.
We were able to comfortably pay for all our expenses in cash.
6) Nobody cares how simple or lavish your wedding is.
I've been to $1,000,000 weddings and I've been to $2,800 weddings. So long as you are surrounded by good people, good food, good drinks, a ceremony that runs on schedule, and good pictures, that's all that matters.
Maybe I'm just insulated from wedding gossip as a man, but I've never once heard someone bag a wedding for its size or estimated cost. The only people I imagine who would bad mouth a wedding are those who didn't attend or shallow people you really don't want in your lives.
The people who attend your wedding are what matter most. It is they who will make you feel loved.
A Budget Wedding Is Just Fine
I'm not sure how much more fun we'd have if we spent 12X more on our wedding to match the national average. Perhaps 20% more fun? Or maybe we'd have 50% less fun because we'd feel more financial stress for such an ephemeral event.
One of the things we did with our wedding savings was return to Hawaii every year until 2016 and pretend we were on another honeymoon each time. We'd always return to the beach where we got married and celebrate afterward. It was a fun way to keep our wedding memories going for a long time.
We put our trips on pause in 2017 once our son was born. But I decided to superfund my boy's 529 plan with $70,000. ~$70,000 is the amount we had earned by investing $34,000 in the stock market at the end of 2008 instead of spending it on an average wedding.
Overall, I think things have worked out well. Despite being wealthier today, I still don't think we'd spend more than an inflation-adjusted $3,800 on a wedding. We'd much rather invest the difference in our children's future.
If you spent big bucks on your wedding and had a blast, then awesome! A wedding is a priceless experience. For those of you deliberating on how much to spend, I think you'll have a fantastic time even if you go the budget route.
Related posts:
Wedding Spending Rules To Follow If You Don't Want To End Up Broke And Alone
How To Dress To The 9s For A Black Tie Wedding
The New Rule For Engagement Ring Buying

Loading ...

Loading ...
Readers, any of you have a budget wedding? If so, how much did you spend and what were the individual costs? What do you think drives the average household to pay the average $34,000 cost for a wedding? If ~50% of marriages end in divorce, isn't spending so much money on a wedding risky? I'd love to get a wedding insider's perspective about wedding costs and wedding stories, good and bad.