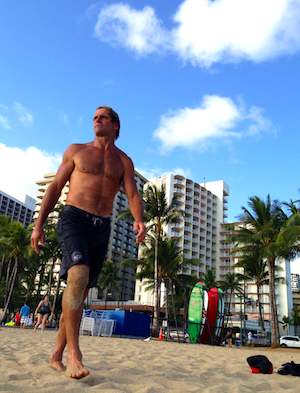 It's hard to stay in shape as we get older. We move around less, our family demands more of our time, and our jobs stress us out to the point where we eat too much comfort food.
I'm about 10 pounds heavier that I was during college. I always tell myself it's due to more muscle, but I know it's a lie because I hardly ever lift weights anymore. When you no longer need to be in incredible shape because you've found someone who likes you just the way you are, why bother? All I do is play tennis and do the occasional push-ups and sit-ups now.
Motivation is something I'm perpetually looking for because my motivation meter never seems to stay full. I sometimes feel the paradox of freedom where America allows for a relatively correlated path to attaining what we want. If I want to get six pack abs, I'll cut out the sweets and do 500 sit-ups every day for three months in a row. If I want to make more money, I'll work harder at executing new ideas. I really don't think there's very much that's inhibiting our progress other than ourselves.
MAHALO LAIRD
I just finished boogie boarding at "The Walls" in Waikiki beach, Oahu when I bumped into Laird Hamilton. Laird is the co-inventor of tow-in surfing and is considered one of the best big wave rider of our time. Take a look at the video below to see Laird successfully ride a 50 foot, cylindrical beast at Teahupoo. It's sick!
At 6'3" and 215lbs, Laird is absolutely ripped. You know those board shorts without elastic bands that squeeze any fat you have around your belly even if you're relatively thin already? Laird doesn't have that problem. What's particularly inspiring is that Laird is 49 years old and is in better shape than 99.9% of folks out there. When he turns 50, you'll know he'll still be in the same great shape.
I talked with Laird about his charity work for kids with autism as well as his secret to staying so fit. He basically said to cut out the refined carbs (pancakes, waffles, bagels, pasta, rice, cereal) and stick with complex carbs, organic fruits, and vegetables. Have a taste of dessert if you wish, but don't eat the whole thing he said. Makes sense. We also got to talking briefly about our mutual love of the ocean before another fan requested his attention.
Everybody should know by now that processed foods and refined sugars are the worst thing for someone who wants to get lean. It just feels better coming from a legend himself.
After taking a couple photos with Laird I went on my way with a friend to get some Ono's Hawaiian food on Kapahulu. We kept on thinking, "What would Laird eat?" So we decided to skip the salt meat watercress soup and haupia and stick with fresh poke and butterfish luau instead.
MOTIVATION METER BACK UP!
It's frustrating to always have to recharge the motivation meter. Although I don't wish for anything bad to happen to change my ways, I clearly see the benefits of getting "scared straight." Perhaps that scary moment is getting your first mini-stroke at the age of 40 to eat better. Or maybe it's as simple as investing all your net worth in the stock market and having years of saving get cut in half in a matter of months to make you diversify more. Whatever the case may be, I'm thankful to have bumped into Laird.
Besides the motivation to get back into the best shape possible, Laird also reminded me that so much of the best things in life are inexpensive or free. The waves will always come for anybody who dares to take them on. The mountains will always stand majestically for any hiker whose knees will allow. The West Coast is the best coast, but I think I love Hawaii even more.
From now until a potential summer boondoggle in Barcelona, I plan to get back into the best shape possible. I'm not eating better out of guilt or for anybody. I'm selfishly getting fit for myself.
"I do not want to not live because of the fear of what could happen," Laird Hamilton.
Recommendations 

Need affordable health insurance fast? Take a look at the plans offered on AgileHealthInsurance. They offer term coverage for as little as $1.50/day with premiums up to 50% less than Obamacare (ACA) plans. There are no lock-out periods so you can enroll any time of year, get immediate approval and get coverage in as little as 24 hours. AgileHealthInsurance also offers broader doctor networks than most Obamacare plans and has customizable options for dental and discounts on prescriptions.
Looking to find affordable term life insurance? Check out PolicyGenius, an independent insurance broker that is revolutionizing the way we shop for life insurance – for free! Answer a few simple questions on PolicyGenius's website and instantly receive free, personalized and comprehensive life insurance quotes. PolicyGenius provides free, unbiased advice on more than 25 A-rated top life insurance companies they have thoroughly researched and vetted. Because life insurance prices are regulated, you don't have to worry about not getting the best deals. PolicyGenius helps you compare the best quotes all in one place. Check out their free life insurance rate quotes with PolicyGenius today. When insurance companies compete, you win!
Updated for 2017 and beyond.