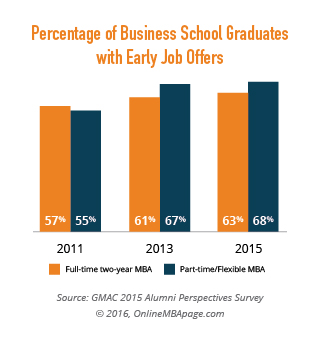 I've decided to dedicate much of the rest of this month focusing on graduate schools, specifically the much loved and vilified graduate degree, the MBA.  The deadline for round 1 applications is fast approaching, and I've come up with a $1,000 giveaway that any aspiring MBA applicant, PhD applicant, or grad school applicant for that matter may be interested in receiving.  Hence, feel free to spread the word and stay tuned!  For now, let's start off with a layup as to why getting your graduate degree is a good idea, if you want to make more money.
Many personal finance publishers use Net Worth IQ as a way to track their financial progress.  NW IQ managed to gather a bunch of good data to digest and analyze.  A lot of it is just common sense such as the older you are, the greater your net worth tends to be.
This is the chart that stood out most:
Education
Profile Count
% of Pop.
Median Net Worth
Less than high school graduate
21
0.67 %
$26,440
High school graduate
79
2.53 %
$40,570
High school graduate with some college
322
10.32 %
$25,189
Associate degree
117
3.75 %
$46,464
Bachelors degree
1460
46.78 %
$73,461
Masters, professional, doctoral degree
901
28.87 %
$193,761
Total Reporting Users: 2900
Someone with a graduate degree averages a net worth 160% greater than someone with a bachelors degree and 700% greater than someone with  a high school diploma.  The data is based on info provided by 2,900 users which is a big enough sample set.
5 Theories Why Those With Graduate Degrees Have Higher Net Worths
1) People are older when they enter or re-enter the work force
2) Graduate degrees command higher salaries
3) People tend to work longer because they invested a greater amount of time and money in their education.  Doctors, for example, study until they are 28-30, and can work well into their 70's.
4) People may have more money already, since graduate school is expensive.
5) People are motivated to succeed because they are sacrificing more, and need to prove to themselves they made the right decision.
There's been a lot of debate over whether a graduate degree is worth it, and this data tilts the data towards yes.  You guys know we don't like to rely on net worth, as it gives a false sense of security.  But, since net worth by definition is net of all liabilities, we can presume the cost of higher education, and student debt specifically, is included.
OTHER OBVIOUS CHART CONCLUSIONS:
The Older You Are, The Wealthier You Tend To Be (Except If You're Between 60-64!)

Age
Profile Count
% of Pop.
Median Net Worth
Under 25
499
15.99 %
$9,660
25-29
916
29.35 %
$37,229
30-34
648
20.76 %
$136,629
35-39
455
14.58 %
$298,500
40-44
238
7.63 %
$491,100
45-49
114
3.65 %
$690,090
50-54
59
1.89 %
$702,552
55-59
35
1.12 %
$1,123,000
60-64
12
0.38 %
$507,000
65-69
3
0.10 %
$2,294,492
70-74
0
0.00 %
$0
75 and over
2
0.06 %
$2,734,001
Total Reporting Users: 2981
The Higher Your Income, The Higher Your Net Worth

Income
Profile Count
% of Pop.
Median Net Worth
0 – 9,999
92
2.95 %
$1,830
10,000 – 19,999
65
2.08 %
$839
20,000 – 29,999
131
4.20 %
$1,808
30,000 – 39,999
186
5.96 %
$3,582
40,000 – 49,999
268
8.59 %
$22,211
50,000 – 59,999
283
9.07 %
$32,461
60,000 – 69,999
282
9.04 %
$50,177
70,000 – 79,999
260
8.33 %
$96,520
80,000 – 89,999
180
5.77 %
$113,100
90,000 – 99,999
202
6.47 %
$176,548
100,000 – 149,999
542
17.37 %
$267,042
150,000 – 199,999
190
6.09 %
$513,000
200,000 – 249,999
99
3.17 %
$549,446
250,000 +
129
4.13 %
$1,035,000
Total Reporting Users: 2909
The last two charts aren't a surprise at all.  The net worth differential among various levels of education is.  Now obviously there are plenty of wealthy people who don't have graduate or even bachelor degrees (Bill Gates). However, if you're someone who's trying to decide between attending or not, perhaps this data may help you in your decision making.
CONCLUSION
I'll be the first to tell you that getting a graduate degree was a royal pain in my a$$, especially going part-time.  Can you imagine working 60-70 hours a week, and then going to class from 9am-6pm every Saturday for 3 years?!  What's worse was the last minute studying on Friday night when the only thing I wanted to do was pass out on the couch watching my favorite movies.  The good thing about a difficult experience is that it's over, and what's left of you is a stronger individual who can better endure future hardship.  Every weekend now feels like a vacation and I'm glad I got my degree.
To quantify the MBA is somewhat difficult, but I'd like to think it's helped me avoid the chopping block during these past two downturns, and get me promoted once during school, and once right after I graduated.  The degree gives me the credibility to manage a business out west, and I'd be happy to do it all over again.
Related Posts:
Refinance Your Student Loan With SoFi
SoFi is a fantastic social lending company that provides rates as low as 1.9% variable with auto pay and 3.5% fixed with auto pay. The reason why they can offer lower rates than the rest is because they analyze you based on merit, quality of employment, and education besides just a credit score and financials. There is zero origination and prepayment fees. Offer terms are from 5, 10, 15, 20 years in both fixed and variable. Both private and public student loans can be refinanced.
Besides low rates, one of their best features is their unemployment benefits. If you lose your job while repaying your loans, you don't have to pay your loan for up to 12 months while you look for a new job! Interest will still accrue, but having this cash flow break is a huge benefit. They also provide job assistance guidance as well. You can apply to refinance or apply for a new student loan here.
RECOMMENDATION
Start your own business: If you feel you're not getting paid what you're worth and want to boost your income, start your own business online on the side! It used to cost a fortune and a lot of employees to start your business. Now you can start it for next to nothing with a hosting company like Bluehost for under $4/month and they'll give you a free domain for a year to boot.
Brand yourself online, connect with like-minded people, find new consulting gigs, and potentially make a good amount of income online one day by selling your product or recommending other great products. Not a day goes by where I'm not thankful for starting Financial Samurai in 2009. Check out my step-by-step how to start a website guide here.
Updated for 2018 and beyond.