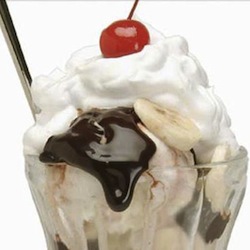 As part of my book writing process, I interviewed over 80 people face-to-face to better understand people's risk tolerances.  Funny enough, about half of them were interviewed while I was relaxing in a hot tub up in Lake Tahoe.  If you want to start a fun dialogue, ask this question next time you're soaking with sangria in hand!
The 80 people produced a range of answers between 0 months to 36 months of living expenses in severance in order to quit their jobs.  The median number, somewhat surprisingly was only about 3-6 months!
The people I spoke to ranged from 23 year old recent college graduates to 55 year old men and women who longed to do something new.  Almost everybody had dreams of doing something else, although about 10% said they loved their jobs and were happy to keep on working for another 5 years.
It definitely seemed like the younger and older ends of the spectrum wanted to do something new.  Those in the middle, ages 30-45 seemed a little more content doing what they were doing, but still had the itch.
UNDERSTANDING WHO SAID WHAT
Observations of those willing to accept six months severance or less to quit:
* Younger e.g. in their 20's or older than 50.
* Had at least one year of living expenses in savings, with many having 3-5 years +.
* Seemed more extroverted based on how long they'd sit and chat.
* More entrepreneurial in nature e.g. talked about businesses they wanted to start vs. new jobs they wanted to have.
* Many had very average to below average paying jobs.
* Men were more aggressive to take less if they knew what they would be doing.
Observations of those who need more than a six month severance to quit:
* Have more stable occupations e.g. worked for the state, accountant, lawyer.
* Have higher paying occupations e.g. lawyer, banker, dentist, doctor, engineer.
* Have children.
* Have more than one mortgage.
* Have unpaid off consumer debt.
* Have recently changed careers in the last five years.
* Many were in their mid-30's.  It's as if they were just starting to taste success after paying their dues in their 20's and didn't want to give it all up yet.
* Women seemed more conservative in general, not wanting to risk their livelihood without a clearly defined plan.
SEVERANCE IS A LARGE CHERRY ON TOP OF A HOT FUDGE SUNDAY
For many of us, receiving a nice severance is just a bonus for leaving a job we wanted to leave anyway.  About 20% of the respondents said they wouldn't need a thing thanks to some new plans on the horizon.  Meanwhile, another 10% just wished the company laid them off, even with no severance so they could "get on with their lives."
When I started seriously thinking about quitting my job in 2010, I didn't even factor getting a severance into the equation.  All I thought about was how to save the most and make my savings throw off enough steady cash flow so I don't need to work again.  The more I researched the process of severance, the more I realized what an enormous potential windfall we could all have!
Discussing a way to get a severance package almost seemed taboo to about half the people I talked to.  They wanted to either just get up and quit, some with barely any savings or just keep on biting their teeth and working.  People don't approach it as an engineer would in a methodical, calculated, and multi-variable outcome way.  When you know your rights, you know your worth!
I am on the more conservative side of things and told myself that if I could get 36 months worth of severance, I would pull the trigger.  I didn't want to lose my deferred compensation if I quit at the very least.  When I finally signed the separation package agreement, the amount of severance I got equated to roughly 72-84 months of living expenses!  Six years was a serious no brainer, even for a conservative person like myself.
Related: Never Quit, Get Laid Off Instead
Start Your Own Website
It's been around six years since I started Financial Samurai and I'm actually earning a good passive and active income stream online now. The top 1% of all posts on Financial Samurai generates 31% of all traffic. The average age of the top 1% posts is 2.3 years old. In other words, after putting in the hours to write some very meaty content over two years ago, 10 posts consistently generate a monthly recurring income stream that's completely passive.
I never thought I'd be able to quit my job in 2012 just three years after starting Financial Samurai. But by starting one financial crisis day in 2009, Financial Samurai actually makes more than my entire passive income total that took 15 years to build. If you enjoy writing, creating, connecting with people online, and enjoying more freedom, see how you can set up a WordPress blog in 15 minutes like mine with my step-by-step tutorial. You never know where the journey will take you!
Updated for 2017 and beyond.