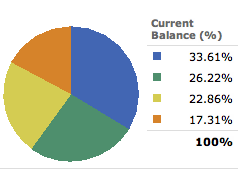 The fear is palpable now since taking profits when the S&P 500 was at ~2,100.  After about a 10% correction, I allocated 70% of my stable value fund back into equities.  Too early, I know as 2016 is turning out to be a dud. But I'm a long term investor.
The new market concerns are old market concerns:
* Greece and the rest of Europe.
* China slowdown.
* Corporate malfeasance.
* Summer malaise.
* Unemployment.
* Concerns of Mitt Romney winning, making us all fend for ourselves.
During times of intense market panic, you've got to ask yourself these questions:
* Who was the dumb ass buying the markets at its peak in March and April?  What made them so bullish?
* What kind of bozo invests the majority of his/her net worth into the markets?  Do they not believe in themselves more than entrusting the fate of their future in uncontrollable circumstances?
* How are dividend buyers feeling now?  You know, the one who says "I don't care what the market does because I'm getting a 4% yield"?  Making a 4% dividend and losing 10% of your investment is a bad result.
* Is the world really coming to an end?
I care about absolute performance first.  I'd rather be up 2% in a crappy year than outperform the markets by 20%, but still be down 10% for example.  However, if I'm going to lose money, the second best thing is to lose less than everyone else!
REMEMBER, THE GAME IS RIGGED
You should all know by now that the game is rigged.  Underwriter Morgan Stanley telling their institutional investors that they've cut estimates, but not disseminating the info to all at the same time is a good example.  What are you going to do about it, file a class action lawsuit if you were one of the retail investors who bought at $38?  Good luck trying to get anything back.
Meanwhile, investors who have at least $100,000 to deploy can invest in a structured product that provides 100% principal protection and 110% participation towards the upside of the Dow Jones Industrial Index over x amount of years.  If shit hits the fan and the market goes down 50% from here, said investor will get all his money back plus a 0.5% annual coupon, which is still better than today's 0.2-0.3% money market rates!
Meanwhile, for years, our Congressmen and Congresswomen could front run the very bills they were voting on!
INSTEAD OF GETTING MAD, GET MOTIVATED!
You're never going to become an institutional investor by definition, but you can certainly make and save enough money to invest money with an institutional investor e.g. a hedge fund.  Just know that even institutional investors got hurt by the Facebook deal since they accounted for the lion's share of the public offering at $38.  They'll at least have more recourse and knew more about what they were getting themselves into than the typical retail investor.
Even though private wealth companies such as Citibank charge 0.5%-1% annual fees to manage your money, they can buy mutual funds for you that cost 1-1.5% annually for only 0%-0.5% (different class shares), thereby negating much of your annual fees.  In other words, for a net fee of only 0-0.5%, you get someone constantly looking out for your best interests while you get to focus on building your wealth in other ways.
If you have more money, you gain better access.  With better access comes better knowledge.  And with better knowledge comes a higher chance for greater fortunes and stability for you and your children.  In other words, stop messing around!  Once you get into the wealth cycle, it's hard to lose your edge unless you are a complete idiot.
FIGHT TO EQUAL THE PLAYING FIELD
At a friend's gathering the other day, the President of the SF Public Library system talked about how libraries help equal the playing field between the haves and the have-nots.  I couldn't be more supportive of her words and the system in which she presides.  Libraries not only provide a place for our youth to learn and grow, libraries also help empower us with knowledge so we can make better life choices.
The internet is like a library, allowing us to find categories of specific interest at a flick of a button.  The internet is just a tad bit more interactive, with writers who will snap back at nonsensical comments.
I hope that reading this site is as educational for you as it is for me.  I was poor once, but I've learned my way out of poverty.  Just keep on reading those books and sites that interest you.  Keep on consuming as much information as possible.  The more you know, the better decisions you will make for the long run.
RECOMMENDATIONS TO BUILD WEALTH
* Manage Your Finances In One Place: The best way to become financially independent and protect yourself is to get a handle on your finances by signing up with Personal Capital. They are a free online platform which aggregates all your financial accounts in one place so you can see where you can optimize. Before Personal Capital, I had to log into eight different systems to track 25+ difference accounts (brokerage, multiple banks, 401K, etc) to manage my finances. Now, I can just log into Personal Capital to see how my stock accounts are doing and how my net worth is progressing. I can also see how much I'm spending every month.
The best tool is their Portfolio Fee Analyzer which runs your investment portfolio through its software to see what you are paying. I found out I was paying $1,700 a year in portfolio fees I had no idea I was paying! They also recently launched the best Retirement Planning Calculator around, using your real data to run thousands of algorithms to see what your probability is for retirement success. Once you register, simply click the Advisor Tolls and Investing tab on the top right and then click Retirement Planner. There's no better free tool online to help you track your net worth, minimize investment expenses, and manage your wealth. Why gamble with your future?
* Invest Your Money Efficiently: Wealthfront, the leading digital wealth advisor, is an excellent choice for those who want the lowest fees and can't be bothered with actively managing their money themselves once they've gone through the discovery process. All you'll be responsible for is methodically contributing to your investment account over time to build wealth.
In the long run, it is very hard to outperform any index, therefore, the key is to pay the lowest fees possible while being invested in the market. Wealthfront charges $0 in fees for the first $15,000 if you sign up via my link and only 0.25% for any money over $10,000. You don't even have to fund your account to see the various ETF portfolios they'll build for you based off your risk-tolerance. Invest your idle money cheaply, instead of letting it lose purchasing power due to inflation.
About the Author: Sam began investing his own money ever since he opened an online brokerage account online in 1995. Sam loved investing so much that he decided to make a career out of investing by spending the next 13 years after college working at Goldman Sachs and Credit Suisse Group. During this time, Sam received his MBA from UC Berkeley with a focus on finance and real estate. He also became Series 7 and Series 63 registered. In 2012, Sam was able to retire at the age of 34 largely due to his investments that now generate roughly $175,000 a year in passive income. He spends time playing tennis, hanging out with family, consulting for leading fintech companies, and writing online to help others achieve financial freedom.
Updated for 2018 and beyond. It's an absolute bull market now, with the S&P 500 at all-time highs. I've begun to take money off the table as valuations look stretched. I sold my rental house in SF in 2017 as well because someone paid me 30X annual gross rent. They had to borrow $2M and $300K to buy my house + $400K down!