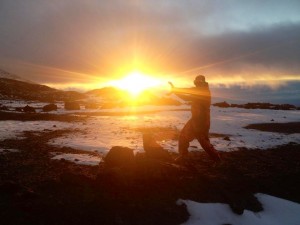 In the article, "How To Get Over Your Fear Of Investing" I mention how your risk tolerance decreases the more capital you accumulate. When you were rocking a $100,000 net worth as a 30-year-old, you had no problems investing 30% of your net worth in your employer's promising stock. But now that you're 50 and less enthusiastic about working for decades more, investing 30% of your $1 million nest egg doesn't seem like a good idea.
The tax refund actually provides for a great opportunity to swing for the ROI fences every single year, no matter your age or net worth. Given that the average tax refund is only around $3,000, many people just blow it on material things like shoes, clothing, gadgets, and LED TVs. It's not necessarily a bad idea to use your "bonus" money to buy something tangible: any of these things can provide solid utility until next year's refund. Alternatively, going the traditional route of paying down debt or increasing a depleted emergency fund is also fine, just terribly unexciting.
Now if your tax refund was a whopping $100,000, I'm willing to be that your approach to spending it would be substantially different! Some would unwisely go out and spend the money instantly on a luxury automobile; most, however, would probably give considerably more thought to the question of how to deploy such a large sum. Things like paying down a mortgage, investing for retirement, buying a home, putting money away for a child's education, or helping out a loved one all come to mind with this level of money. But most people will never receive such a large refund, so the point is moot (sorry!). The $100k refund simply provides a mental exercise that highlights how our spending habits shift when dealing with different levels of money.
Although a tax refund often feels like a nice windfall each year, it's actually been your money all along. And how boring it is to just invest that money (now that you finally have it) in the stock market for a potential 8% historical return. Of course if you've got revolving credit card debt with interest rates in the teens or higher, certainly give that a whack. But as a Financial Samurai reader, I'm thinking you guys are savvier than this.
A 10X RETURN ON YOUR MONEY
Please spend some time reading, "The Most Lucrative Ways To Spend Your Tax Refund." Each of the four ways I suggest provides a return ranging from 1,000% to priceless, in my opinion. While you probably can afford to take bigger risks with $3,000, my suggestions for investing your tax refund probably have the lowest risk of all—and definitely the biggest payoff!
Use your refund to build better relationships at work and at home. If work is going well and your love life is swell, everything else just takes care of itself. All this talk about aggressively investing your savings into stocks and bonds for a more secure financial future is just gravy, because you're living in a wonderful moment.
When was the last time you took your boss out for lunch (on you)? I bet for many people, the answer is "never". But as I've highlighted before in, "How To Get Ahead In Your Career" that's exactly what some of the most keen people in any organization do. If you could pave your path to a promotion and a raise, the return on a fancy $100 lunch or multiple lunches with your boss is probably closer to 10,000% instead of just 1,000%.
The happiest moments in my life are when I'm surrounded by family, friends, and loved ones. Think back to those family holiday get togethers, or those great adventure vacations with your partner. What a blast! How about those momentous occasions when your parents proudly watched you graduate from high school or college? These are moments I'll never forget. It's curious how we drift apart as we get older; life gets in the way, I guess. Spending money to be with friends and family can't be beat.
TAX REFUND SPENDING PLAN

My refund this year is relatively large because of deferred compensation that is paid in a lump sum once a year while no longer having a lump some severance payment. The IRS thinks the lump sum will occur every month, and therefore taxes the amount at the top tax bracket. The reality is I earned much less to the point where AMT was only a couple thousand dollars.  One day I hope AMT will be zero, if Congress can raise the income trap.
I see the annual tax refund as a defined pool of money that should be wisely spent on others as well as yourself. If you throw the refund into your pool of investments, its efficacy disappears. You won't even be able to feel the joy of a 10% return. But if you invest the refund on relationships, a better life awaits.
INVESTMENT PLATFORM RECOMMENDATION
Mobilize Your Idle Cash Earning Nothing: Wealthfront is an excellent algorithmic advisory choice for those who want the lowest fees and can't be bothered with actively managing their money themselves once they've gone through the discovery process. It's free to sign up and see what type of portfolio they'll build for you.
In the long run, it is very hard to outperform any index, therefore, the key is to pay the lowest fees possible while being invested in the market. Wealthfront charges $0 in fees for the first $150,000 with my special link and only 0.25% for any money over $15,000. Their minimum is only $500 to get started. Invest your idle money cheaply, instead of letting it lose purchasing power due to inflation.
About the Author: Sam began investing his own money ever since he opened a Charles Schwab brokerage account online in 1995. Sam loved investing so much that he decided to make a career out of investing by spending the next 13 years after college working at Goldman Sachs and Credit Suisse Group. During this time, Sam received his MBA from UC Berkeley with a focus on finance and real estate. He also became Series 7 and Series 63 registered. In 2012, Sam was able to retire at the age of 34 largely due to his investments that now generate roughly $150,000 a year in passive income. He spends time playing tennis, hanging out with family, consulting for leading fintech companies, and writing online to help others achieve financial freedom.
Updated for 2018 and beyond.