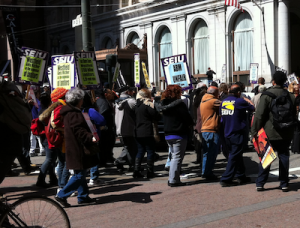 "Thank you." "You're doing great work." "Way to go!" Such simple words of encouragement cost nothing, but go a long way towards motivating employees.
I firmly believe managers don't do enough to express gratitude towards their employees. If they did, there would be much less turnover, much higher worker satisfaction, and ultimately higher profits for the firm.
Sometimes business is just bad and there's no room for a pay raise or promotion. No problem. Take your employees out to lunch to show them your gratitude for coming in early or going above and beyond for a client. A lack of recognition by their managers is consistently one of the top complaints I hear from people who want to engineer their layoff. Some want to take it a step further and "stick it to their employers" for all the years of mistreatment.
Firms need to do more in the ways of managerial training. Often times, the best producer gets promoted to become manager instead of the best person with managerial abilities. This trend causes all sorts of problems down the road. Training classes need to focus on teaching managers how to motivate employees by understanding their sincerest desires. My research shows that recognition is at the top of the list. Let's look at more reasons why employees are so disengaged.
MAIN REASONS WHY EMPLOYEES LEAVE THEIR JOBS
 * Industry is in structural decline. The good times don't last forever, especially in highly cyclical industries that experience boom and bust cycles. If you are in a structurally declining industry, things are even worse. Back in the late 1990s, working in finance was a blast. You were well compensated and there weren't so many restrictions on entertaining your clients. Now the finance industry is heavily regulated with pay caps and entertainment restrictions. Pay has probably declined by 30-50% on an apples to apples basis as margins have come under pressure due to advancements in technology and the commoditization of information.
* It stops being fun. There's no point working for prolonged periods of time if you aren't having fun. If you are in a toxic environment with backstabbing co-workers and an overbearing boss, please do yourself a favor and get out. I used to love going to work every morning until I started getting harassed every day by several disgruntled colleagues who had to come in by 4:15am before the markets opened. Although I'd give it right back when they left by 3pm, it started getting tiring.
* Better opportunities elsewhere.  Just like in the stock markets where opportunities exist every day, there are also better employment opportunities every day. It's up to us to find them. The job market is incredibly fragmented despite the advent of online job sites like Monster and The Ladders. Most of all the good jobs I know come through networking. So if you want better opportunities you've got to get to know more people. It is highly likely you are making less than market rate. The longer you stay at one firm the bigger your market rate discount most of the time. Here are 15 things to consider before quitting your job.
* Psychological abuse. Instead of recognizing an employee for their achievements, some managers and colleagues sadly mentally abuse their employees, treating them as if they were like a machine with no feelings. One female interviewee mentioned that her male boss often made her feel uncomfortable with his innuendos. Another interviewee discussed how just because she went to a rival school which her senior manager did not gain admission to, she was constantly badgered with remedial tasks. We humans can be incredibly petty. Here's an article on how to stop haters from hating you so much if you find yourself in this situation.
* A fading meritocracy. Work hard, get paid and promoted right? Unfortunately, if you are in a structurally declining industry it might not matter how hard you work; you will never progress in your career. One of the most attractive things about Wall Street was the "eat what you kill" mentality. If you were able to bring in a big deal for the firm, you were paid commensurately. Working for a large investment bank has moved towards the likes of working for the government. Rigid promotion time tables and a narrow pay band kills incentive. Just look at controversy with unions and tenured teachers and you get the idea. Beyond making money is the important sense of recognition.
* No more room for advancement. "Progress" is my one word definition for happiness. When you are stuck doing the same old thing for years it takes its toll. I suggest everyone who has hit a glass ceiling check to see if there are other departments, offices, or even countries with openings. Sometimes it just takes a little bit of scenery change to recharge and move forward again. The problem with living in San Francisco is that it's hard to leave San Francisco because life is so good here. I've been to over a hundred cities and SF ranks right up there with the best of them.
* A realization that life is short. The large majority of people I interviewed for my book mentioned in some way or another that they felt the brevity of life catch up to them. Women who hit 30 and 35 were particularly vocal about life largely due to the difficult balance of managing a thriving career and wanting a family. Men showed a lot of wanderlust at 40 when they realized they were technically middle age with the median lifespan for men at 80. At age 34, I came to the realization that I lasted 10 years longer than I thought I would in the financial services industry. I also knew that I would regret not taking the leap of faith to do my own thing, especially after locking down a healthy severance package. The #1 regret from the dying as assembled by Bronnie Ware, an Australian nurse who spent several years in palliative care was: 1) I wish I'd had the courage to live a life true to myself, not the life others expected of me. I think it's everyone's duty to go out and find what truly motivates them every single day.
A MEANS TO AN END TO A CONSTANT BEGINNING
For almost all of us, a job is a necessity for survival. We are the bourgeois who can't count on silver spoons and trust funds. As a result, we must work hard for what we want and take nothing for granted. The beauty of hard work is that it usually results in positive benefits that may very well last a lifetime if we are smart with our money.
Although I do sometimes miss the camaraderie of work, I think I shall miss my freedom even more if I go back to work. Everybody needs to decide for themselves how much of their lives they wish to sacrifice in order to get what they really want. There is no reverse button in life!
Recommendations When It's Time To Go:
* Negotiate A Severance Package: If you finally do want to retire, never quit your job, get laid off instead. Negotiating a severance enabled me to receive six years worth of living expenses from a company I dedicated 11 years of my life to. If I had quit, I wouldn't get any severance, deferred compensation, medical benefits, job assistance training or unemployment benefits. I believe so strongly in never quitting that I spent a couple years to write a 150-page book entitled, "How To Engineer Your Layoff: Make A Small Fortune By Saying Goodbye." I'm absolutely certain this book will help you recognize your rights as an employee and break free from the corporate grind to do something you truly want to do.
* Start your own business: Do something you love by starting your own business online! It used to cost a fortune and a lot of employees to start your business. Now you can start it for next to nothing with Bluehost. Brand yourself online, connect with like-minded people, find new consulting gigs, and potentially make a good amount of income online one day by selling your product or recommending other great products. Not a day goes by where I'm not thankful for starting Financial Samurai in 2009. I have maximum freedom now thanks to working on my side-hustle while working for 2.5 years. You never know where your journey will take you!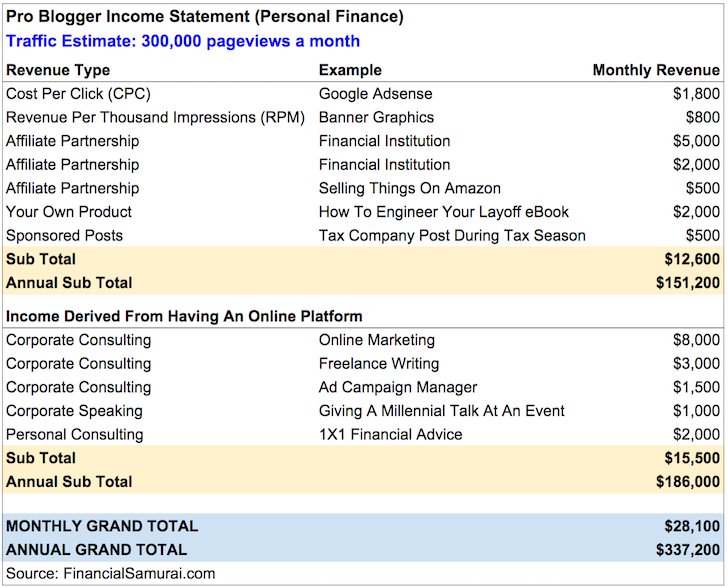 * Manage Your Finances In One Place: The best thing you can do to grow your net worth is to get a handle on your finances by signing up with Personal Capital. They are a free online platform which aggregates all your financial accounts in one place so you can see where you can optimize. Before Personal Capital, I had to log into eight different systems to track 28 different accounts (brokerage, multiple banks, 401K, etc) to track my finances. Now, I can just log into Personal Capital to see how my stock accounts are doing, how my net worth is progressing, and where my spending is going. Their 401K Fee Analyzer tool is saving me over $1,000 a year in fees I had no idea I was paying. There is no better free platform out there that is helping me manage my money. The entire sign-up process takes less than a minute.
Updated for 2018 and beyond.