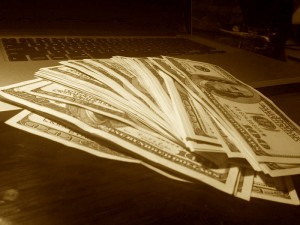 I've got a confession to make. When I log into my Prosper account to figure out where to dole out my next $1,000 tranche to borrowers, I feel a little bit like President Obama handing out money to his supporters. The only difference is I'm figuring out how to allocate my own money, not my neighbor's money to build wealth.
They say money is power, but I never experienced such intoxicating power until I started investing in peer-to-peer lending. P2P lending lets me help decide the fate of someone's desires or well being. When I invest in the stock market or in private companies, I don't feel empowered because I'm a minority investor with no say. In fact, I'm losing control over my money as I entrust others to do a better job at making a return on money than I can.
On a personal level, having money is empowering because money buys freedom. Freedom to do whatever was my main motivating factor to save so aggressively during my career. I never thought of making money so I could have power over other people like our great politicians. Now that I've tasted what it's like to be a sugar daddy over peer-to-peer lending, I'm afraid of what I might become!
EMPATHY FOR GREED & CORRUPTION
You folks know that I dislike all politicians from every single party. They say they want to do the people's work, but we all know that politicians are in it for themselves. Why else do you think Presidential and Congressional salaries are not effected by a sequestration? They voted in a way that no matter what happens, our politicians won't get financially affected.
The same thing goes for years of allowing our politicians to conduct insider trading on legislation that is in their hands for so many years. Why do you think there are so many examples of politicians abusing their power by misappropriating campaign funds and taking advantage of interns? Power is addicting!
To be able to decide the fate of someone's life is strangely alluring. One of the Prosper borrower's profiles said they needed $20,000 to upgrade their outdated kitchen and bathroom. The borrower had a 680 credit score, two delinquencies, and a $18,000 revolving credit balance. You know what I did? With one swift click of a mouse button I moved on to the next borrower. Denied! I thought to myself as I began to grumble out one of those slow descending evil laughs.
I then stumbled across a woman who wanted to borrow $10,000 to consolidate her debt. She had a 780 credit score, no delinquencies, and wrote a lovely description of how she plans to start a new life as a nurse practitioner. Of course I raised my default lending amount of $100 to $250 and clicked the Invest button. Ahhhh, how gratifying it is to help a young lady fulfill her dreams and lower her financial burden.
If I'm not careful, I could probably spend at least two hours a day combing through borrower profiles on Prosper. Two hours would be half my committed daily work allocation during retirement, leaving me with hardly any time to write, read, and interact with folks online. Luckily, my money is not infinite and my long term CDs don't start expiring until next year. Hopefully by the time money becomes liquid again, I'll have conquered my addiction to P2P lending.
BEING HONEST WITH YOURSELF
It's been an absolute pleasure researching the ins and outs of P2P lending. I'm just surprised to discover how fun it's become to have money again. When you are surrounded by people who are financially stable, you don't think much about your own wealth. There's no giddiness factor like you had when you were a child anymore. It's when you go into the marketplace and read hundreds of profiles of people who want to borrow thousands of dollars for a variety of reasons where you start feeling rich and powerful.
P2P lending has opened my eyes up to a largely unknown world of people who spent too much, borrowed too much, want too much, or simply got unlucky in life. P2P lending almost fulfills everyone's critical eye and compassion at the same time. I'm hooked.
With every new investment, it's good to start small and work our way up. We might get lucky in the beginning and start thinking we know more than we know. If this happens, I encourage everyone to remind themselves that luck early on can be incredibly damaging later on. You can open up a Lending Club account with this link.
Just be warned, if you have addictive tendencies like smoking, drinking, gambling, and eating lots of bacon, you may want to limit your initial investment amount to something small. Making money with money is already tempting enough!
Wealth Building Recommendation
Manage Your Finances In One Place: One of the best way to become financially independent and protect yourself is to get a handle on your finances by signing up with Personal Capital. They are a free online platform which aggregates all your financial accounts in one place so you can see where you can optimize your money. Before Personal Capital, I had to log into eight different systems to track 25+ difference accounts (brokerage, multiple banks, 401K, etc) to manage my finances on an Excel spreadsheet. Now, I can just log into Personal Capital to see how all my accounts are doing, including my net worth. I can also see how much I'm spending and saving every month through their cash flow tool.
A great feature is their Portfolio Fee Analyzer, which runs your investment portfolio(s) through its software in a click of a button to see what you are paying. I found out I was paying $1,700 a year in portfolio fees I had no idea I was hemorrhaging! There is no better financial tool online that has helped me more to achieve financial freedom. It only takes a minute to sign up.
Finally, they recently launched their amazing Retirement Planning Calculator that pulls in your real data and runs a Monte Carlo simulation to give you deep insights into your financial future. Personal Capital is free, and less than one minute to sign up. It's one of the most valuable tools I've found to help achieve financial freedom.
About the Author: Sam began investing his own money ever since he first opened a Charles Schwab brokerage account online in 1995. Sam loved investing so much that he decided to make a career out of investing by spending the next 13 years after college on Wall Street. During this time, Sam received his MBA from UC Berkeley with a focus on finance and real estate. He also became Series 7 and Series 63 registered. In 2012, Sam was able to retire at the age of 35 largely due to his investments that now generate over six figures a year in passive income. Sam now spends his time playing tennis, spending time with family, and writing online to help others achieve financial freedom.
Updated for 2018 and beyond.