Owning rental properties only ranks fifth out of my eight best passive income sources mainly due to scoring low on the Passive variable. Managing tenants and dealing with maintenance issues can be stressful. However, with high inflation and strong demographic trends, the value of rental properties should increase long term.
As inflation stays elevated, you want to go long real assets that inflate with or even faster than the national inflation rate. You don't want to get hurt by rising rents. Instead, you want to benefit from rising rents. Therefore, owning rental properties through private real estate investing has currently moved up to my #1 passive income investment today.
As a financially savvy individual, your goal should be to accumulate as many underpriced cash flow-generating assets as possible. I believe this permanently low-interest-rate environment is once more favoring owning rental properties. With inflation picking up, you want to ride the wave of higher rent prices AND higher capital appreciation.
Rental properties will provide a one-two punch of appreciating capital values and rising rents for owners. Over time, this combination should build a tremendous amount of wealth for landlords. If you are in your 20s, 30s, and early 40s, owning rental properties should be a priority.
As a tired father who yearns to earn 100% of his income 100% passively, it's tough for me to accept that owning physical rental properties is once again the right thing to do. However, for the average person, buying more rentals building up a rental property empire is one of the most promising ways to build wealth.
Rental Properties Are Doing Well
For proof that owning rental properties is a valuable asset class, look no further than Fundrise returns. Fundrise invests in single-family and multi-family rental properties in the Sunbelt region where valuations are lower and cap rates are higher.
Notice how Fundrise has significantly outperformed the S&P 500 and public REITs during the 2022 bear market and the 2018 correction. As a result, if you are looking to dampen your portfolio volatility, diversify, and earn more passive income, I'd look into investing with Fundrise.
Outperforming the S&P 500 index is one financial benchmark worth pursuing. It is my belief that landlords such as American Homes 4 Rent, which has over 53,000 properties, will likely continue to outperform the S&P 500.
I've also highlighted how institutional real estate investors are also flush with capital and seeking rental properties as well. The point is, a lot of capital is moving toward buying more rental properties as a long term investment.
Why You Should Own More Rental Properties
The stock market is much more efficient than the real estate market.
Stock markets are quick to fall and quick to rise. Real estate, in comparison, moves at a glacial pace due to paperwork, higher transaction costs, long-term leases, and inventory imbalances.
For example, during the 2008-2009 financial crisis, I was able to keep the rent the same for one rental property thanks to a one-year lease. By the time the lease expired and I was thinking about lowering the rent by 2.5% to entice my tenants to stay, the recession was over. Two years after those tenants first moved in, they decided to move out. The new tenants were willing to pay 10% more.
Real Estate Lags The Stock Market Performance
The lag in real estate performance is one of the main reasons why I published, Real Estate Buying Strategies During COVID-19 back in 1H2020.
As some home sellers were stuck thinking the world was coming to an end in March 2020, I made a bet the stock market would rebound. Further, I bought another rental property from a seller who put his house on the market in April 2020.
The key for homebuyers was to take advantage of lagging sentiment and buy real estate from "doomers." Less than six months later, primary residence demand is strong. Thankfully, there are still some doomers are still out there today despite so many V-shaped economic indicators.
Inflation is back down to 3% as of June 2023, from a high of 9.1% in June 2022. Mortgage rates will eventually come down again, and demand for rental properties will come back.
Let's move beyond buying a primary residence and focus on buying rental properties with an example. Rental properties have lagged the stock market, the bond market, and the primary residence market. But not for long. The smart money is gobbling up rental properties again, mostly in big cities today.
Why Rental Properties Are Undervalued
We learned from my Proper Safe Withdrawal Rate post that returns are intertwined with the risk-free rate of return. With this understanding, let's review how a rental property can significantly rise in value. This rental property valuation calculation is important to understand, so review it multiple times.
January 2020: 10-Year Bond Yield = 1.85%
Value of rental property: $1,000,000
Net Operating Income (NOI): $35,000
Cap rate: 3.5% (NOI/market value)
Although the owner of this coastal city property had a cap rate of only 3.5%, it was still 1.65% higher than the 10-year bond yield. The 1.65% annual premium is the extra reward the homeowner earns for having to be a landlord. Let's call it the "risk premium."
Further, for the past 10 years, the homeowner has increased his equity through faster principal appreciation than the national average. Now let's calculate the value of the rental property after interest rates decline.
End-Of-2020: 10-Year Bond Yield = 0.6%
With the 10-year bond yield falling to 0.6%, what is the value of the rental property if the NOI is still $35,000 a year?
One way to calculate the value of the rental property is by adding the old 1.65% premium to the current 10-year bond yield to get 2.25% (1.65% + 0.6%). You would then take the NOI of $35,000 and divide it by 2.25% to get $1,555,555.
In other words, if we assume the NOI and the risk premium stay constant, the value of the property has increased by 55.5%.
However, there is obviously a possibility the NOI could decrease or increase with a new set of tenants. Further, with eviction moratoriums, there could be the risk of non-payment as well. It is up to the investor to make such a calculation.
2021: 10-Year Bond Yield = 1.5%
The 10-year bond yield surged to 1.75% in 1H 2021, then went back down to around 1.5%. At 1.5%, what is the value of the rental property if the NOI is still $35,000 a year?
Let's add the old 1.65% premium to the current 10-year bond yield of 1.5% to get 3.15%. You would then take the NOI of $35,000 and divide it by 3.15% to get $1,111,111.
As interest rates rise, the value of the rental property goes down, unless then Net Operating Income (NOI) starts increasing as well. In this scenario, the rental property is still worth 15% more than it was worth back in January 2020.
With rents now increasing as we eventually reach herd immunity, the valuation of the rental property will likely increase as well. For example, if the NOI rises to $45,000, the value of the property is $1,428,000 ($45,000 / 3.15%). That's a 42.8% increase from January 2020.
2022: 10-Year Bond Yield = ~4%
With 8% inflation and the Fed determined to hike rates multiple times in 2022 and 2023, the 10-year bond yield has moved up again. The thing is, the job market, and therefore, wages are on fire.
With the combination of strong income growth and low inventory, rent grew by an astounding 18% in 2021. Let's say the NOI rises to $53,100 for 2022. The value of the property is $1,327,500 ($53,100 / 4%).
The thing is, as interest rates increase, cap rates increase in order to reward investors for taking on risk. Hence, rental properties will likely decline in value over the next 12-18 months. That is unless rents keep going up in 2023 and beyond.
Rents Continued To Rise In 2022, But Should Fade In 2023
Check out the national rent growth for 2021 to 2022 according to Apartment List. Rising rents are creating fortunes for landlords.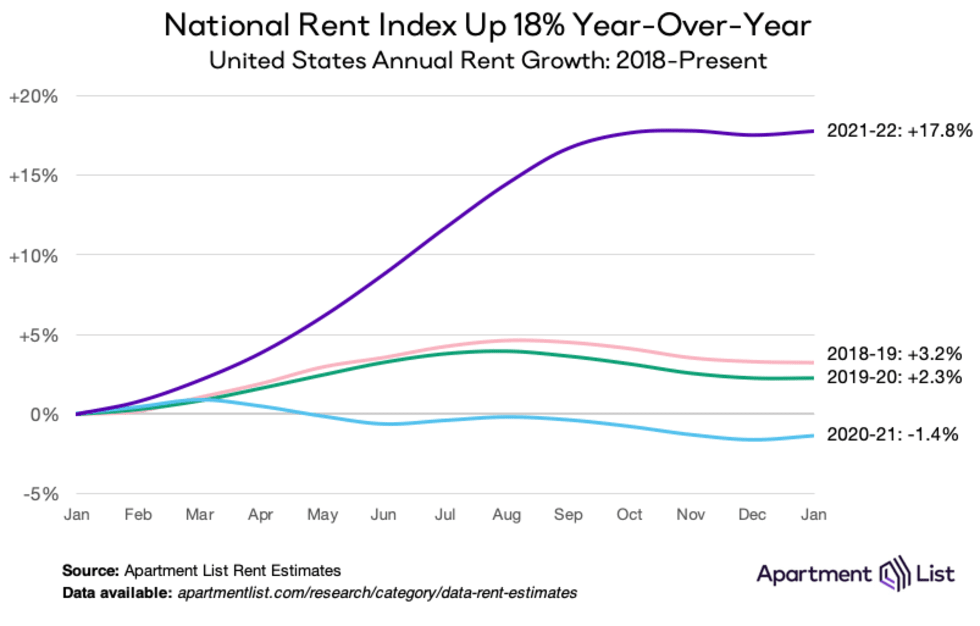 Take a look at big city rent prices rebounding in 2021 and 2022. As a real estate investor, you might find the best value buying rental properties in big cities because they have lagged the most. However, I strongly believe people will be flocking back to big cities because that's where most of the opportunities are.
But as you can see in this chart below, rent growth is moderating in 2023.
Investing in rental properties through Fundrise is a strategic way to go. Fundrise focuses predominantly on acquiring and rehabbing single-family rental properties across the country. With over $3 billion in assets under management and over 300,000 clients, Fundrise is one of the leading rental property investors.
You should also check out CrowdStreet, a real estate investment platform that predominantly focuses on individual real estate opportunities in 18-hour cities. 18-hour cities are where valuations are lower and cap rates tend to be higher. CrowdStreet also has the occasional fund, like its Build-To-Rent Fund.
Both platforms are free to sign up and explore. More and more demand is going to real estate syndication deals to hunt for higher yield.
What Is An Acceptable Risk Premium To Value Rental Properties?
As for the acceptable risk premium, this is what investors will debate the most. On one hand, there is tremendous uncertainty, which should dictate that the risk premium should increase. In other words, investors require a higher rate of return to hold a risk asset.
On the other hand, there is absolute certainty the value of cash flow has gone up due to the decline in the risk-free rate, e.g. it takes more capital to generate the same income. Therefore, the risk premium should decrease.
It is my opinion that risk premiums should stay the same at worst. It is better to own a real asset that generates cash flow in an uncertain environment than an asset with no cash flow and most of its value calculated based on earnings far into the future.
Further, the intrinsic value of a home has gone up given we're all spending much more time at home. With inventory tight across most of the nation, the risk premium for owning rental properties should stay the same or maybe even go down.
Finally, you should compare the rental property risk premium to the risk-free rate of return. The lower the risk-free rate goes, the more valuable the risk premium becomes.
For example, with the risk-free rate at only ~0.6%, a 1.65% risk premium is 2.75X the risk-free rate versus only 0.89X when the risk-free rate was at 1.85%.
The Opportunity To Buy Rental Properties
Based on my rental property example, an investor can make the case the value of the rental property has increased from $1,000,000 to $1,555,555 in just one year.
Or, more specifically, an investor can make the case that the value of the property's cash flow has increased by up to $555,555 in just one year.
Meanwhile, if you had $1,000,000 in cash sitting around, its value has declined. Inflation really eats up the buying power of cash. Therefore, you want to own rental properties that will benefit from inflation due to rising rents and rising property values.
Even though mortgage rates have increased with the 10-year bond yield, real estate investors are still facing negative real mortgage rates. As a result, demand to borrow money to buy real estate will continue to be high.
Therefore, anybody with cash will logically want to mobilize the cash into riskier assets that generate higher yields. These assets can be in the form of dividend-paying stocks, bonds, real estate crowdfunding, and rental properties.
Blue Sky Valuation
Most people will likely argue that the rental property has not gone up double digits even though we've just run the numbers. That's fine. We can say the 55% increase in value is a "blue sky valuation." However, if interest rates stay low for a very long time, then the confidence of a 55% value appreciation goes up.
With this property example's blue sky valuation of $1,555,555, your goal is to buy the property as far below $1,555,555 minus closing costs as possible.
Of course, a blue sky scenario is a reach scenario. We shouldn't count on blue sky scenarios to make us rich. A blue sky scenario is what is possible. Be realistic with your rental property valuation calculations.
Rising rates do throttle the value of rental properties. But rising rents help push rental property valuations higher. There will be a transition period where opportunities arise for investors. Rents will finally start decreasing in 2023 as the economy slows down.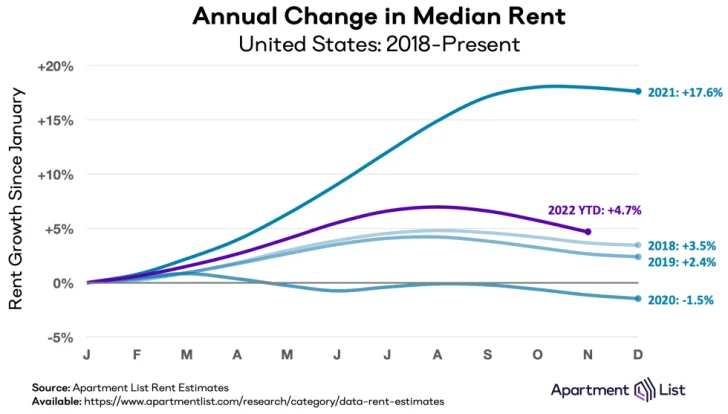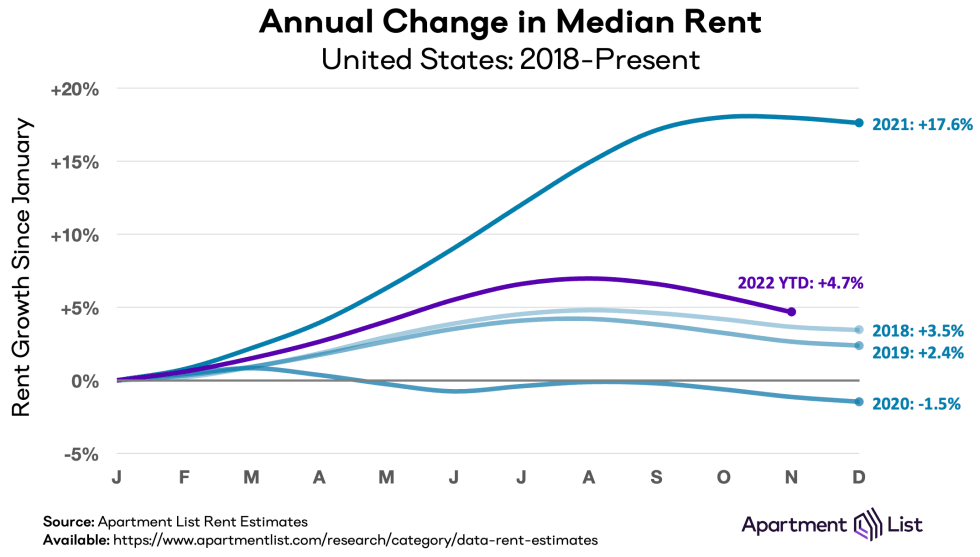 Many Sellers Don't Do The Math
The golden opportunity is when you find a seller who doesn't think through the logic above and if they have a bad real estate agent. He also thinks his city is never coming back. As the 10-year bond yield changes, you must keep updating your rental property valuations.
The seller thinks rents are going to go down even further than a worst-case scenario, rates are going to go up, and jobs will be gone for good. Sure, all these things could happen. The opportunity is betting on the degrees to which these things may happen.
Your goal is to AGREE with the seller's beliefs. Highlight as many bearish articles and anecdotes as you can find. The more you can feed into the seller's bearishness, the better price you can get. If things don't turn out as badly as anticipated and there is a tremendous rebound, you will win big.
Not only will you see a tremendous appreciation in principal values based on comparables, but you'll also be able to increase cash flow through rent increases.
You can easily see a scenario where the owner of the $1,000,000 rental may be happy to sell you his rental property for $1,030,000. He'll think, A 3% appreciation during a pandemic? I'll take it!
But as I demonstrated in my example, his $1,000,000 property is worth so much more. Below is a chart that shows how you can profit from rental properties and make a fortune.
Two More Reasons For Owning Rental Properties
Please spend more time going through my rental property appreciation example above. It is the key to recognizing your potential upside.
Besides potential rental property appreciation, cash flow appreciation, diversification, and a source of income, here are two other reasons for owning rental properties.
1) Tax-efficient income
Most rental property expenses, including mortgage insurance, property taxes, repair and maintenance expenses, home office expenses, insurance, professional services, and travel expenses related to management are all deductible in the year you spend the money.
However, the best deduction is a non-cash deduction called depreciation. You can begin taking depreciation deductions as soon as you place the property in service. Or when it's ready and available to use as a rental. Depreciation is based on the value of the building only, not the land.
Most U.S. residential rental property is depreciated at a rate of 3.636% each year for 27.5 years. In other words, if you own a $1 million rental property, each year you can take a depreciation expense of $36,360. Therefore, $36,360 of rental income can be shielded from income taxes.
2) Assets for your children to manage.
All parents should be worried about their children's futures. The ROI on a college education continues to go down. Globalization is making everything hyper-competitive. And black swan events like a global pandemic are preventing adult children from launching.
Owning rental properties for your children to manage is one solution to a potentially difficult future. Given rental properties take work to manage, parents can side-step the often guilt-inducing act of giving their children money. Adult children can also feel the pride of working to help their family and themselves build wealth. The value of real estate goes way up once you have kids.
There is no joy in inheriting a dividend-paying stock portfolio. However, with rental properties, the adult child can market the property, screen tenants, run background checks, negotiate the lease, coordinate move-ins and move-outs, make sure all insurance policies are in place, collect the rent, and maintain or improve the properties. There is a tremendous amount of satisfaction in finding great tenants at a market rate.
For parents, owning rental properties provides a triple benefit. These benefits include growing family wealth, providing your children a safety net, and giving your children purpose. If you don't want to start your own family business to help your children, building a rental property portfolio. They can manage it in the future.
What Type Of Rental Properties To Own
In an ideal situation, you want to own rental properties where you call all the shots. Therefore, owning a multifamily or single-family home is ideal.
If you cannot afford to own a multifamily or single-family home as a rental property, then the next best alternative is to own a condo. However, beware of condo association rules and the financial health of the homeowner's association.
Some condominium associations charge move-in/move-out fees, which will cut into landlord profit margins. Other condominium associations may have penalty fees for noise disturbances or trash violations.
The one benefit of owning a condo is that the association should be responsible for general maintenance and upkeep. Things such as replacing the roof, painting the walls in public areas, maintaining the elevator are the HOA's responsibility.
CrowdStreet offers some of the best selection of commercial rental properties today. CrowdStreet is a leading real estate crowdfunding platform focused on rental properties in 18-hour cities. 18-hour cities are secondary cities where valuations are lower and cap rates are higher. Growth rates will likely be higher due to migration trends as well.
I've met a dozen of the CrowdStreet executives before when they came to San Francisco. I was very impressed with their investment strategy. It aligned closely to my own of investing in the heartland of America.
Know The Downside Risks Of Owning Rental Properties
Being a landlord is not for everybody. I was fine with being a landlord in my 20s and early-30s. Once I hit my late-30s, I became less fine due to time constraints.
The main downside risks of being a landlord are:
You're a terrible marketer who can't attract tenants at market rate. The longer you take to find a tenant, the lower your NOI and property value.
Your tenants don't pay on time or don't pay.
The property gets damaged by your tenants or from natural disasters. You can find a great homeowner's insurance policy with PolicyGenius.
Time spent dealing with tenant issues as a landlord.
Higher property taxes. For example, the mayor of Nashville, TN pushed through a 32% property tax increase in 2020 while keeping small businesses closed.
Your city could indeed get hollowed out as companies leave.
You are not a people person and are also easily agitated when things go awry.
These downside risks of owning rentals properties is partially why I've invested $810,000 in real estate crowdfunding. Not only do I diversify my real estate portfolio, I also earn income and returns 100% passively. As a father of two kids in a pandemic, time is so precious.
Build Cash Flow Through Undervalued Assets
The value of rental properties has gone way up because interest rates have come way down. Thanks to an inefficient real estate market, investors are able to still get good deals. It's like going back in time to buy assets at lower prices.
Conversely, it is very hard to find value in the stock market today. We've all already bought our Amazons, Zooms, Teslas, and so forth. It's time to focus on buying undervalued, lagging rental properties for ourselves.
Institutional real estate investors like Invitation Homes are raising massive amounts of capital to buy as many rental properties as possible. So should we. Let's hope wealthy foreign investors don't start wising up and buy U.S. rental property as well.
Utilizing your cash hoard to build cash flow is a wise move. Just make sure not to overleverage yourself. Further, always have enough of a cash buffer to protect yourself from unforeseen mishaps.
When it comes to finance, I've always believed in the saying, if you can, you must. Although I don't want to create unnecessary burdens in my life, I must take advantage of opportunity in the rental property market. Low hanging fruit needs to be picked!
It's time to buy a nicer primary residence so I can rent out my existing property. This way, I can boost our retirement income while also living a better life.
Rental Property Investment Alternative: Diversified Fund
If you aren't an accredited investors and don't want to invest in individual commercial rental properties, you can always buy a diversified fund instead.
Take a look at Fundrise, a leading real estate platform and creator of real estate eREITs. Returns have averaged around 9.8% a year regardless of the stock market. It is free to sign up and explore.
If you are an accredited investor, CrowdStreet is also a great option. The platform focuses mainly on individual real estate opportunities in 18-hour cities were valuations are lower and growth rates are higher. Sometimes, they offer specialized funds, like their recent build-to-rent fund.
I have personally invested $810,000 in real estate crowdfunding to diversify my investments and earn income 100% passively. I believe investing in 18-hour cities and the heartland is the way to go for rental properties in particular.