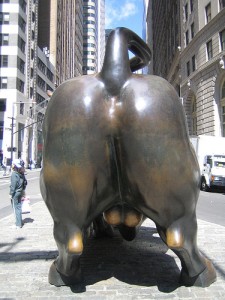 If there's one thing we can appreciate from the Occupy Movement, it's a fantastic slogan that emerged saying, "Shit Is Fucked Up And Bullshit!"  There's something about this slogan that resonates with me, and perhaps with many of you.  I've found myself saying this in my head a lot recently.
I'm not sure if I've ever ranted on my site.  Rather, I've tried to channel my frustration into posts which tell stories that prove points.  In this post, I thought it would be helpful to highlight some fucked up bullshit things that are going on which need to be addressed and fixed.
A LIST OF SHIT THAT IS FUCKED UP AND BULLSHIT
Government Power Abuse
* How can a man, sitting in Congress, pass a law that restricts women from doing what they want with their bodies?
* Why can't gay couples have the same rights as heterosexual couples?
* How could we let Congress profit from insider trading for so long, yet lock common citizens up for doing the same thing?
* Why does the USA police the world?  America doesn't let other countries dictate how we govern.
* Who gave us the right to impose our will on others and kill innocent people during war?
* If government wants to raise our taxes, why don't they also show their support by freezing or cutting their wages and pensions?
* Why is there an income threshold that dictates who can contribute to an IRA or ROTH IRA?  Don't we all deserve to save for retirement?
* Why is the maximum 401K contribution capped at $18,000 for 2015, when pensions are no more, and people need to save more to not have to rely on the government to control our lives when we're too old?
Taxation Discrimination
* Why does the government want to raise taxes on couples making over $250,000, but when they are apart, they can make $200,000 each for a total of $400,000 and not have to pay more taxes?
* How can people vote on a candidate to raise another person's taxes without that person having to pay more taxes themselves?
* Why can't all working individuals pay something in federal income taxes so that we all help our country prosper?
* Why is there class warfare on people who pay the most in taxes?
* Why do people think they are entitled to other people's money?  It's not yours if you haven't earned it!
* How can the poor speak for the rich, when they are poor and have never been rich?
* How can the rich speak for the poor, if they have always been rich?
* Why is there an income threshold for people to receive a child tax credit?  Shouldn't we either have zero tax credit, or tax credit for all families?
* How come if you die after 30 years of contributing to Social Security and are single, your next of kin get nothing?
Human Rights Violations

* Why must we impose our religion on others and tell them they will die if they do not follow?
* Why do we not protect our children and let grown men in leadership positions abuse them?
* Why is there not basic universal healthcare to save those with hardly any money who will lose everything?
* Why are there homeless veterans in America?  Haven't they earned your support dear government?
* How is it OK for a family to have 20 kids when there are 144+ million orphans in the world?
* Why are attractive women "randomly" selected at airport security screenings to go through the full body scan?  Why are male TSA employees allowed to view the body scans of women when only female TSA employees can pat down a female traveler?
* Why is there still racism in America? Don Sterling's comments should be used as motivation to achieve financial independence by all minorities.
* Eric Garner getting choked to death by NYPD for selling cigarettes. Remember his final words,
"Every time you see me, you want to mess with me. I'm tired of it. It stops today… I'm minding my business, officer. I'm minding my business. Please just leave me alone. I told you the last time, please just leave me alone. Please. Please don't touch me. Do not touch me. [garbled] I can't breathe. I can't breathe. I can't breathe. I can't breathe. I can't breathe. I can't breathe. I can't breathe. I can't breathe. I can't breathe."
Anybody who is just trying to make ends meet, FEAR for your safety. If you are a taxpayer, you've once again been robbed of your money. Eric Garner wasn't abusive, verbally or physically, and still died after pleading NINE TIMES "I can't breathe." The medical examiner concluded it was a homicide, and the officer STILL did not get indicted. Watch the injustice yourself!
Integrity Compromised

* Why do people always brag about their big wins, but never their losses?
* Why do people let attractive or rich people get away with murder?
* Why do people forget where they come from?
* Why do people stop giving thanks to those who gave them a chance to succeed?
* Why do people steal each other's ideas?
* Why do people support others who insult their own family?
* Why is an underwater homeowner blaming some rich person who has nothing to do with their decision to sign the documents?
* Why must one hate on another without truly getting to know them?
* Why do people manifest their own personal anger and project against others?
* Why don't people do what they say they will do?
* Why do people think they can vandalize and graffiti other people's property and not face consequences?
Corporate Abuse
* How can a CEO get paid millions of dollars if their company underperforms its peers, kills people, shows negative performance in the stock market, and actually loses money?
* Why do insurance companies sometimes make it impossible to collect on a claim and scam their customers?
* How can a company with monopoly profits in one segment use those profits to destroy its competitors in every other segment?
* How do the CEOs of Ally, AIG, and General Motors, who got billions of dollars from taxpayers, be able to survive on only $10 million in income for 2012?
Work & Career Injustices

* Why do people think they deserve to make a lot of money working 40 hours a week or less, when someone overseas is working 60 hours a week and earns a quarter of what they are making?
* Why do we work so hard to get passed over for a promotion and not given a raise because of company politics despite solid performance?
* Why do people complain why they can't get ahead if they don't come in first, leave last, and work on weekends?
* Why do "C-students" think they deserve "A-lifestyles"?  There are millions of kids out there busting their asses after school, studying 5 hours after participating in extracurricular activities who are going to compete.
* Why does it cost $50,000+ a year to go to the best private schools who have mega-billions in endowments?
* Why are we letting go of our vital public servants who teach our children and protect our streets?
And the list goes on, and on, and on.
TELL ME PEOPLE, WHAT THE HELL IS GOING ON?
I have a lot of questions, and a lot of opinions. I don't expect you to agree with me on all of them, or even a majority. You are free to think and say whatever you want, which is part of the core of this site.
What are some of the things you think are fucked up and bullshit? Why can't we all fight for equality if equality is what we want for our children and loved ones? Never stop fighting for what you believe in. FIGHT ON!
START AN ONLINE BUSINESS
If you're sick of the system, then start your own business! It's been over seven years since I started Financial Samurai and I'm actually earning a good passive and active income stream online now. I never thought I'd be able to quit my job in 2012 just three years after starting Financial Samurai. But by starting one financial crisis day in 2009, Financial Samurai now makes more than $200,000 a year.
If you enjoy writing, creating, connecting with people online, and enjoying more freedom, see how you can set up a WordPress blog like mine in under 30 minutes.
Updated for 2017 and beyond.