When I was a kid, I used to be very combative when it came to fighting racism. Part of the reason had to do with attending international schools in Asia growing up.
Kids from all over the world can get pretty nasty towards each other along racial lines, even though you'd think the opposite might happen.
I took up martial arts and learned debilitating hits to cripple my opponents in a fight if necessary. It's just in my personality to stick up for myself and others, even if it means going to the hospital.
It's easy to dismiss racism as no big deal if you're not a minority. You don't experience the same slights, perceived or otherwise, that frequently come your way. It happens at work, or in the grocery store, or on an airplane, or when you're standing in line minding your own business.
Over time you become inured to the insults, but the sting never goes away. It just gets buried.
Now that I'm an adult who has gone through the system to reach financial independence, I'm slightly less sensitive to perceived injustices because people stop pissing me off as much.
I don't have to kiss someone's ass to get ahead, nor do I have to sacrifice any shred of dignity to make more money. I've really got nothing to complain about, so I don't.
But my new life as a writer has reawakened my combative side, especially when you hear extremely racist comments from very famous or powerful individuals.
I do believe words have the power to affect positive change and raise awareness regarding issues. As a result, I feel it's my duty to speak out against wrinkles in the system with my existing platform. Apathy be damned.
In this post I'd like to share some perspective as an Asian minority living in America. Racism was a big reason why I decided to save so much and aggressively work on my passive income streams to achieve financial independence.
The desire to have absolute choice and be beholden to no one was and still is a huge motivating factor. Perhaps readers in the end will share their motivations as well.
Example Of Racism That Provide Max Motivation
My first experience with racism started in the 4th grade at Taipei American School. We aways had an "Americans" vs. "Chinese" soccer game during recess. The issue was I was American, but of Asian ethnicity. "Americans" was really code word for white, which included my white European classmates. Such a travesty to cultivate a divide so early on.
Even though we were in Taiwan, Asians were called derogatory names on the pitch by non-Asians at Taipei American School all the time. There was a fight every single week.
One time I was tripped by a white German kid who proceeded to then stand over me and taunt me with racial slurs. I swept his legs from underneath him, stomped my heel into his solarplex and he laughed no longer. We both had to face the wall during the next recess.
Another time in the 7th grade at the International School Of Kuala Lumpur, I was minding my own business shooting hoops during recess when a white kid proceeded to pick up my ball, punt it across the outdoor court for no reason and yell racist remarks.
I furiously told him to get the ball, and when he refused I punched his eardrum with an open hand. He went to the nurse's office because he lost his hearing due to a burst eardrum. He later apologized as did I.
I was able to fight back as a kid because all of us were more or less the same size. Starting in high school, it got much harder to fight back because I stopped growing but the bullies kept getting larger and larger. Some even brought knives to school.
But even with a size differential, I still fought back and got suspended for a couple days after getting into a fight with this one fella three inches taller and 40 pounds heavier. He had pushed me over while tying my shoe before class started. A cheap shot for sure, so I punched him in the face, crushing his glasses into his eyes in the process.
The head of security, who also happened to be my varsity tennis coach was called over to escort us to the principal's office. We were both suspended for a couple days.
When I was working my first craptastic job in high school at McDonald's, my Latino colleagues and I were constantly berated by a white manager for speaking Spanish.
I was in my fourth year of taking Spanish and would practice all I could with native speakers while I made those quarter pounders. "Go to the back where you belong and shut up!" he'd yell at us. Such verbal abuse for $4 an hour just wasn't worth it.
During college in the south, I was having a midnight snack with my girlfriend at Denny's, of all places, when four white offensive linemen came in mid-meal and sat in the booth next to us.
They told us to "Get the fuck out of here you chinks" or else they'd beat me and my girlfriend up. My girlfriend was half white, half Asian and absolutely beautiful.
She grew up in Abingdon, Virginia and told me she experienced racial hate as well when the KKK would incessantly send her family white supremacist propaganda. There was nothing my girlfriend and I could do that evening, so we left.
I have their names that I could publish to destroy their reputations online. But after so much time has past, surely they must have improved as human beings. Perhaps I should have a talk with them and see what their views are today.
At work one time, I remember several of my colleagues make fun of a female managing director's voice after a conference call because she was of Indian decent. They kept ripping on her accent and bobbing their heads side to side, laughing.
None of them had ever been to India before and none of them were as senior in title. It was extremely frustrating to witness such disrespect to a colleague, especially since they acted all cordial towards her in person when she came to visit.
But what was I supposed to do? Raise a fuss on a Wall Street trading floor and get targeted every time I'd walk into the office? I told one of the mockers to take his next trip to Asia to gain some perspective. He didn't like that.
My grandfather and father told me about the racism they endured while serving in the US military in World War II, Vietnam, and the US foreign service. What kind of crock of shit is that to get disrespected while serving your country due to race?
I'm sure it would have hurt them to hear how I got made fun of or bullied due to our race growing up. So instead, I fought back and kept quiet.
Experiencing racial discrimination is the worst because our ethnicity is what we are born with. We can't work out to get stronger. We can't train harder to get faster. We can't study more to get smarter.
We are proud of our heritage, but when somebody is pointing a gun to your face it's best to back down and live to fight another day.
Work Twice As Hard To Get Half As Much
I remember one teacher tell me that racism is just the way things are. He said, "Get used to it. Work twice as hard to get half as much, and you'll be fine." I carried this spirit with me all throughout college, but some time around the age of 30 I forgot the saying because I was doing OK.
The world had seemingly changed for the better, and living in a minority majority city like San Francisco made me believe that everybody could live in racial harmony. But then some crap happens, and every single incident gets relived again.
The main way my Asian peers and I knew how to compete was through academics. There was no Americans vs. Chinese in academics. There was no physical competition either, except for the ability to make your brain focus for extended periods of time.
Academics was a level playing field where we strongly believed that if we tried our best, there would be a positive reward in the end. Academics was the main way towards eventual freedom.
Every time we felt like not studying, we'd remind each other of any and all racial putdowns in order to keep on going. We were keenly aware of the lack of Asian role models in the media, in politics, in sports, or in leadership positions at large corporations.
We had to blaze our own trail because we couldn't rely on anybody like us to hook us up. Things are slowly becoming more diverse, but there's still a lot of work to be done.
Immigrants come to America for more opportunities. I firmly believe the reason why there are so many immigrant success stories is because they have so much perspective.
They've seen great poverty, extreme nepotism, and dilapidated infrastructures that rob them of progress. As a result, they're less likely to take their new opportunities for granted. I hope more people can travel internationally and learn to speak more languages.
Even though it might sound unfair that one must "work twice as hard to get half as much," it's a much better alternative than complaining or having no opportunities at all.
Heck, let me work 4X as much to get an equal amount as others so that my kids can have a better chance. I'm just happy that I have a chance.
Related: Income By Race: Why Asian Income Is The Highest
There Is No Safety Net In America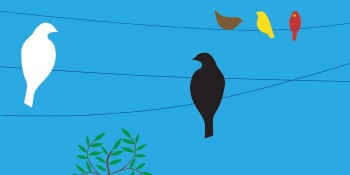 There is a continuous level of anxiety in Asian cultures that we must amass wealth because we can't count on anybody to take care of us — not the government, nor our employers. Only our family will be there to help us through the tough times.
The savings rate in China, India, and Japan are over 25% compared to the average savings rate in America of 5%. Such savings rates carry over to Asian American immigrants as well because money is our safety net. I personally saved over 50% of my after-tax income for 13 years after college partly because I knew I wasn't going to be able to last in my finance job for the rest of my life.
I was a minority working for a minority product in a satellite office. My career was capped. Was it sad to think that being a Director (one level above VP and one level below MD) was as high as I could go? Sort of. But I got over it, like I get over so many realities in life.
I could have tried to relocate to Hong Kong, New York, or London to battle for ascension, but I decided I had enough. Entrepreneurship is a better way to test your mettle.
If you've ever been discriminated against based on your race, sex, age, religion or the way you look, just know that you're better than they think you are. Plenty of people get slapped around every day. You can either take the insults lying down, or you can get up and get motivated to work harder than you've ever worked before.
And here's a message to all races: Aggressively save a good portion of your income every year. Continuously learn about retirement strategies and tell yourself that nobody is going to save you when you can no longer work. Sooner or later you will achieve financial freedom.
And the next time somebody insults you, you can laugh it off and give them a $10 bill to buy a book on respect.
I may sound crazy for fighting back, but that's just my personality. If you mess with me, I will make you pay. I've learned over the years that if you don't fight back against bullies, they will keep coming after you over and over again.
As your financial means grow, you will find more security. And if you develop a platform online, you will gain an even bigger weapon to fight back if anybody messes with you.
Use every single racial bullshit incidence as motivation to get richer. Living the good life is the best victory.
Related: Once You Have F You Money, It's Hard To Tell Others To F Off
Photo Credit: Colleen Kong Savage