So you've joined the real estate crowdfunding movement because you believe there are plenty of untapped real estate opportunities to profit from. No longer do you need to fly to Texas to kick some sheetrock to try and earn a 10%+ cap rate. Now you can just login to RealtyShares and see what they have to offer.
The only problem is, despite the meticulous curation of real estate crowdfunding deals on their platform, you still don't know which one to invest in because they ALL sound great!
Only about 5% of the deals shown to the RealtyShares investment committee actually pass through their rigorous screening for investors to see. As a result, it's natural that all deals sound pretty good, otherwise, they'd hurt the real estate crowdfunding platform's reputation.
Here's an example of a three deals to choose from. Which one do you invest in? They all sound good, yet none of us have an unlimited amount of capital or time. I personally have a newborn to take care of now that requires at least 10 hours of my time a day plus all the other writing I'm doing.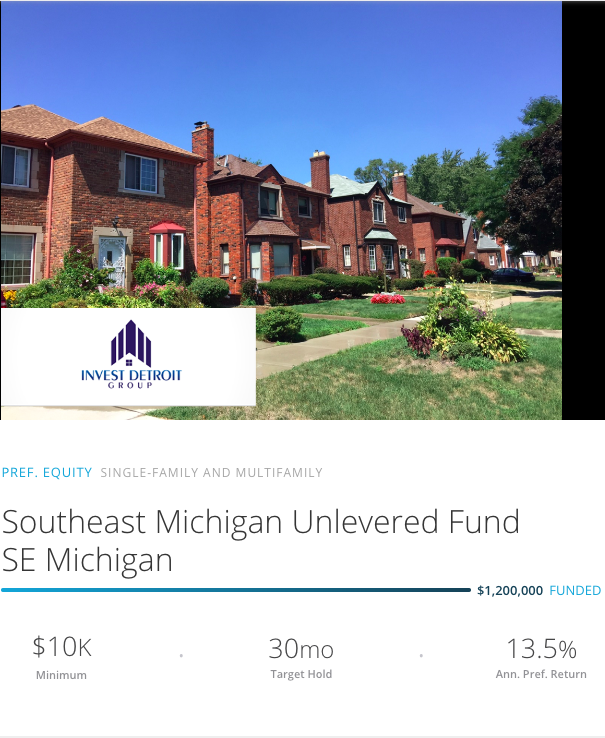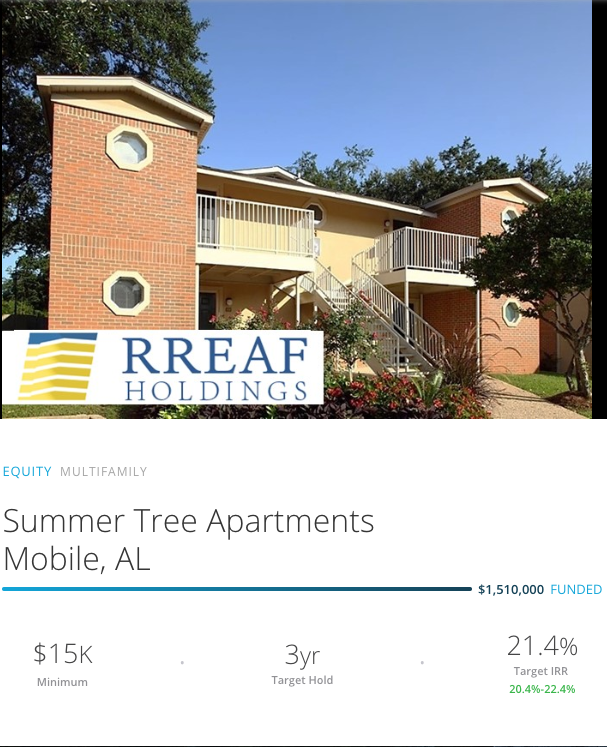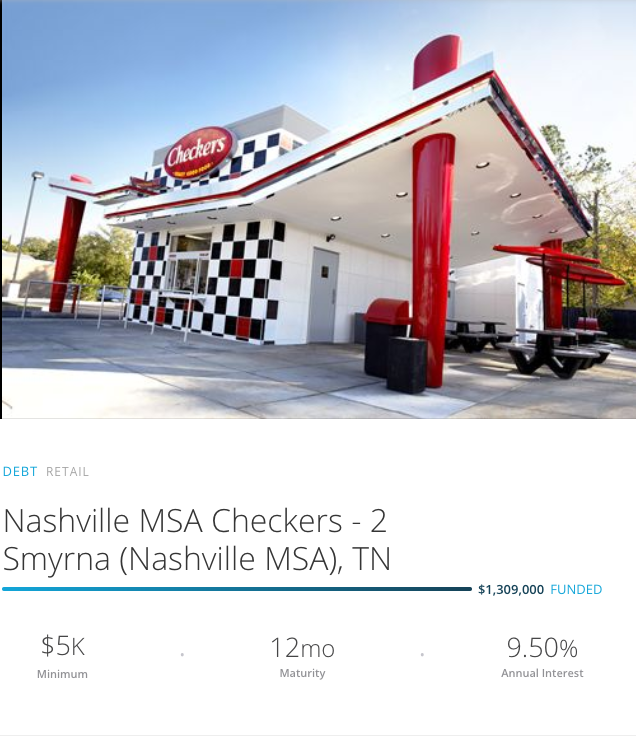 One of the solutions RealtyShares has come up with is to create a fund that chooses the best deals from its platform for participants. Let me share a quick overview of the fund according to Amy Kirsch, the fund director.
What is the RealtyShares Diversified Marketplace Equity Fund?
The DME Fund works similarly to a private equity fund and somewhat like a mutual fund. It will invest in 10 to 20 properties available on the RealtyShares website to build a diversified portfolio that investors can participate in with a single commitment.
Through one investment, you are able to access diversification through the same platform our investors have come to know and enjoy without spending time to research and choose several smaller investments. The DME Fund is managed by a team of experienced real estate investment managers who have worked at major investment firms including BlackRock, Goldman Sachs, Prudential, Deutsche Bank and other reputable organizations.
The DME Fund fee is 0.8% of assets under management, a discounted rate compared to the standard percentage fee when investing directly through the marketplace of 1-1.5%. RealtyShares also earns the standard fee on placements from each investment.
What are the Guidelines for the Investment Fund?
The DME Fund is mandated to invest in middle market real estate transactions, which have generally outperformed the S&P over the past 25 years according to NAREIT and should offer the potential for strong investment returns. Middle market commercial real estate includes deals under $50 million in value, located in secondary geographic markets and non-core locations in primary markets. Middle market investors often find alpha in a highly fragmented market by taking advantage of information asymmetries, which makes this a potential lucrative opportunity for real estate investment returns.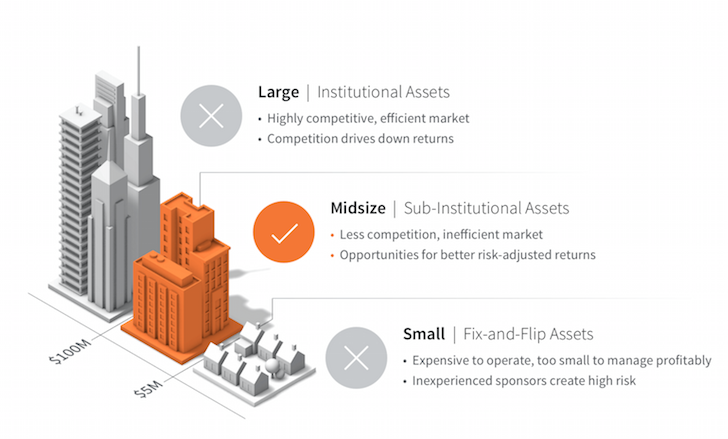 Investors will own both equity and preferred equity in projects and the fund is designed to build up a sizable cash-flowing portfolio while paying quarterly distributions. Invested capital and any gains will be returned to investors over the life of the DME Fund as projects are completed, paid off and the fund is ultimately drawn down to pay out all investments and profits back to investors. There are risks to investing in the fund, including loss of capital, so it's important to review the offering documents.
Investments are to include commercial and multifamily projects in Arizona, California, Florida, Illinois, New York, North Carolina, Texas and Virginia. We expect an average asset size ranging from $5 million to $20 million. For more details on the types of investments, risks and other important information, check out our webpage.
The DME Fund requires a minimum $250,000 investment and is open to accredited investors only.
Benefits Of Investing In The RealtyShares Fund
Invest in a diverse portfolio of 10-20 properties with one investment
Discounted fees compared to directly investing in the platform
Pass-through Delaware LLC structure can take advantage of depreciation and other tax benefits
Expected Quarterly cash distributions during hold with upside potential from profits generated by sale of assets
Single annual schedule K-1 instead of one K-1 per property
Access to alpha-generating potential of middle market real estate transactions
Investments managed by a trusted, experienced asset management team
The private equity structure of our fund provides investors with direct ownership of properties (just like how our individual investments are set up), which in turn, unlike REITs, provides investors with greater tax benefits like depreciation write offs.
Should You Invest In The Fund?
For those of you who believe in real estate as an asset class, like the idea there is a tangible asset behind the investment, but who are focused on investing, and are busy focused on making money elsewhere, the RealtyShares fund seems like a good solution. They've invested in multiple cities in Texas, Las Vegas, Washington, Virginia, North Carolina, and the SF Bay Area so far as of 1Q2018.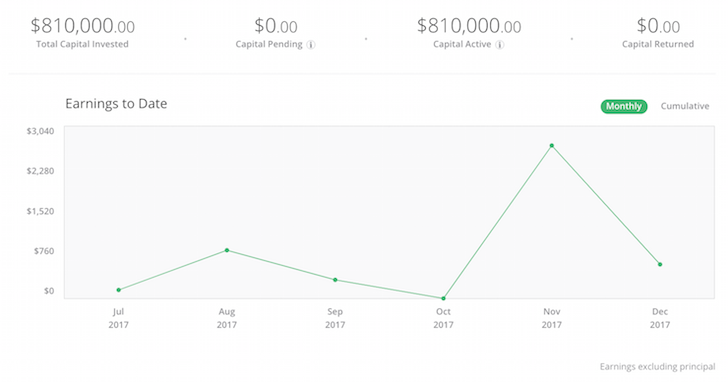 I've decided to invest $800,000 in the RealtyShares fund so far and $10,000 in a commercial real estate project in Conshy, Pennsylvania. I am a big proponent of investing in assets for the long term so I don't have to think about my money. I sold my expensive San Francisco rental home for 30X annual gross profit and am looking to buy property at HALF the valuation and at least double the net rental yield following my Buy Utility, Rent Luxury real estate investing strategy.
For those who don't want to pay the extra 0.85% fund fee, you can simply invest in individual RealtyShares deals. I'm planning on doing both with the ultimate goal of building a $1,000,000 real estate crowdfunding portfolio by 2020 that generates a 8% – 10% annual return.

About the Author: Sam began investing his own money ever since he opened an online brokerage account in 1995. Sam loved investing so much that he decided to make a career out of investing by spending the next 13 years after college working at two of the leading financial service firms in the world. During this time, Sam received his MBA from UC Berkeley with a focus on finance and real estate. He also became Series 7 and Series 63 registered. In 2012, Sam was able to retire at the age of 34 largely due to his investments that now generate roughly $200,000 a year in passive income. He spends time playing tennis, hanging out with family, consulting for leading fintech companies and writing online to help others achieve financial freedom.
FinancialSamurai.com was started in 2009 and is one of the most trusted personal finance sites today with over 1 million pageviews a month. Financial Samurai has been featured in top publications such as the LA Times, The Chicago Tribune, Bloomberg and The Wall Street Journal.  
Review Summary
Reviewed by
Review Date
Reviewed
RealtyShares Diversified Marketplace Equity Fund
My Current Rating