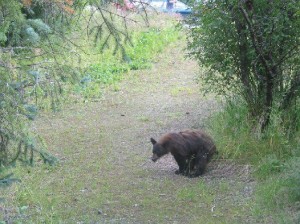 You guys know that the one and only data point I track religiously is the 10-year yield right? Well, after the 10 year yield dipped below 1.5% in 2016 post Brexit, I went to the bank with a buddy of mine to go see how much money we could borrow. The wiry banker sat us down like a loving couple and asked us to go through our finances at which point I kindly stepped out of the room and let him go first. Five minutes later, he came out with a grin on his face, so I curiously went in.
He proceeded to tell me some curious news.  "Look here Sam, you can borrow up to $1.5 million dollars at a 5 year fixed rate at 2.25%!"
Holy moly really?  You mean little old me, just like that can borrow that much money at that low of a rate?  "So what's the catch?", I ask.
"Zero points, and $2,500 in closing costs.  But don't worry, we are giving you a $500 credit for being a preferred member, and frankly, if you guys both take out loans, I'll throw in another $500 credit," said the banker.
"Done!  Where do I sign?, I ask as I think about the new Audi R8 I plan to buy with just $150,000 of the $1.5 million.  Or maybe I should be more conservative and spend $100,000 on the new 2015 Porsche 911. Or actually, I heard the 2015 BMW M4 is coming out for only $75,000 this fall.  With all the money "saved", time for a bachelor's trip somewhere fun!  (I'm still thinking to myself here).
NOT SO FAST! REFINANCING SHOULD BE TO SAVE YOU MONEY
Unfortunately, things aren't that easy. I'm not eligible to borrow $1.5 million to buy anything. I'm only eligible to borrow up to $1.5 million if I want to buy another piece of property or refinance my home.  Good thing I've got a mortgage at 4.625% to refinance, and that's exactly what I'm going to do.
An interesting thing to note for those who have variable rate mortgages is that if it starts floating today your interest rate will be only 2.25%. But, if you can lock in for another 5 years at 2.25%, might as well do so now.
The amazing thing about this year vs. last year when the 10-yr yield was also below 3% is that banks weren't lending. The 10 year treasury rate actually dropped to 2.25% in October 2008 but nobody could get a loan, and if they did, spreads were egregiously wide (6% for same loan), it didn't matter!  My how things have changed.
A QUICK REFINANCE EXAMPLE
Let's say my mortgage is $1.5 million at 4.625% for illustrative purposes. My monthly payments would be around $7,712 a month in principal and interest.  Just by having a 10 minute conversation, and filling out some paper work with minimal cash out of my pocket, I'm able to refinance a jumbo loan of $1.5 million down to 3.75%.  The result is a $812 a month increase in cash flow as the payment drops to $6,940!
Now lets take a look at the principal and interest breakdown of $7,712 a month at 4.75%.  About $5,781 goes to interest and $1,931 goes to principal.  At a 3.75% interest rate, your monthly payment drops to $6,940 with just $4,680 in interest and a healthier $2,260 in principal!  In other words, not only do you pay less overall for better cash flow management, you pay less interest a month and more principal.
In percentage terms, even though your overall monthly payment just drops by just 10% ($7,712 a month down to $6,940) your monthly interest payment goes down 21%, and your principal payment goes up 20%.  Funny how math works.
TAKE ADVANTAGE OF THE FED'S AGGRESSIVE MONETARY POLICY
The refinance wave is coming again and that means more money in consumer's pockets. In my example above,  one has $812 extra cash to buy a new iPad every month for the next 5 years if so desired. One could also use the money to buy two round trip tickets to Hawaii, eat 15 steak dinners, lease a $60,000 automobile for no money down, or pay down more debt every month as well.  Oh the possibilities are endless!
Of course one shouldn't start spending frivolously, but the point is there will be a consumption boom as hundreds of thousands of people across America see a nice uptick in their monthly cash flow.  Given ~68% of Americans own homes, and consumption accounts for over 60% of GDP one should feel encouraged that our economy is not going to fall off a cliff again!
Update: The 10-year yield is now at ~2% as of 2016. There is a lot of weakness in the stock market which is causing investors to buy bonds and drive down interest rates.
Note: It's advised to match the fixed rate portion of your loan with your intended length of ownership. In other words, if you plan on moving in 5 years, get a 5/1 ARM.  If you plan on holding your property forever, a 30-year fixed mortgage might be the way to go. Also be aware that you need a loan-to-value of 80% or less, and likely a 720+ credit score to take advantage of current low rates.  This irony of monetary policy is that it may very well benefit those who need help the least. 
Recommendations
Shop around for a mortgage: Mortgage rates have collapsed after Brexit, and US assets are aggressively being bought by foreigners due to our stability. Check the latest mortgage rates online through LendingTree. They've got one of the largest networks of lenders that compete for your business. Your goal should be to get as many written offers as possible and then use the offers as leverage to get the lowest interest rate possible. This is exactly what I did to lock in a 2.375% 5/1 ARM for my latest refinance. For those looking to purchase property, the same thing is in order. If you've found a good deal, can afford the payments, and plan to own the property for 10+ years, I'd get neutral inflation and take advantage of the low rates.
Look into real estate crowdsourcing opportunities: If you don't have the downpayment to buy a property or don't want to tie up your liquidity in physical real estate, take a look at RealtyShares, one of the largest real estate crowdsourcing companies today. Real estate is a key component of a diversified portfolio. Real estate crowdsourcing also allows you to be more flexible and surgical in your real estate investments by investing beyond just where you live for the best returns possible. For example, cap rates around around 4% – 5% in San Francisco, but over 10% in the Midwest if you're looking for strictly investing income returns. Sign up and take a look at all the residential and commercial investment opportunities around the country Realtyshares has to offer. It's free to look and discover.
Updated for 2017 and beyond.