I had one mission this weekend, and that was to "high-five" as many famous people as possible. You see, The President's Cup descended on San Francisco. Thus, I was determined to watch America's best golfers tee it up against the rest of the world, less Europe (that's the Ryder's Cup).
Did I succeed in my mission? It depends on whether you count Tiger Woods, Phil Mickelson, Anthony Kim, Freddie Couples, Greg Norman, Condoleeza Rice, Gavin Newsom, and Michael Jordan as famous people! For if you do, you'll understand why I'm never washing my hands again!
There's A Wide Range Of Golf Fans
In "Revenge of The Nerds: Golf & Tennis Are #1", I write that if you want to make a lot of money, you should think about picking up either golf or tennis.
As the 30,000+ patrons at Harding Park showed me today, there's a darn lot of different types of folks interested in golf! All along the signature par 4, 468 yard, 15th hole there were tons of corporate tents. They included names such as Charles Schwab, PG&E, and Mastercard.
The tens were filled to the brim with rich looking patrons sipping Chardonnay. Ah, to gain access to one of these tents. Except for Citigroup, it's good to know there weren't any government bailed out entities partying it up on our dime. So, score one for the common folk!
Three Lessons Learned From This Weekend
I had a blast at the President's Cup. Seeing famous people was of course a big thrill. But, getting to enjoy some amazing golf and support our team was truly incredible.
Here are three lessons I learned this weekend that I want to share and remember.
1) Sports is the great equalizer of all people.
Michael Jordan is the best basketball player on earth and a mega millionaire to boot. Of all the famous people I saw at the President's Cup, he was the highlight. Yet, MJ was basically a volunteer assistant to the team at Captain Freddie's request. "Whatever Freddie wants me to do, I'll do," said Michael to reporters.
I saw MJ shuttle back and forth between holes. He was delivering things, relaying information, carrying some equipment, and joking around. When I asked him for an autograph while he was waiting to drive across the 7th fairway, he told me "Sorry, I can't now cause I'm working."
That's dedication and a nice way to tell me to go away! One of the most famous sports stars in the world was just like one of us 30,000+ fans that day. He was willing to do whatever it takes to support our team.
2) Never get stressed out if you don't have a ticket to a sold out event.
No matter how big the stage, there will always be scalpers willing to sell you tickets based on your desires. The market is efficient, so don't worry. In fact, if you want to save money on tickets for future events, miss the first inning, quarter, or opening Hanna Montana song.
If you do, you'll get prices for proportionately much cheaper than the time remaining. My two friends bought two $80 face value tickets for only $20 each because they arrived later in the morning on Saturday. Scalpers have no use for inventory once an event starts. As a result, they will go down to their lowest price, theoretically $0.01.
3) Never go to an event hungry!
This is especially true for a golf event because you end up walking around for miles. Try and stuff your jacket pockets with snacks and a mini bottle of water.
You'll be happy you did when you walk by the concession stands. I did a double-take when I saw $10 dollar hot dogs and $8 dollar Gatorades! Going to an event full will easily save you $10-20 dollars.
This is true even at the movie theater. If you look at their business model, much of their revenue depends on concession stand business.
Key Takeaways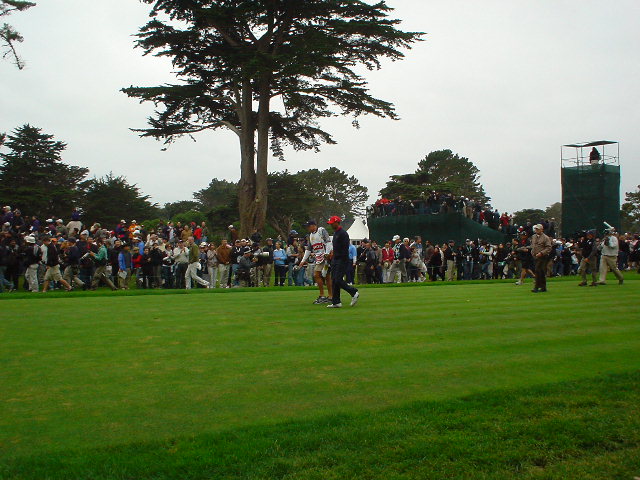 This weekend was a great reminder of why it's hard to leave the Bay Area.
San Francisco is the best city for millennials and so much more. It's a strong enough city to attract popular events. Thereby, San Francisco saves its residents a lot of money by not having to travel.
Golf and sports fans around the world watched San Francisco this weekend. And I never would have imagined being able to interact with so many famous people in one sitting.
More than likely someone in your office will be talking about some spectacular shot they saw this weekend. If you have no idea what they are talking about, you may miss out on a chance to bond.
Relationships And Experiences Are Key
Relationships are key elements to job success. And the more interests you have, the better your chances of getting to know someone who will support you in a bull or bear market.
Experiences trump material goods once again. My friends and I shared some unforgettable moments on Sunday. In fact, you may even see us on Sportscenter.
We stood right next to Tiger Woods pitching out from underneath the 14th hole trees to beat Y.E. Yang and clinch victory for the US! In business, if you can experience unforgettable memories with your clients, you'll forever be on line one.
Related:
Be Rich, Not Famous: The Joy Of Being A Nobody
Keigu,
Financial Samurai – "Slicing Through Money's Mysteries"