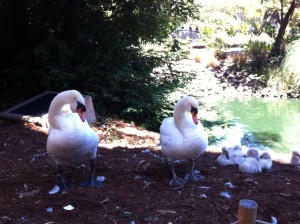 I was at a cocktail party the other night, and after several stiff vodka tonics, a female manager-level friend, "Julia", began complaining about one of her staff.
She came up to me and said, "Sam, what am i going to do?  Nancy keeps getting pregnant!  She's having her third child in the past 5 years, and now I've got to find cover for her again!" After Julia's rant, she twirled her way to a slick looking fella at the bar and began chatting him up.
Initially I tried empathizing with Julia, given I do remember the feeling of having to cover for someone when they're "sick". But Nancy's case is different.  After all, someone has to give birth, and after seeing one too many sex ed video's from the 9th grade with images of globulous placentas seared in my mind, i'm glad it's not me!  The Europeans would argue a 3 month maternity leave is not long enough given they practice a 6 month healing process.
Julia's complaint brings us to the great debate:
Is it fair or even true that women are discriminated against and make less money than men on average?
"YES IT'S FAIR!"
Julia, the manager is a single woman, in her mid-40's who absolutely believes hiring women is more expensive than hiring men. Interesting twist huh?  Her rationale is that men never have babies, and therefore never take 3 months off.  Women, on the other hand do, and yet Julia still must pay her 12 months worth of work.  Julia explains to me that if Nancy had one more kid (making it 4), she'd have a full year off and be paid a full year's salary!  Julia also points out that she's had two women resign on her after giving birth, causing her further stress.
Not only does Julia thinks it's fair to pay women less, Julia believes Nancy's absence is unfair to her colleagues who aren't having babies, especially those who have to pick up the slack.  Julia may pay Nancy for 12 months worth of work, but she might think twice about giving her the normal year-end bonus.
Julia argues that maternity leave is an optional benefit, and not everybody has the option to take that benefit because 1) not everyone is a woman, and 2) not every woman has children.  Julia has worked for 15 years in the business and has never taken maternity leave.
"NO IT'S NOT FAIR!"
I, on the other hand am thinking, if a woman can carry a child in her womb for nine months while working, then go through a multi-hour labor ordeal, she should easily deserve 3 months off and be paid her full salary!  My sister once told me giving birth for males is like trying to shoot a bowling ball out of our butts. I cannot imagine.
Females didn't choose to be the ones to give birth, someone else did.  Furthermore, if you asked all the men out there to switch places, the vast majority would say NO WAY.  I guarantee it.
If I was the main colleague responsible for picking up the slack, I would be  fine so long as I had a sit down with my manager explaining that I expect to be compensated appropriately, or that expectations of me should be altered given my dual roles.  This then goes back to Julia's point.
Do we take from Nancy's income to pay someone for covering?  If so, on paper, the incomes show inequality, but in reality some may argue compensation is flowing to where work is being conducted.
CONCLUSION 
The income inequality gap has closed tremendously.  But, i never really thought about the anti-equal pay argument from a woman until Julia stumbled up to me that fine night complaining.  It's generally managers secretly complaining about women, and new mother's complaining about the unfair perceptions complaining folks have! At the end of that one night of passion, someone has to give birth eventually. And since that someone is female, they should get as much slack as possible.
Related Posts:
Man Up Dads! Time To Be Better Fathers
When Is The Best Age To Have A Baby?
RECOMMENDATIONS
Manage Your Finances In One Place: One of the best way to become financially independent and protect yourself is to get a handle on your finances by signing up with Personal Capital. They are a free online platform which aggregates all your financial accounts in one place so you can see where you can optimize your money. Before Personal Capital, I had to log into eight different systems to track 25+ difference accounts (brokerage, multiple banks, 401K, etc) to manage my finances on an Excel spreadsheet. Now, I can just log into Personal Capital to see how all my accounts are doing, including my net worth. I can also see how much I'm spending and saving every month through their cash flow tool.
The best feature is their Portfolio Fee Analyzer, which runs your investment portfolio(s) through its software in a click of a button to see what you are paying. I found out I was paying $1,700 a year in portfolio fees I had no idea I was hemorrhaging! There is no better financial tool online that has helped me more to achieve financial freedom. It only takes a minute to sign up.
Looking to find affordable term life insurance? Check out PolicyGenius, an independent insurance broker that is revolutionizing the way we shop for life insurance – for free! Answer a few simple questions on PolicyGenius's website and instantly receive free, personalized and comprehensive life insurance quotes. PolicyGenius provides free, unbiased advice on more than 25 A-rated top life insurance companies they have thoroughly researched and vetted. Because life insurance prices are regulated, you don't have to worry about not getting the best deals. PolicyGenius helps you compare the best quotes all in one place.
Updated for 2018 and beyond.