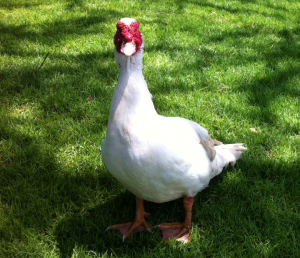 The start of 2016 has been extremely volatile with the S&P 500 diving about 10% in the first month alone. Disaster!
Why didn't I just follow through and accept a 13% return for the year after selling almost everything in March?
Greed and hope. I hoped others would be greedy! After all, it's an election year and we've got Janet Yellen! But now, everybody is just scared of the duck of death.
With the risk free rate at 2.1%, I'm willing to invest in every other asset class besides US treasuries.  It just doesn't interest me to return 1.45% a year for 10 years, even if it is guaranteed.  Heck, you can buy a 7-year CD from Bank of America right now for 2.3%, and completely arbitrage the returns!
The fact that 7-year CDs are yielding more than 10-year Treasuries means the market is in full blown panic mode and we should be putting capital to work.
I'm worried just as much as the next guy, which is why I'm going the structured products route which provides principal guarantees or downside buffers in exchange for locking up my money for a certain period of time.
IN VIOLENT DOWNTURNS CONSIDER THE FOLLOWING
* How do you feel about losing money?  If the answer is "gut-wrenching", then perhaps your risk tolerance is not as high as you thought, and you should lower your exposure to the markets.  If your answer is "It feels so good, baby!", then perhaps you are short, or should consider investing everything you've got.
* If you lost it all, would you still be OK?  If the answer is "no, I will be begging on the streets", then perhaps you're over exposed.  I'm willing to lose 30% of my net worth hence my allocated exposure.  It will be painful to lose it all, but I'll manage.  The remaining 70% is split roughly evenly between 4% yielding CDs (love you guys), and real estate (making a comeback!).
* Do you have excess liquidity to put to work?  We've seen the markets snap back time and time again.  Nobody knows when, but the odds are in your favor that they will.  We've got a President who is trying to get re-elected, Bernanke whose got an unlimited supply of money to print, and inflation, the most powerful force in the universe.
* Reassess your long-term goals.  If you're young, good looking, and employed, you'll be fine.  If you're young, beautiful, but unemployed, perhaps not so much.  If you're old, unemployed, and unattractive, well then I guess there's always the lottery and divine intervention!  When things go wrong, you've always got the excuse of thinking "long-term".
* Do you have your health, family, and friends?  Money comes last in this equation.  Whenever I lose tons of money, I notice that I tend to exercise more, eat better, and spend more time with loved ones.  Perhaps it's because money lost reminds me of what's most important in life.  Or perhaps when I lose money, the last thing I want to do is think about money.
* Is making 2% better than losing 10% and making 4%?  Huh?  Dividend investors love to say, "It doesn't matter what the market does, I've still got my dividends!  I'll just buy more!"  That's fine if you've got an endless pit of money to put to work, but simple quantitative reasoning suggests that making 2% is better.
SO WHAT AM I DOING?
I'm "dollar-cost structured producting".  In other words, I plan to farm out the free liquidity sitting in my money market accounts and buy the stock market through a structured product once a month.  The first is the 100% principal protection guarantee with a 0.5% annual coupon and 115% participation to the upside of the Dow Jones over 6 years.  The second is the 10% downside buffer and 2X upside to the S&P500 up to 25% for 2 years with 0% coupon.
This is additional money to my 401K, which means my networth exposure to the stock market will increase from around 30% to 40% over the coming 12 months.  I'm highly allergic to losing money because it has taken so long to build up the nut.  I'm willing to lock up my money and even some upside to know that the money will still be there in the future.
RECOMMENDATIONS TO BUILD WEALTH
* Manage Your Finances In One Place: The best way to become financially independent and protect yourself is to get a handle on your finances by signing up with Personal Capital. They are a free online platform which aggregates all your financial accounts in one place so you can see where you can optimize. Before Personal Capital, I had to log into eight different systems to track 25+ difference accounts (brokerage, multiple banks, 401K, etc) to manage my finances. Now, I can just log into Personal Capital to see how my stock accounts are doing and how my net worth is progressing. I can also see how much I'm spending every month.
The best tool is their Portfolio Fee Analyzer which runs your investment portfolio through its software to see what you are paying. I found out I was paying $1,700 a year in portfolio fees I had no idea I was paying! They also recently launched the best Retirement Planning Calculator around, using your real data to run thousands of algorithms to see what your probability is for retirement success. Once you register, simply click the Advisor Tolls and Investing tab on the top right and then click Retirement Planner. There's no better free tool online to help you track your net worth, minimize investment expenses, and manage your wealth. Why gamble with your future?
* Invest Your Money Efficiently: Wealthfront, the leading digital wealth advisor, is an excellent choice for those who want the lowest fees and can't be bothered with actively managing their money themselves once they've gone through the discovery process. All you'll be responsible for is methodically contributing to your investment account over time to build wealth.
In the long run, it is very hard to outperform any index, therefore, the key is to pay the lowest fees possible while being invested in the market. Wealthfront charges $0 in fees for the first $15,000 if you sign up via my link and only 0.25% for any money over $10,000. You don't even have to fund your account to see the various ETF portfolios they'll build for you based off your risk-tolerance. Invest your idle money cheaply, instead of letting it lose purchasing power due to inflation.
About the Author: Sam began investing his own money ever since he opened an online brokerage account online in 1995. Sam loved investing so much that he decided to make a career out of investing by spending the next 13 years after college working at Goldman Sachs and Credit Suisse Group. During this time, Sam received his MBA from UC Berkeley with a focus on finance and real estate. He also became Series 7 and Series 63 registered. In 2012, Sam was able to retire at the age of 34 largely due to his investments that now generate roughly $175,000 a year in passive income. He spends time playing tennis, hanging out with family, consulting for leading fintech companies, and writing online to help others achieve financial freedom.
Updated for 2018 and beyond. Let the bull market continue.