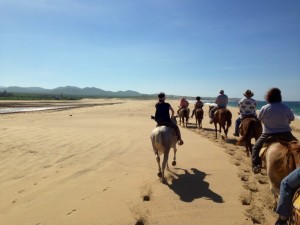 Long time readers know that I'm one of the biggest detractors of the Roth IRA program. The main reality is: most people will make less in retirement than during their working years. Therefore, taxes should be lower, all things being equal. I present many more arguments as to why a Roth IRA is suboptimal.
But after spending some time editing the Daily Capital post, I've come around to the idea that for some people, a backdoor Roth IRA is a good move. Here are three main reasons why a backdoor Roth IRA should be considered.
WHY THE BACKDOOR ROTH IRA IS A GOOD IDEA
1) Get around discrimination by the government. One of the most disappointing things about the government is its seemingly arbitrary income limits for who gets to contribute to a government-backed retirement program and who doesn't. If you are an individual who makes over $137,000 a year or a married couple who makes over $203,000 a year, you are not allowed to contribute to a Roth IRA for 2019.
In the past, I thought this discrimination was fine because who the hell in the 28% or higher tax bracket would ever want to pay taxes up front given it's likely that their tax bracket will be the same or lower during retirement. Honestly folks, if you believe you are going to make more money during retirement than while working, you are smoking crack.
But the reason why America is so great is due to our freedom of choice. Take our ability to choose away and we become diabolical. Although we all know having health insurance is a good idea, millions of people still opt out for whatever reason. America will always pride itself on giving people the equal opportunity to choose, but by limiting income amounts to allow people to save for retirement, that runs counter to the essence of who we are.
The backdoor Roth IRA allows for people who cannot contribute the normal route to contribute to a traditional IRA after taxes, and then systematically convert such funds every year into a Roth IRA in order for the funds to never be taxed again. The term "backdoor" is generally reserved as an illicit way of doing something. I'm all for legally exploiting loopholes to save on taxes. Eventually, you can see the government eliminating the backdoor Roth IRA.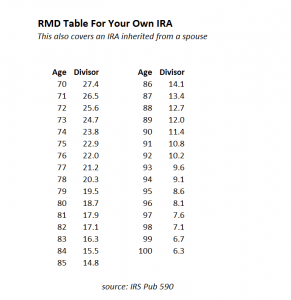 2) No required minimum distributions. For a traditional IRA, if it's either your own IRA or one you inherited from a spouse, you have to start withdrawing funds at age 70½. If it's an IRA you inherited from someone else (such as a parent), you have to start almost immediately. The IRS calls this 'Required Minimum Distribution' or RMD for short.
The minimum withdrawal is calculated by taking the account balance and dividing by a factor related to your age. The account balance is what you had the previous Dec. 31. The age is your age at the end of the withdrawal year. Say your balance on Dec. 31, 2013 was $250,000, and your age on Dec. 31, 2014 will be 75. The minimum withdrawal for 2014 is $250,000 divided by the factor for someone who is 75 = $100,000 / 22.9 = $10,917 minimum withdrawal per year based on the chart to the right.
Roth IRAs are not subject to Required Minimum Distributions during the owner's lifetime. If you so happen to grow so wealthy that you never need to tap your Roth IRA, you can pass on your Roth IRA to your heirs and allow the funds to continue to grow. Your heirs have the option to either roll their inheritance into their own Roth IRA or cash out the account without penalty regardless of their age. Another good thing is that a Roth IRA is not subject to probate court either, which could be a long a drawn out pain.
If you're interested in learning more about RMDs, you can take a look at Publication 590 by the IRS.
3) A hedge against incredible investment success. One of the interesting discussions the community pointed out is what if you are an excellent stock picker or join an incredibly successful startup. Let's say you contribute $55,000 to a traditional IRA tax free over the next 10 years and invest the money all in one stock that goes up 200X to $11 million 30 years later. When it comes time to withdraw at age 70, your RMD according to the chart is $11 million / 27.4 = $401,459. It's more than likely you will be in the top tax bracket of 39.6% federal with this type of income.
If you were to contribute $5,500 in a Roth IRA for 10 years, it takes roughly a $74,000 gross salary ($19,000 more than what the traditional IRA person had to spend pre-tax at 25%), but at least your $11 million is now tax free upon withdrawal. The tax on $11 million at a 39.6% rate is $4,356,000. One can say the tax savings is therefore $4,356,000 – $19,000 = $4,337,000. Any of you eagle eye math geniuses out there please correct me if I'm wrong.
Clearly not many of us will have 200 baggers in our portfolios. But, you never know. Doing a backdoor Roth IRA is a hedge against runaway success. We can always dream right?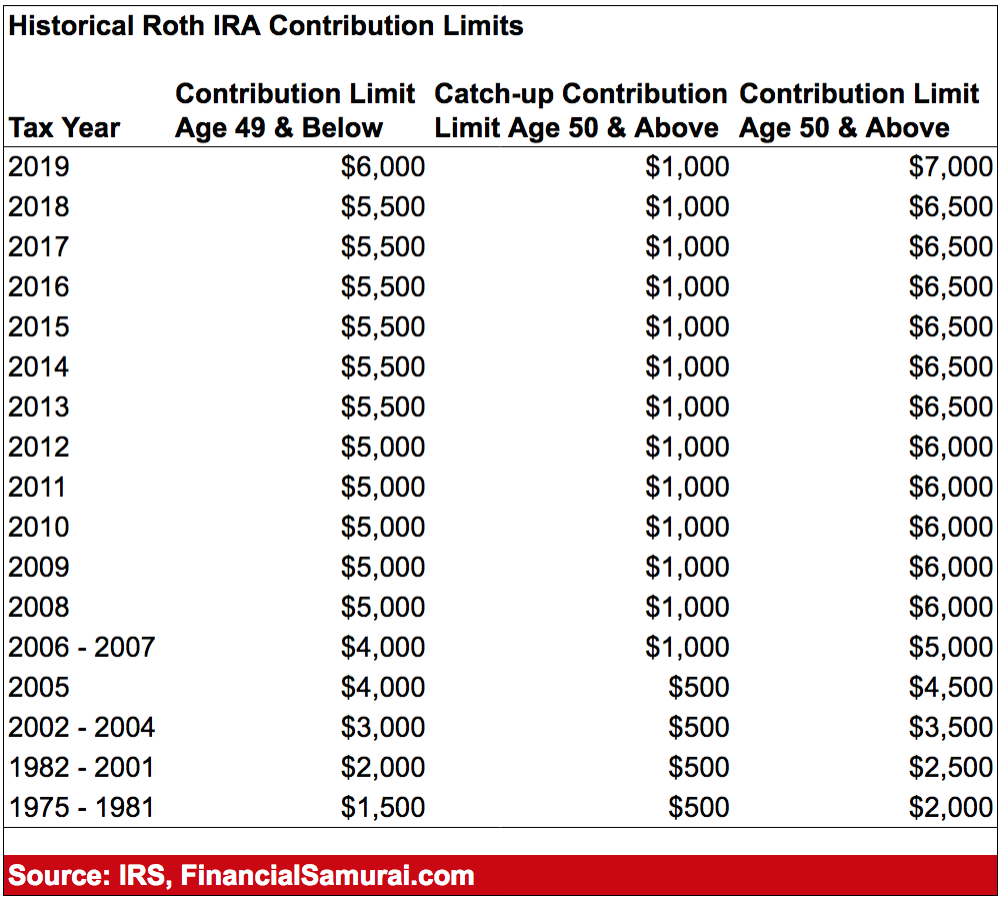 THE BACKDOOR ROTH IRA FOR TAX DIVERSIFICATION
Take my situation as an example: I'm no longer in the 39.6% tax bracket after removing myself from the workforce in 2012. Currently I'm happily in the 28% tax bracket, but could make moves to get down to the 25% marginal tax bracket or maybe even the 15% tax bracket (<$36,900) if I wanted to get aggressive. Now is probably as good a time as any to convert my IRA into a Roth IRA because if I pay taxes now, I am guaranteed to lock in the difference between 39.6% and 28% = 11.6% savings if I withdraw all at once by 70.5.
Nobody knows what taxes will be like in the future. But for someone who thinks taxes will go higher, who makes more than $121,000 as an individual or $191,000 as a married couple, is an investing genius, and hates being discriminated against, doing a backdoor Roth IRA makes sense.
As for me, although I'm accepting of the backdoor Roth IRA, I will likely never do a backdoor Roth IRA because I don't want to ever give up my option of potentially reducing my taxes in retirement. I still plan to figure out a way to set up residency in a no income tax state such as Nevada, Florida, or Washington by the time RMD is required. Besides, I doubt I'll ever have enough homerun investments in my retirement portfolio because I'm focused on capital preservation.
RECOMMENDATIONS TO BUILD WEALTH
* Manage Your Finances In One Place: The best way to become financially independent and protect yourself is to get a handle on your finances by signing up with Personal Capital. They are a free online platform which aggregates all your financial accounts in one place so you can see where you can optimize. Before Personal Capital, I had to log into eight different systems to track 25+ difference accounts (brokerage, multiple banks, 401K, etc) to manage my finances. Now, I can just log into Personal Capital to see how my stock accounts are doing and how my net worth is progressing. I can also see how much I'm spending every month.
The best tool is their Portfolio Fee Analyzer which runs your investment portfolio through its software to see what you are paying. I found out I was paying $1,700 a year in portfolio fees I had no idea I was paying! They also recently launched the best Retirement Planning Calculator around, using your real data to run thousands of algorithms to see what your probability is for retirement success. Once you register, simply click the Advisor Tolls and Investing tab on the top right and then click Retirement Planner. There's no better free tool online to help you track your net worth, minimize investment expenses, and manage your wealth. Why gamble with your future?
* Invest Your Money Efficiently: Wealthfront, the leading digital wealth advisor, is an excellent choice for those who want the lowest fees and can't be bothered with actively managing their money themselves once they've gone through the discovery process. All you'll be responsible for is methodically contributing to your investment account over time to build wealth.
In the long run, it is very hard to outperform any index, therefore, the key is to pay the lowest fees possible while being invested in the market. Wealthfront charges $0 in fees for the first $15,000 if you sign up via my link and only 0.25% for any money over $10,000. You don't even have to fund your account to see the various ETF portfolios they'll build for you based off your risk-tolerance. Invest your idle money cheaply, instead of letting it lose purchasing power due to inflation.
About the Author: Sam began investing his own money ever since he opened an online brokerage account online in 1995. Sam loved investing so much that he decided to make a career out of investing by spending the next 13 years after college working at Goldman Sachs and Credit Suisse Group. During this time, Sam received his MBA from UC Berkeley with a focus on finance and real estate. He also became Series 7 and Series 63 registered. In 2012, Sam was able to retire at the age of 34 largely due to his investments that now generate roughly $215,000 a year in passive income. He spends time playing tennis, hanging out with family, consulting for leading fintech companies, and writing online to help others achieve financial freedom.
Updated for 2019 and beyond.