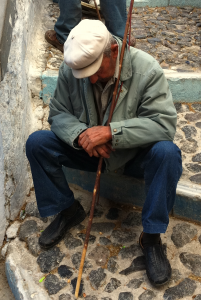 If you have tremendous money strength, you will never have to draw down on your retirement principal. Your goal, if you choose to accept, is to create an estate that will provide for your loved ones long after you are gone. This is what endowments do. Why not consider doing the same if you are a magnanimous and financially savvy individual? You're reading Financial Samurai, the top independent personal website with over 1 million pageviews a month, after all!
I always scratch my head when I hear advisors talk about the "4% withdrawal rule" or any withdrawal rate that's greater than a risk free rate of return for that matter. Times have changed folks. Interest rates are close to zero, the stock market isn't a slam dunk, and we are living much longer now.
There are so many variables that it is impossible to calculate a bullet proof withdrawal rate rule unless that rate is 0%. Sure, there's a 99% chance you will die before 110 and a 99.9% chance you'll die before 150, but who really knows? We might be one with machines by the year 2030 and live forever!
Instead of thinking about how much you can withdraw to bleed your retirement funds down to $0 by the time you die, I highly encourage everyone to think about leaving a financial legacy for your loved ones that is so great you'll never run out of money. Even if we fail to come up with a perpetual giving machine to leave for others, the end result will be much better than if we only focused on ourselves.
BREAKING DOWN THE IDEAL WITHDRAWAL RATE
Let's assume everybody retires at 65 with $1 million dollars. Becoming a millionaire is fast becoming a rule rather than the exception thanks to inflation, rising assets, improved financial advice, and personal finance blogs that give their knowledge away for free and ask nothing in return.
You've now got to calculate your life expectancy, health care costs, market returns, withdrawal rate, and living expenses. These are five variables that must be figured out. There are 120 different ways to arrange these variables to make them work if each is a stand alone permutation. Let's say each of the variables has multiple permutations. There will literally be hundreds of thousands of combinations to choose from.
The point I'm trying to make is that even with the basic assumption of retiring by 65 with $1 million dollars and a 4% withdrawal rate yielding $40,000 a year, this might not be reasonable for many people. Everybody's lifestyles are difference. The calculations therefore become simply academic gymnastics that help us feel better about our chances of living a comfortable retirement. The more conservative our assumptions (leaving money left over), the better we will feel and vice versa.
LET'S MOVE TO A DIFFERENT LEVEL
It's fun to run various scenarios for retirement as I did with my 401k especially since it's free and easy to do nowadays. I ran a Conservative, Base, and Blue Sky Scenario with Personal Capital and I came up with inflation and tax adjusted amounts of $500,000, $1 million, and $2.5 million after 25 more years of saving and investing. A $2 million spread is huge and not something one can easily plan for.
With $500,000, $1,000,000 and $2.5 million inflation and tax adjusted, I will have $20,000, $40,000, and $100,000 a year to live off for another 25 years until I'm 90, assuming I retire at 65. And what do you know? The annual retirement money is based off a 4% withdrawal rate assuming zero growth.
Everybody can probably comfortably live off $40,000-$100,000 a year in retirement in today's dollars. But again, what if we live until 100, or what if health care costs skyrocket further? What if we have an even more aggressive President who decides to raise tax rates on everyone and not just those making over a certain amount? All of these assumptions are based off other assumptions. If one assumption is wrong, the entire retirement foundation may be off.
If you've ever seen the cult movie Memento with Guy Pierce and Carrie-Ann Moss, you understand exactly what I mean.
The Ideal Withdrawal Rate Should Be Based On Two Figures
1) The 10-year government bond yield. The 10 year US Treasury yield changes every single day and is another metric for the risk free rate of return. For the past 30 years the 10 year bond yield has come down due to lower inflation and more efficient economic policies. We're currently at around 2.85% in 2018 and I think we'll remain under 3.5% for years. I encourage everyone to adjust their annual withdrawal rate based on the average rate for the past 12 months. You can easily check where the latest rate is by checking on Yahoo Finance.
2) The S&P 500 dividend yield. The current S&P 500 dividend yield is roughly 2.2% for 2018. Dividend yields can rise when dividend payout ratios increase or the market tanks. If what you are mainly focused on is income, then withdrawing at the rate of the market's entire dividend yield will mean that you will never touch your principal. Your principal might collapse, as many portfolios did between 2008-2010, but your portfolio will never be further reduced by your own doing. If you look at the historical chart, you can see how a 4% withdrawal rate made sense in the 1970s, 80s, and early 90s, but not now. Not even close. If you are a reader not from America, choose your own market's dividend yield instead.
The two figures are at very similar levels as you can tell. When the stock market dividend yield yields more than a 10-year US treasury bond yield, it's generally a good sign to invest in equities. Equities not only provides you a higher income, equities also gives you a greater chance of making more money on your principal. If you are an early retiree looking to tap your IRA penalty-free, I wrote about Rule 72(t) and creating a perpetual income stream.
RETIRE HAPPY AND SAFE RATHER THAN SAD AND SORRY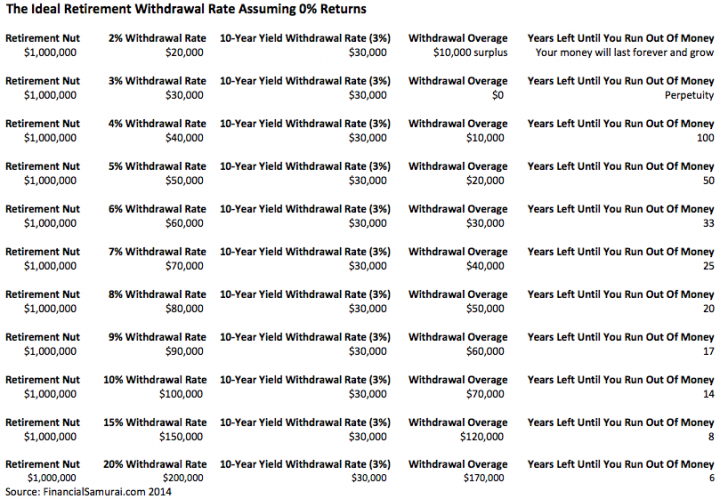 Some of you might be thinking that it's foolish to die with too much money. In many ways, you are right. But remember, we are talking about financial security and leaving money to those we care about. Our loved ones don't have to be our daughters and sons. They can be a cause we care about such as fighting cancer, supporting the arts, helping an alma mater, or providing funding for foster children.
If you end up old and broke, there's little hope of getting back on your financial feet for the remaining years of your life. Using the S&P 500 dividend yield (~2.2%) or 10-year treasury yield (~2.85%) as a safe withdrawal rate will ensure that you do not run out of money in retirement. When you are in retirement, only then will you truly know how much you will need to be happy. Just go about your adjustments in baby steps.
When we shift our retirement withdrawal rate to a level which does not touch principal, we suddenly start changing the way we view money. We save more because we're not only thinking only about ourselves anymore. We invest more carefully because people are counting on us. We do our research more thoroughly because we want to help others.
Inflation is a perpetuity, so too can your retirement funds become through CDs, real estate, real estate crowdsourcing, P2P lending, dividends, and royalties. The more income streams you can produce the better. When it's time to start sleeping in because you no longer have to work, you just might not need to withdrawal any of your retirement funds at all!
One final thing to note. For 2018, the government now allows you to die with $11M in wealth before their estate tax (death tax) kicks in and starts taking 40%+ of it away. The wealth figure goes up to $22M if you are married. Therefore, if you aren't there yet, you might as well do your best to try to accumulate these targets before you die. And if you're past these targets, you might as well start giving the money away because we all know the government is terribly inefficient!
BUILD WEALTH FASTER
I highly recommend signing up with Personal Capital, a free online wealth management tool that tracks your net worth, aggregates all your accounts so you know where your money is going, and provides useful analysis on your investment portfolios. I ran my 401(k) through their "401(k) Fee Analyzer" under the Investment tab to discover $1,700 a year in fees I had no idea I was paying!
You can also run very useful retirement scenarios based on various return assumptions in your retirement accounts through their amazing Retirement Planning Calculator. Unlike other calculators, Personal Capital uses your real data and Monte Carlo simulations to produce realistic financial results. There's no better free online wealth management tool than Personal Capital.
Updated for 2019 and beyond. Long live this wild and crazy bull market.