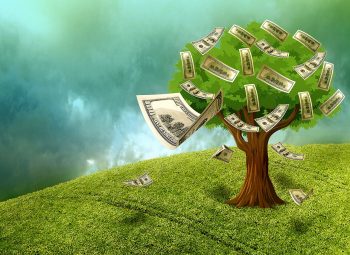 The Yin Yang Investor Mindset post talks about looking for opposite investment opportunities whenever one asset class is roaring. I used the sell-off in bonds as an example of finally beginning to build a meaningful muni bond portfolio to earn double taxation free income.
Now I'd like to highlight more reasons why folks who have a large enough financial nut, are within five years of retirement, or are already in retirement should consider allocating more towards bonds.
For the past 20 years, I've invested very little in bonds as I sought growth assets. Now things have changed after an explosive bull market since 1999.
Find A Purpose For Your Money
If you already live on less than you earn, making more money is meaningless if you don't earmark a specific purpose for your investment returns or paycheck. It's not a surprise I'm no longer seeing my online revenue grow by leaps and bounds because I finally replicated my average day job income a couple years ago. I'm just not very financially motivated anymore.
There's no greater joy than being able to live freely. Being able to do whatever you want, whenever you want cannot be overestimated. It is amazing. Take my word for it.
But what if you could live freely AND live for free? That would be heavenly. Some people get to do both, but experience no joy because everything was given to them. Good thing most of us have worked long and hard for our money. Reaching a goal based on merit is so much more satisfying.
With the goal of living freely and living for free, I began aggressively paying down mortgage debt about two years ago. Since then, I've felt zero regrets paying down my 3.375% San Francisco rental property. The property generates almost $3,000 a month in cash flow after all expenses.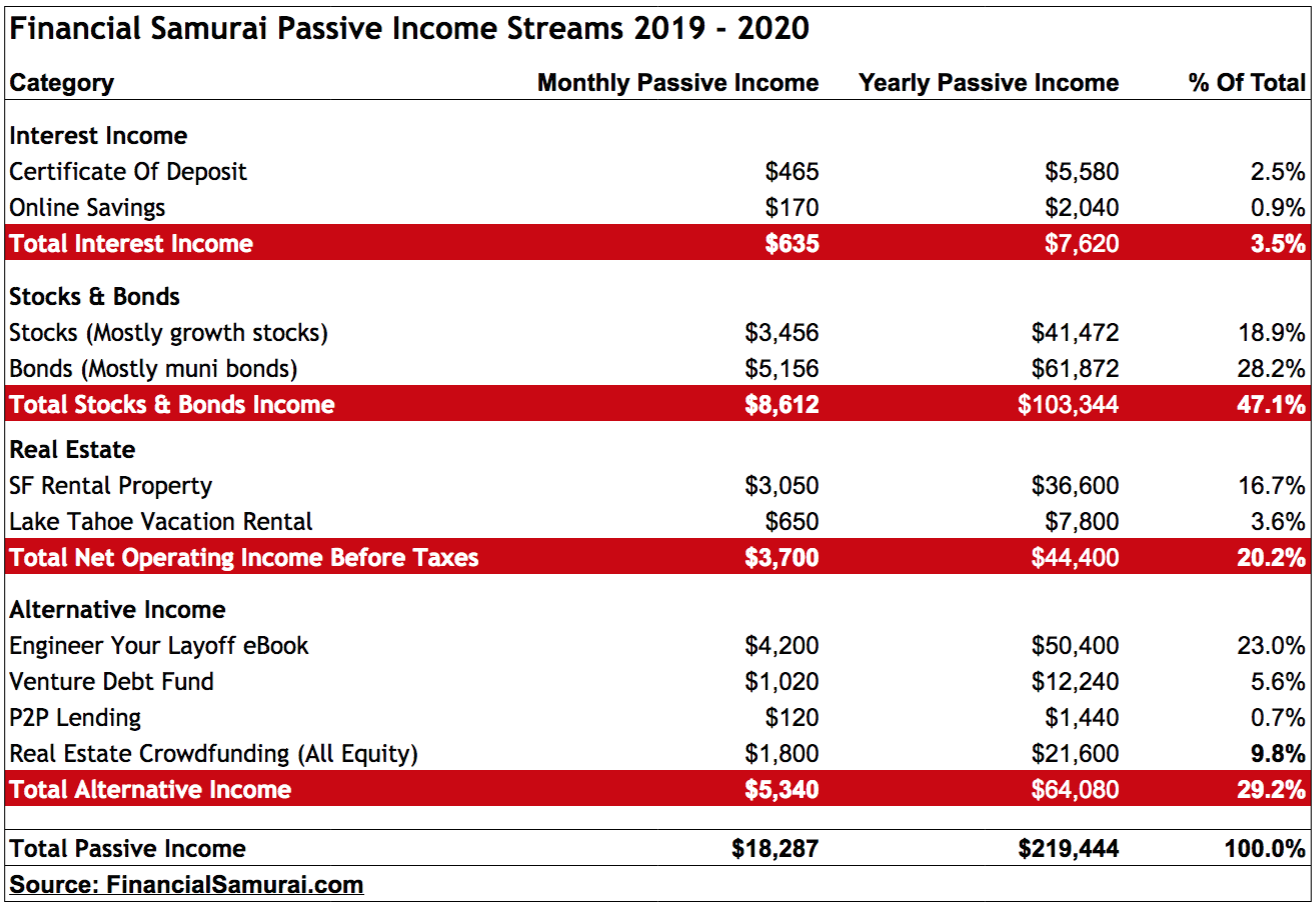 Now that interest rates have moved higher, I've realized something very significant that all of us who took my refinancing advice earlier this year can do. We can buy the Aggregate Bond Market through ETF, AGG and live for free!
The Case For Bonds
Since 1989, the worst year for the aggregate bond market was -2.9%. I was surprised when I saw this graphic by PIMCO, one of the largest bond managers in the world, because I was under the impression that 2008-2009 was such a bad period that bonds sold off more than -2.9%. Domestic and foreigners were selling all US dollar denominated assets indiscriminately because it felt like the entire US financial system was going to collapse.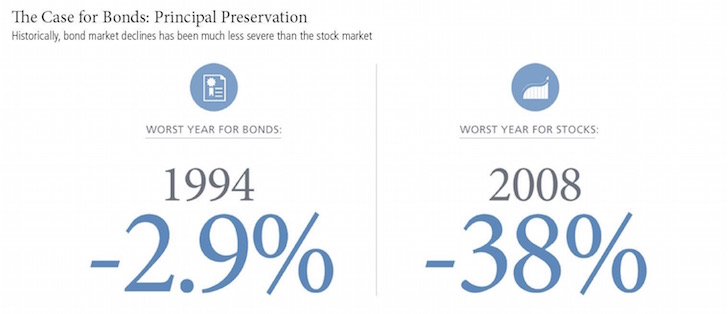 The reality is, if you had bought the iShares Core US Aggregate Bond Fund AGG you would have done just fine during the biggest financial meltdown of our lifetimes. See how stable the Aggregate Bond Fund has performed over the past 10 years.
Of course history is no guarantee of future performance, but lets say the AGG stays flat over the next 10 years – one could earn a 2.375% gross annual yield. It's not amazing, but guess what? 2.375% is the exact interest rate on my recently refinanced 5/1 ARM that expires on August 1, 2021.
Below is a snapshot of my originally $981,000 5/1 mortgage that finally closed on August 1, 2016. I paid down about $131,000 of principal to refinance $850,000. The original monthly mortgage payment was ~$4,333 due to a larger principal balance and a higher 2.625% interest rate. Now the monthly mortgage is $3,303.55; $1,621.26 of which goes to principal.
To live for free, all I've got to do is invest $850,000 in AGG after the recent sell-off. There's just one problem. I don't have $850,000 lying around. I could sell off other investments to create this "live for free arbitrage," but I don't want to just in case my other investments return better than 2.375% and the bond market sells off even more.
But, what I can do is focus on making NEW money in order to build a position in AGG to slowly chip away at living for free. The beauty of this strategy is that there's a two-pronged attack.
On the one side, I'm building a bond position to get to $850,000. On the other side, I'm automatically paying down the mortgage through monthly payments and random extra principal payments so that I DON'T have to amass an $850,000 live-for-free bond portfolio!
How fun is this challenge? So fun for a financial enthusiastic.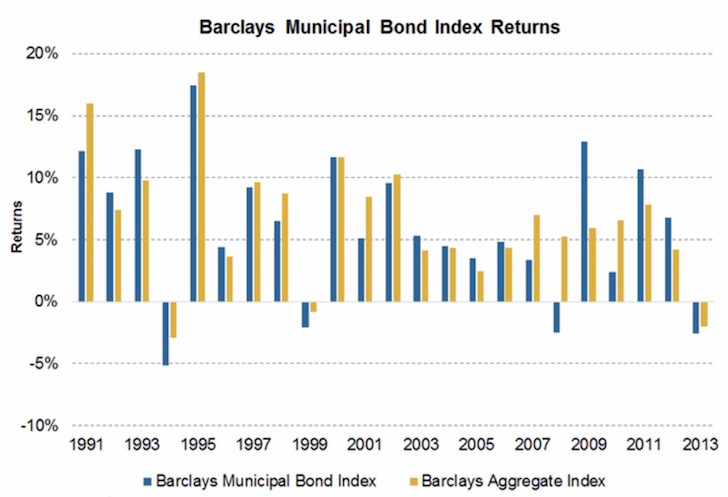 Given I've got a higher risk tolerance, I'm building a California Municipal Bond fund position as part of my bond portfolio mix. CMF has a ~2.5% double tax free yield, equivalent to over a ~4.3% gross yield based on my tax rate. CMF is more volatile than AGG and has corrected by a maximum of 10% over its lifetime. But a 10% correction fits nicely with my risk-tolerance. Any more than a 10% loss feels too painful for me.
Who wants to just live for free when one can actually get paid to live in a cozy house and potentially make money from a house that inflates with inflation over the long run? With CMF, I earn a gross adjusted yield of almost 2% over my 2.375% mortgage rate. I'm willing to take more risk for this even better scenario.
Build Your Money Army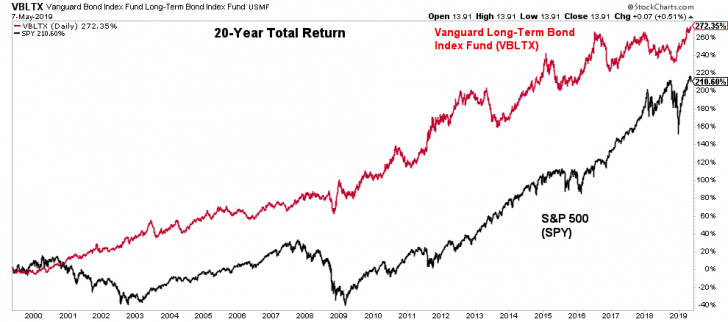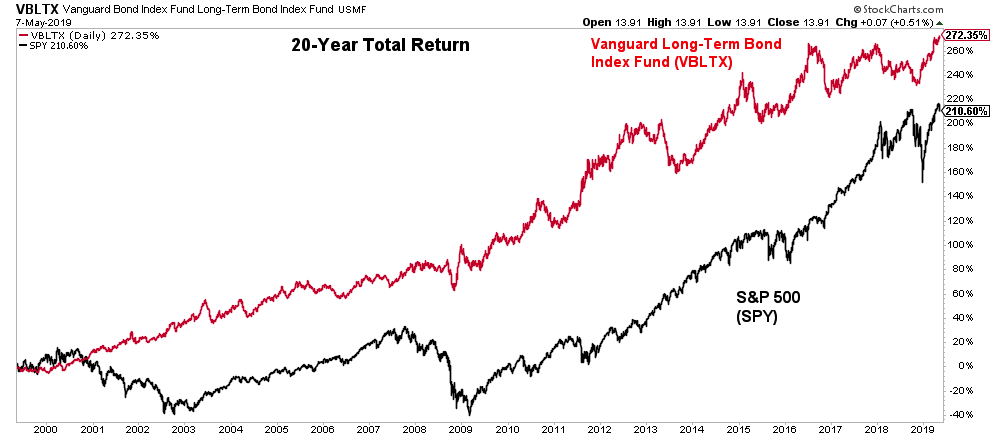 I hope people get motivated to earn more and save more. If you check out the chart above, you'll see that the Vanguard Long-Term Bond Index Fund has done quite well compared to stocks – practically even performance actually, with less volatility.
Having a Money Army work for you so you don't have to is a good scenario. If your Money Army can also allow you to live for free, even better!
To recap:
1) Having a purpose for your money makes saving, working, and investing that much more fun and meaningful.
2) The aggregate bond market's worst annual decline since 1989 was only 2.9%. Those of you who are near retirement, in retirement, or looking for less volatility in their investment portfolio should consider increasing bond exposure after the recent sell-off. There are no investment guarantees. Bonds can continue to sell off. We've only seen that bonds are much less volatile than stocks.
3) There are all different types of bonds with varying levels of risk and return profiles. US Treasury bonds are the least risky, followed by municipal bonds from states with strong balance sheets. Emerging market high yield corporate bonds are some of the most risky e.g. Greek bank bonds. Bonds provide diversification, income, and potential return.
4) For those in a 33% or higher federal marginal income tax bracket and who also live in a high income tax state such as California (13.3% top rate), Oregon (9.9%), Minnesota (9.85%), Iowa (8.98%), New Jersey (8.97%), Vermont (8.95%), District of Columbia (8.985%) or New York (8.82%), municipal bonds provide better relative value. If you don't like munis, AGG offers the total bond market exposure.
5) Make sure you have a diversified portfolio that matches your risk tolerance. We could very well be at a turning point in the US bond market's 35+ year bull run. Unlikely, but possible. After significant moves in any asset class, it's always good to give your investments a checkup to compare your current allocation to a recommended allocation. You may be surprised at what your results might find.
6) Check the latest mortgage rates online now. Interest rates have continued to decline (see chart below) and the proper market is finding a healthy support. If you've been looking to refinance or buy property, the window has opened up. LendingTree has the largest online platform where lenders compete for your business. Check them out for a free mortgage quote today.
Here's an example of running one of my investment portfolios through Personal Capital's free Investment Checkup tool. With the selloff in bonds as interest rates have risen in 2018 and the rise of stock market volatility, I have happily increased my bond allocation. Earning risk-free higher returns is wonderful. When you've made a lot of money since the global financial crisis, a good idea is to keep it!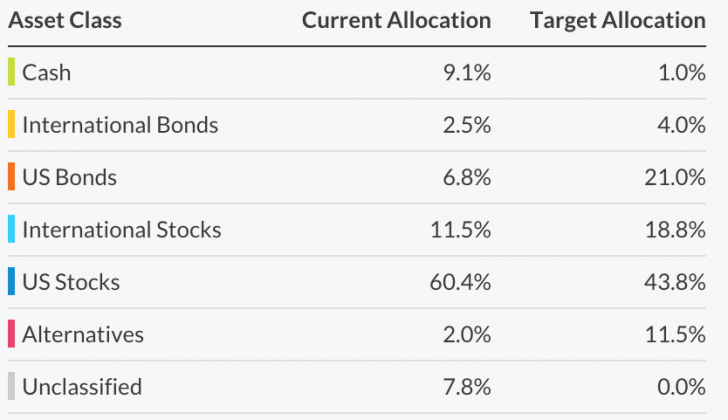 Updated for 2019: The 10-year bond yield is around 2.4% as stock market volatility is back, earnings growth is slowing, housing prices are softening, and the Fed's plans are up in the air. There should be a place in your portfolio for bonds.