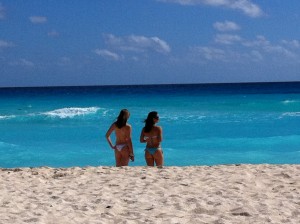 The wind died down and I headed out onto the veranda to sit under the stars.  The waves glistened under a full moon as they danced their way on shore.  "This is the life", I thought to myself as I prepared a moist Cuban cigar accompanied with a fresh glass of coconut juice I cracked open earlier that evening.
The last night of a great vacation is always the hardest.  I think about how I felt the first day I arrived, and lament at how quickly time went.   It's time to go back to work soon.  I recount all the cultural idiosyncrasies, such as the waiter putting me on the spot by asking how much I plan to tip before running the credit card, or the knife salesman telling me I wasn't allowed to take pictures of his demonstration even though he wanted me to buy his products!  I remember our tour guide Carlos, who makes his money off tips, tipping a street performer at a stop light with what little he had.  Yes, the little things are what make international travel wonderful.
Vacations are wonderful because they are like decadent slices of chocolate cake.  You don't always have a slice, but when you do, the magical sweetness is quite a treat after a salty meal.  If all you did was eat chocolate cake, your taste buds would soon tire.  And so I reason that if all you did was go on vacation, you'd no longer appreciate your travels since you're no longer vacationing from anything.
Work helps makes vacation a blast.  Meanwhile, fulfilling work makes vacation even more special because on your last night of relaxation, not only do you enjoy recounting the memories, you also look forward to going home.  After a couple weeks, I miss the buzz.
The more I think about it, the more I realize I don't really want to retire.  Retirement is just an excuse for not finding a job you truly enjoy doing.  6 weeks of vacation a year + the 8 national holidays are enough balance for me.
RECOMMENDATIONS
Looking for an awesome travel rewards credit card? Check out the Chase Sapphire Preferred® Card and others. I use my Chase credit card for all my business and travel spending to get points for more free travel, insurance in case my bags are lost or my flight is stuck, and more insurance for defective products I buy and want to return. Everybody should have a credit card for the free 30 day credit. Just make sure to pay off your credit card every month in full! Check out some of the benefits:
Earn 50,000 bonus points when you spend $4,000 on purchases in the first 3 months from account opening. That's a ~$650 value right there.
Named a 'Best Credit Card' for Travel Rewards by MONEY Magazine.
You get 2X points on travel and dining at restaurants & 1 point per dollar spent on all other purchases.
Start your own business online. Because I started my own site, I now can travel and work at will for the rest of my life. Learn how to start your own blog easily for way less money than before!
Updated for 2017 and beyond.