Ever since the JOBS Act was passed in 2012, there's been an explosion of crowdsourcing platforms to allow regular investors to invest in startups and participate in private deals.
One of the most promising crowdsourcing categories is real estate, where individuals can invest as little as $1,000 in a commercial property deal that was once reserved for only super wealthy individuals or institutions.
Venture capital firms have funneled an estimated $2 billion into real estate tech startups in up to 2017, and the trend is set to continue in 2019 as the real estate industry gets deregulated.
Below is a thorough profile of the leader, Fundrise.
Fundrise Company Overview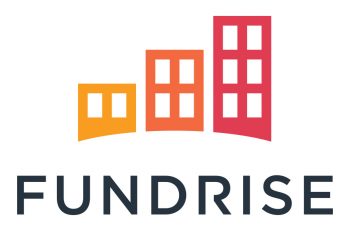 Total Equity Funding: $41 million
Headquarters: Washington DC.
Description: Fundrise is the leading online real estate investment crowdfunding platform. Starting in 2012, Fundrise was the first company to take commercial real estate public online and offer true equity ownership in local properties.
Employees: ~76
Sign up link: Fundrise
Company Details
Fundrise is the leading online real estate investment crowdfunding platform. Starting in 2012, Fundrise was the first company to take commercial real estate public online and offer true equity ownership in local properties.
Comprehensive Fundrise review here.
Fundrise Funding History Details


Fundrise Management Team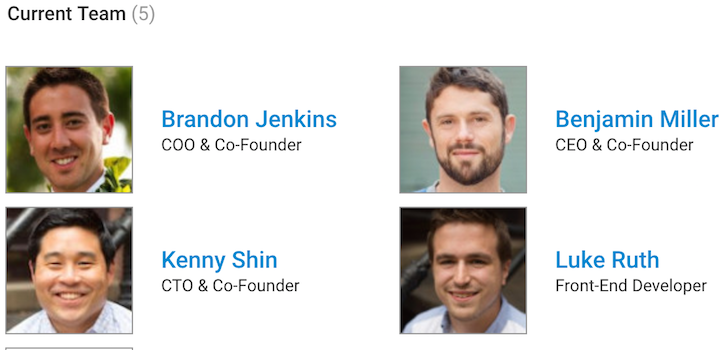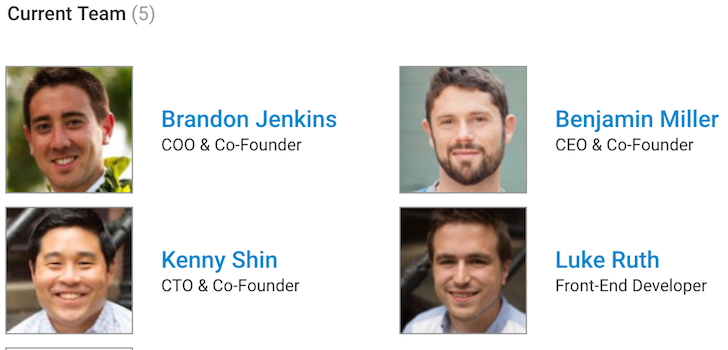 Fundrise Growth And Performance
According to the latest public offering documents by Fundrise for its IPO, the firm manages roughly $488 million in assets under management, has 63,271 active investors, and 76 employees. Their AUM grow and investor signups have been very promising.

Fundrise's five-year average platform portfolio has also done quite well, yielding a 10.79% return versus 7.92% for the Vanguard Total Stock Market ETF and 7.4% for the Vanguard Real Estate ETF. Their massive 14%+ outperformance in 2018 versus the Vanguard Total Stock Market ETF is particularly impressive.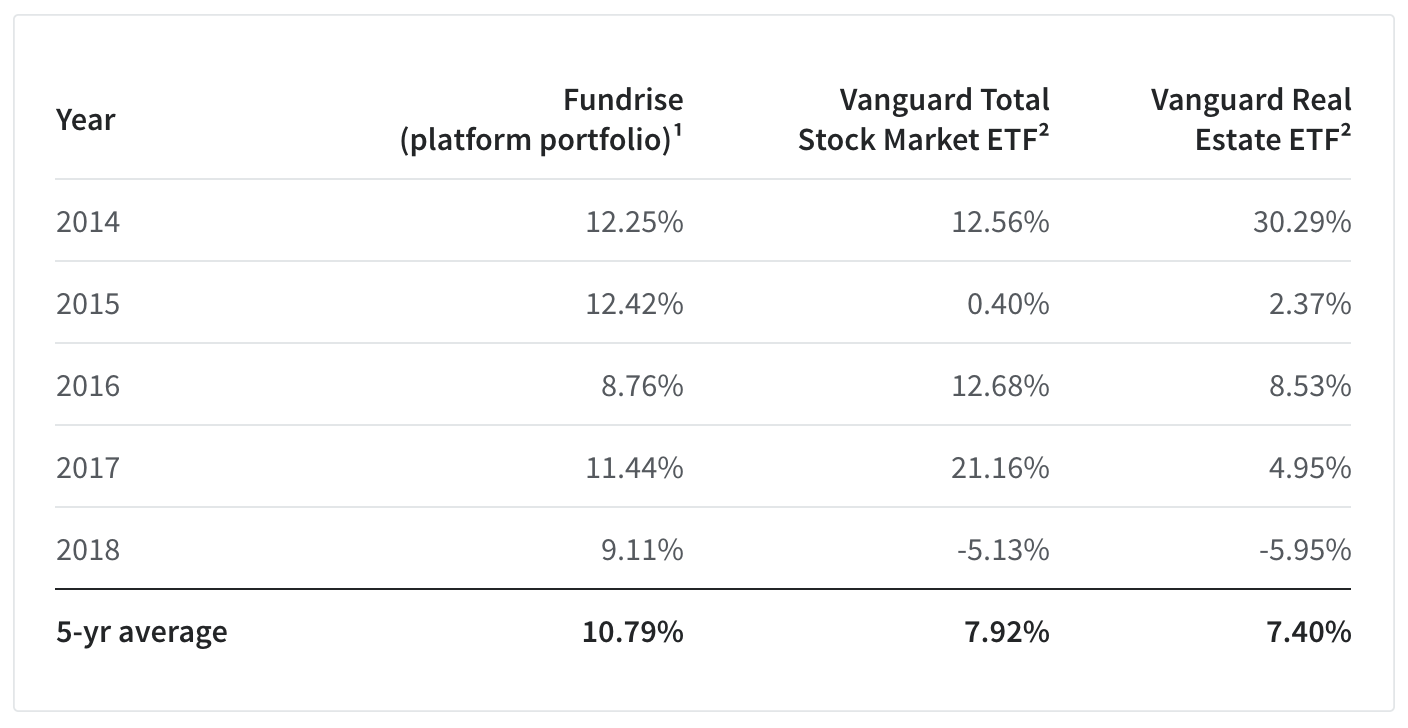 By generating a strong 5-year return, Fundrise has taken a huge step forward in proving out what they have believed for so long: that a model of individuals diversifying into real estate through a direct, low-cost technology platform is a superior investment alternative to owning only publicly traded stocks and bonds.
Real Estate Crowdsource Investing
One of the most efficient ways to invest in real estate around the country is through real estate crowdsourcing. Instead of flying around the country to kick some sheetrock, one can simply invest as little as $1,000 – $5,000 in various pre-vetted deals on Fundrise's great platform. Fundrise only chooses the best operators. From there, the individual can analyze each potential deal.
What's awesome about Fundrise is that it has easy eREITs to invest in. Each eREIT (West, Midland, East Coast, Growth, Income) is open for all investors where there is supply. An investor can simply ride the geographic/strategic decisions the eREIT manager chooses to make a potentially healthy 8% – 16% return based on historical performance.
Here are three examples of Fundrise's eREITs. I'm partial to the Heartland eREIT due to the new administration that's focused on bringing jobs back to middle America.
Diversify Your Investments
Everybody should seek to own their primary residence to get neutral inflation. After that, consider investing in stocks, bonds, and real estate crowdsourcing investments through companies like Fundrise. Both are the leaders in the exciting real estate crowdfunding space. They've opened up new opportunities for everyday investors to gain access to properties they otherwise would not have access to in the past.
Low interest rates are here to stay for likely the rest of our working lifetimes. It's therefore best to invest in income producing assets because not only will they provide a higher income stream, they'll also attract more demand, thereby boosting the principal value of your income investment.
Here are some reasons why it may be best to focus on investing in the heartland of America over expensive coastal city real estate going forward.
A Republican president will give back to the people who got him there through the theme, "Hire American, Buy American."
There will be a net migration out of Blue states into Red states as more people realize it's a great deal living in Texas if you can get 3X as much for 1/3rd the price.
As our country gets older, more retirees will move out of Blue states to stretch their retirement dollar.
The remote work trend will continue due to technology and a tight labor market.
Sanctuary cities are at risk of seeing their federal funding pulled and reallocated to Red cities.
Income growth should be higher in Red states due to demographic shifts.
Now that investing in real estate is more efficient, Red State 10%+ cap rates compared to <4% cap rates in Blue cities are too hard to ignore. The spread should narrow.
A potential expansion of who can invest in real estate crowdsourcing will lead to an increase in demand and prices.
The rise of real estate crowdsourcing platforms increases the supply of capital, thereby increasing the demand and prices of previously hard to tap investments.
Explore Fundrise for free today. I've personally invested $810,000 in real estate crowdfunding to earn more passive income and simplify life.
About the Author: Sam began investing his own money ever since he opened an online brokerage account in 1995. Sam loved investing so much that he decided to make a career out of investing by spending the next 13 years after college working at two of the leading financial service firms in the world. During this time, Sam received his MBA from UC Berkeley with a focus on finance and real estate. 
About Financial Samurai: FinancialSamurai.com was started in 2009 and is one of the most trusted personal finance sites today with over 1 million pageviews a month. Financial Samurai has been featured in top publications such as the LA Times, The Chicago Tribune, Bloomberg and The Wall Street Journal. 
Review Summary
Reviewed by
Review Date
Reviewed
Best Real Estate Crowdfunding Platform
My Current Rating