The NY Fed, Federal Reserve, Bureau of Economic Analysis, and Morgan Stanley put out a series of fascinating household debt charts we should all be aware of.
Excessive debt is what makes extremely rich people go broke. Leverage is what crushed the economy once the music stopped playing in 2008. But boy is debt nice when properly used to grow one's net worth in a bull market.
Everybody should have the goal of being debt-free by the time they are no longer able or willing to work, no matter how low the interest rate. Having enough passive income to cover all your expenses while owing nothing to anybody is financial freedom at its finest.
Let's take a look at the charts and see if we can uncover some wisdom. 
Household Debt Composition Over Time
The first chart shows that household debt has surpassed its 2008 peak. Some might say this a warning sign, but given population growth, GDP growth, corporate earnings growth, inflation, and labor force participation increases over 10 years, one should expect household debt to be higher today.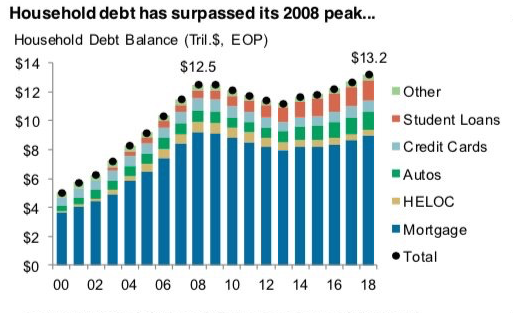 The second chart below shows how the composition of household debt has changed since 2000. The two most worrying increases come from Student Loans (10.1% of total, orange) and Autos (9% of total, green).
The debt burden of a higher education is getting heavier, while the returns are getting smaller. Unless you are already rich, wasting hundreds of thousands of dollars on a private school education is not optimal. You'd be much better off investing the difference and sharing some of your savings with your child upon his graduation from a public school. The internet has democratized access to education.
At least with Student Loans, you build human capital. But with the rise in Auto Loans, all you're buying is a depreciating asset. The Auto Loans line tells us that the auto industry could be facing some headwinds as it looks like it's peaking. With the proliferation of ridesharing and self-driving cars, the need to own your own automobile will decline. Please don't spend much more than 1/10th your gross income on a car.
It is great to see Credit Cards share of household debt balance stay down. We all know that credit card debt is the most expensive debt in town. There's a reason why credit card companies and credit card affiliate businesses are so profitable. They are counting on the irresponsible to carry a balance at an interest rate not even the great Warren Buffett can beat.
Finally, it's also good to see the HELOC debt balance seemingly follow a straight line down since 2012. Perhaps homeowners have finally learned their lesson not to use their homes like ATM machines. With interest rates ticking higher, the cost of a HELOC is becoming less attractive.
The great news about the current US household debt composition is that mortgage debt has fallen from a high of 73.6% during the financial crisis to 68% of total debt in 2018. If we believe that a 5.6% swing is significant, then the below chart portends good news for homeowners and for banks.
Bank executives will look at this chart and get more aggressive with their mortgage lending standards. Borrowers with lower credit scores should have an easier time getting loans. Less money down will be required to buy a home given banks will allow for higher debt-to-income or debt-to-equity ratios.
With easier access to credit, more people will borrow more money than they could in the past to buy homes at already record prices. As a result, home prices have a strong tailwind. But of course, if lending standards get too loose, then an inevitable bust will occur. Pay attention to rising inventory, falling rents, and the return of no money down and negative amortization loans.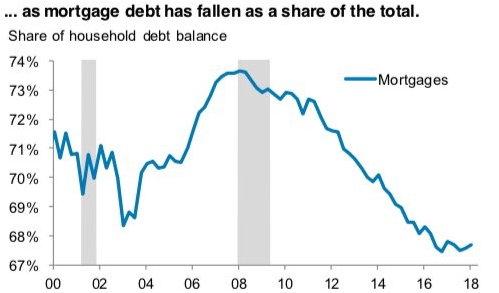 This final chart may be the most important chart of them all. It shows that our Net Worth to Disposable Income is at its highest ratio since 1980, even higher than during the dotcom bubble and in 2007. Meanwhile, our Debt to Disposable Income has fallen from a peak 1.38 in 2007 to 1.08 in 2018.
What the Net Worth line doesn't say is who owns most of the wealth in America and whether Disposable Income has kept up with inflation. Given we know that wages have underperformed asset appreciation since 2012, and the rich own an even greater percentage of America's wealth today, having a record ratio of Net Worth To Disposable Income isn't a good thing for everybody. In other words, the wealth gap is widening.
We can also see how quickly the gold line declined between 2000-2003 and 2007-2009. Further, the rapid spike in the Net Worth ratio since 2016 probably also caught many by surprise.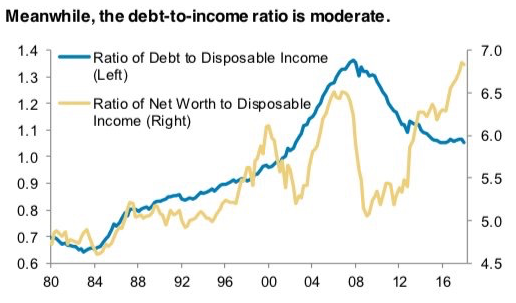 Older, Wiser, Richer
Americans who are past student loan debt and wise enough to not take on auto loans and credit card debt are richer than ever before. But the concern is that during the past two peaks (2000, 2007), the ratio of Net Worth to Disposable Income also peaked right before the economy turned south.
I look at our collective boost in Net Worth since 2016 as sitting on a pile of the house's money thanks to a surge in real estate and stocks. We can either use this "free money" to get even richer or we can cash in our chips and give ourselves high-fives for being wealthier than we ever thought possible.
The best course of action is to probably do some of both.
I've chosen to offload one rental property in 2017, paying down 40% of my outstanding debt in the process. I've redeployed some of the rental property proceeds in heartland real estate, optimized my cash with a CD Step Stool, and lowered my overall equity exposure by about 10%. By doing this, I expect to be better protected if we go through a slump.
At the same time, I'm playing aggressive offense with about 20% of my net worth with individual growth stocks and alternative investments that will hopefully pay off if the good times continue. But the reality is, nothing will affect our household wealth more than our online business.
Once you taste some financial freedom, you never want to go back to the salt mines again.
Refinance Your Student Loans
Refinance your student loans today. Check out Credible, a student loan marketplace that has qualified lenders competing for your business. Credible provides real rates for you to compare so you can lower your interest rate and save. Getting a quote is easy and free. Take advantage of our low interest rate environment today!
Recommendation To Build Wealth
Manage Your Money In One Place: Sign up for Personal Capital, the web's #1 free wealth management tool to get a better handle on your finances. You can use Personal Capital to help monitor illegal use of your credit cards and other accounts with their tracking software. In addition to better money oversight, run your investments through their award-winning Investment Checkup tool to see exactly how much you are paying in fees. I was paying $1,700 a year in fees I had no idea I was paying.
After you link all your accounts, use their Retirement Planning calculator that pulls your real data to give you as pure an estimation of your financial future as possible using Monte Carlo simulation algorithms. Definitely run your numbers to see how you're doing. I've been using Personal Capital since 2012 and have seen my net worth skyrocket during this time thanks to better money management.