In a great display of public income profiling, the IRS recently highlighted they are increasing their audit rates for income levels above $200,000.  If you study the chart carefully, you will see that after $200,000, your audit rate percentage goes up anywhere from 3X to 30X the average audit rate for those making less!
I've said this before, and I'll say this again, the average income for maximum happiness is $200,000 a year per person because $200,000 is the income level which provides maximum financial reward without drawing discrimination from the government or general public.  Any income above $200,000 gets assaulted like a rabid pit-bull against a defenseless baby bunny!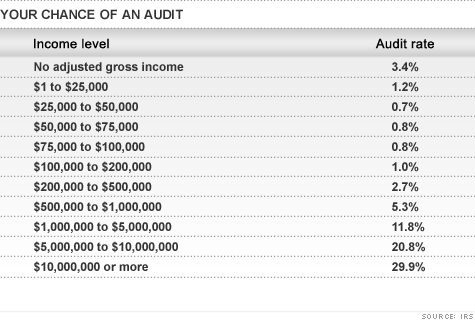 IS INCOME PROFILING OK?
We all can agree that racial profiling is not OK.  Therefore, is income profiling OK?  Are we really going to allow the government to try and make the lives of the wealthier incrementally more miserable?  By doing so, we are saying that those who make more in our free country are more likely to cheat on their tax returns.  Wouldn't those who have more money feel less of a need to cheat on their taxes since they already have enough?  Maybe.
However, if you are super rich, you've got the finest accountants money can buy who know these stats and who will ensure that in case of an audit, they will do everything possible to make sure things are clean because too much is at stake, including their own jobs!
From a rational point of view, given our tax code is 10,000+ pages long, we can assume that errors will be made across the entire income spectrum.  The flat tax above a certain income level is clearly the most efficient way to go.  Given limited resources at the IRS, it is rational for IRS agents to go after bigger fish to descale, slaughter, and eat vs the little minnows.  Better bang for the buck.  However, once again, is this right?
Recommendation: I've been using H&R Block's Premium Tax Software to do my own taxes for the past 11 years. It's inexpensive and very easy to use for novice to advanced tax filers. The software always updates with the latest tax rules so you're never behind. They also have audit protection service as well.
Regards,
Uncle Sam