After the melt-up on September 1, 2021, I decided to sell some stocks and rebalance my portfolio. It has been a while since I've sold any stocks (have only bought for the past year). But I now feel uncomfortable with my risk asset exposure. Selling stocks into strength is my way of de-risking.
After a 40% increase in my portfolio in 2020 and a 13% increase year-to-date (underperforming the S&P 500 this year), I realized that stocks are now above my desired maximum net worth allocation of 30%. The stock allocation had crept up to ~35% of net worth.
When you then combine my ~40% exposure to real estate with another ~8% in alternatives (private equity/debt), that's just too much risk for this household. I really dislike volatility. And stocks have historically given me the most stress during bad times.
My asset allocation was incongruent with my plan to re-retire within the next 12 months. I was lulled into believing I was going back to work forever. Heck no.
The Stock Selling And Exposure Plan
After selling some stocks on April 9, 2021, my current stock allocation is about 31% of my net worth. I plan to keep selling if the markets continue to go up until stocks account for about 25% of net worth and keep it there.
I've left 70% of the proceeds in cash and have reinvested 30% in bonds with the 10-year bond yield at 1.65-1.7%. My goal is to allocate more towards bonds if the 10-year yield gets to 2%. I also plan to invest in more alternative investments that are lowly correlated with the stock market.
Below is a good chart of the Volatility Index (VIX) since January 2020. We're at the lowest level since then. In other words, the market has become very complacent about risk. I view the VIX as more of a contrarian indicator.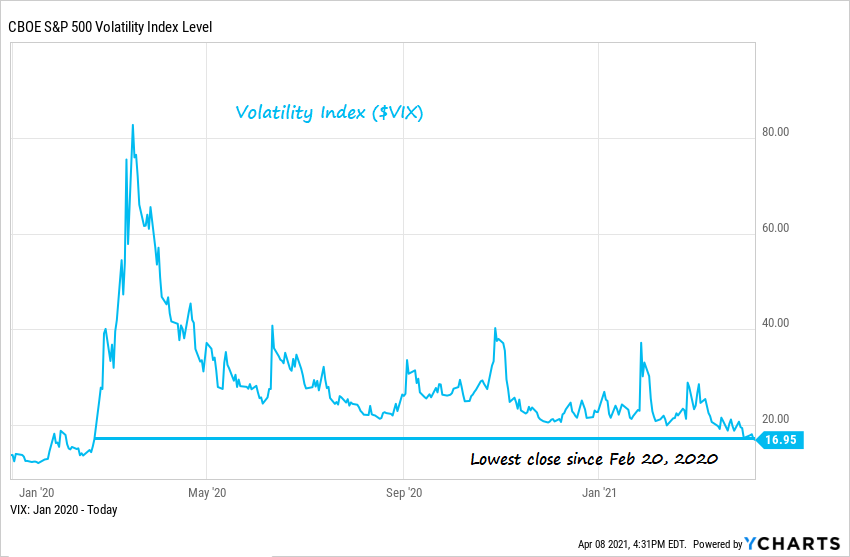 Some Things To Think About When Rebalancing
Please note it's important to distinguish your financial situation from my own. Given we are not the same, you can't follow exactly what I'm doing. I also likely have different goals than you. Here are some things to think about when rebalancing:
1) To be more tax-efficient, you should first consider rebalancing your 401k, Solo 401k, SEP IRA, IRA, etc. I've left my taxable portfolios untouched because I don't want to trigger any capital gains taxes.
2) Compare your year-to-date (YTD) financial progress with your goals and adjust accordingly. My goal is to grow net worth by 10% a year in a relatively low-risk way. I'm up anywhere from 4-7% YTD, depending on how my real estate is valued. If risk assets do nothing for the rest of the year, I will easily surpass my 10% net worth growth target due to my passive income and online income.
3) Compare YTD performance with full-year forecasts. Originally, I had forecasted 4,088 on the S&P 500 for an 8% return in 2021. I have since upgraded my forecast to 4,200. Once we breached 4,100 on April 9, it felt logical for me to start taking some profits. I don't think this pace of price appreciation will continue. But, of course, nobody knows the future.
4) Ask how disappointed you will be to miss out on further gains versus potentially giving up gains or losing money. I won't be that disappointed giving up further gains because so much of our gains feel like free money. Even after my selling, I've still got enough exposure.
Stay Flexible With Your Stock Investments
Let's say we cut out the March 2020 plunge. I believe at least 50% of the gains since the S&P 500 was at 3,225 on January 1, 2020, is due to the pandemic. If it wasn't for the pandemic, the Fed and the federal government wouldn't have pumped so much liquidity into the system.
We may have still gone up 10% since January 1, 2021, if there was no pandemic. However, we're actually up 28% since then. Regularly selling company stock is a good idea to diversify. Your job, pay, and title are already tied to your company's performance.
Here's a good chart that shows the YTD returns of various asset classes.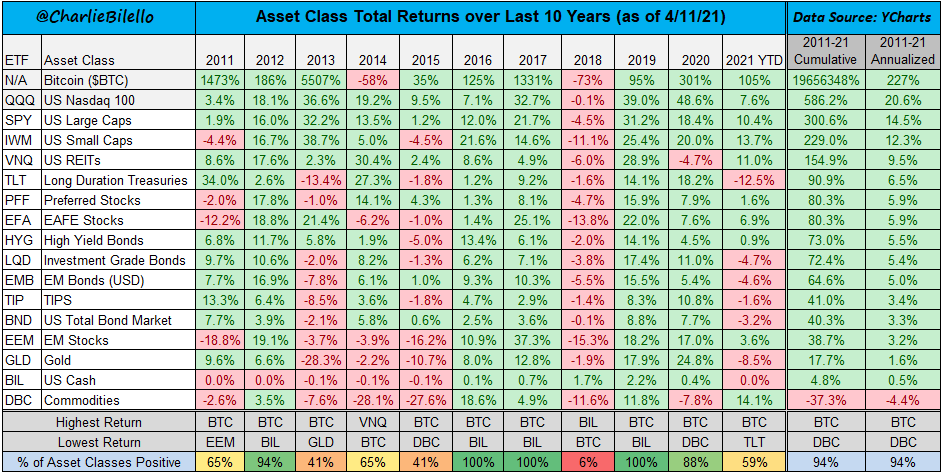 Rebalance Your Portfolio Once A Year
If you are planning to retire from your job or sell your business within the next couple of years, you should definitely reassess your net worth allocation as well. Taking on excess risk may be unnecessary when you're so close to the finish line.
And if you plan to keep grinding away once the economy fully opens up (June 15 target date for California), then you should still review your investments and net worth. You may be surprised by how much its composition has changed.
I'm excited for you young guns out there (<40). There is so much opportunity to make money as we reopen. For older readers, make sure you hang onto your gains.
See: Recommended Net Worth Allocation By Age Or Work Experience
Keeping Low Volatility Assets
I plan to happily keep my low-volatility assets such as real estate, municipal bonds, and private fund investments. In fact, I may use some of my stock proceeds to keep allocating capital to venture debt and real estate crowdfunding.
If I can earn high single-digit investment returns with low volatility, I'm very happy at this stage. I plan to allocate several hundred thousand to a Fundrise eREIT and then another couple hundred thousand into my friend's venture debt fund. I'm already in his third fund after good experience with the first two.
Stocks are great for the long-term. I just had too much exposure. I want to minimize the feeling I had during the March 2020 implosion. Therefore, I'm rebalancing my portfolio accordingly. Real estate is my favorite asset class to build wealth long term. If you don't like volatility, real estate is the way to go.
About the Author
Sam worked in finance for 13 years. He received his undergraduate degree in Economics from The College of William & Mary and got his MBA from UC Berkeley. In 2012, Sam was able to retire at the age of 34 largely due to his investments that now generate roughly $250,000 a year in passive income. He spends time playing tennis, taking care of his family, and writing online to help others achieve financial freedom too.
Sam started Financial Samurai in 2009 and has grown it to be one of the largest independently owned personal finance sites in the world. You can sign up for his free private newsletter here.