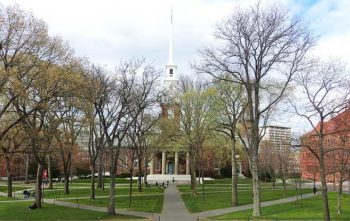 A happy life is all about managing expectations. If you matriculate at Harvard, great things are expected of you. And if you don't do great things, are you a disappointment?
Education has been on my mind a lot lately because of my new jobs as a high school tennis coach and as a stay at home dad who is worried about not providing proper guidance. I've seen first hand the grind my student athletes go through and I sometimes wonder whether it's all worth it. Supposedly my high school is one of the best in the city, yet not every graduate goes to a university like Harvard.
I pick on Harvard because it's the most well known university in the world and also costs about $63,025 annually in tuition, room, and board if you receive no aid. I'm assuming if you went to Harvard, you won't be offended by this article because you've got the golden carpet rolled out for you compared to a field littered with land mines for the rest of us. But you can substitute any elite private university in the title, and the point is the same.
Using the word "nobody" is admittedly harsh, but I come from the viewpoint that for at least 13 years after college, I was a nobody, busy working in banking. Yes, banking is an integral part of making an economy work, much like oil is to a car engine. However, at the end of the day, all I was doing was helping institutions get wealthier. Sad, but I'm trying my best to improve. Yet, still, I am a nobody.
If you attend a school like Harvard, you must go on to do great things. With an acceptance rate of only 5.4%, you aren't allowed to retire early and waste your potential, be a stay at home parent before age 32, work the same job as someone who went to State U, or morph into some highly opinionated personal finance blogger who enjoys stoking the fire. Now that you can learn everything online for free, the stakes for achieving greatness have never been higher!
The purpose of this article is to:
1)  Challenge our unhealthy desire for prestige and money
2) Reassess the pressure cooker environment we put our kids through
3) Discover what actual Harvard graduates do for a living
4) Encourage our smartest people to do more productive things with their lives
5) Give folks who've been rejected from elite universities and coveted jobs hope that anything is possible
6) Go beyond the act of giving money by spending more time helping people directly
7) Encourage schools to encourage their graduates to broaden their career prospects