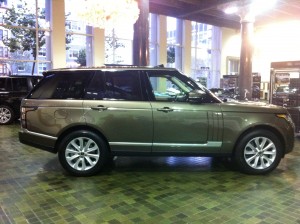 If there's one infatuation I and many men have, it is the love affair with cars. When I got my first paycheck, I bought myself not only a nice 850GLT Volvo (yes, an old man car for a 22 yr old kid), but also a Honda CBR600 racing bike!
I had nowhere to park them in in NYC, so I actually had to park 20 blocks away, and take the subway back to my apartment! I dumped $18,000 in cash for the vehicles, and had to pay an additional $300/month for parking and transportation fees to my vehicles! How ridiculous is that?
Most of us have some materialistic vice we go gaga over. One lady I know has $20,000 worth of purses, and another $10,000 worth of shoes. But if you think about it, her vice isn't so bad since the average car a guy desires is probably in the $25-45,000 range.
Why we throw so much money discipline out the window when we stumble across our vices, I donno. What I will tell you after purchasing and selling 8 different cars (new and old), is that I've figured out some fantastic tips to: 1) Getting the best deal, and 2) Satiating ones desires.
GETTING THE BEST DEAL – 5 SIMPLE RULES
1) First of all, unless you don't care about money, don't ever buy new! We don't live in the 1980's anymore where cars would start falling apart about after 5-10 years. Cars are so well made now, they will last for 200,000 miles with regular maintenance. The depreciation curve is steepest after 3 years, so best to get a car between 3-5 years old.
2) Now that you agree it's unwise to buy new, where do you look? The internet of course! 8 cars in 10 years actually requires 15 transactions since I have to buy a new car, and sell the old car. All transactions have been done over Craigslist, Ebay, or Autotrader. Craigslist is my personal favorite, with 13 out of the 15 transactions being made here.
3) Once you inquire about the car, you must then look up at least 5 other comparables to see whether the asking price is reasonable. You should then cross check the price with KBB.com based on a "good" condition selection. Paying Kelley Blue Book is a RIP OFF. In normal economic conditions, you should always strive to pay at least a 10% discount to KBB. In conditions like the 4th quarter of 2008, you could easily get 15% below KBB. On the flip side, if you are selling, you should try and get 90-100% of KBB's price. Buyers generally feel like they get a deal at a 5% discount to KBB price, but you know better!
4) If the seller is playing hard ball, play even harder ball! There are ALWAYS more of the same models to choose from. You just need to be patient enough to wait for the right deal. When do these great deals occur? They occur during economic depressions for sure, but most often, it's when the seller just has to sell due to a business relocation, divorce, or financial emergency. Getting a good price may actually come second to just getting a quick and smooth sale. Hence, be responsive, show a lot of interest, and be prepared to pay cash or prove you have your loan documents ready to go.
Remember the acronym BATNA, which stands for Best Alternative Negotiated Agreement. In other words, the seller's best case alternative is to take a big loss by selling it back to the dealer. Sellers do this simple for convenience. As a buyer, you should find out what that trade in value will be, and if you can offer $100-$1000 over the dealer after proving you are a trustworthy candidate, you are getting a STEAL. Remember, a dealer needs to purchase at this price to pay for overhead and salaries.
5) Finally, it is absolutely worth spending the $60-$100 bucks to get the car checked out by an auto mechanic. Make sure to also have a clean Carfax. Don't be a penny wise and a pound foolish by skimping on a thorough check up. I've done that a couple times before with old old cars, and that cost me. The $60 you spend can help you negotiate HUNDREDS of dollars off the asking price since an automechanic will always be able to find something that needs replacing.
SATIATING MY ADDICTION
Before I purchased my 2000 SUV in November of 2006, I literally bought a different car every 1-1.5 years. I realize this is an addiction, and does nothing to help my finances. Every time I purchase a car, I have to sell my old one. I also have to spend a couple hours at the DMV to register the darn thing, not to mention additional taxes I have to pay.
I also realize that I am a thrill junky, and a deal seeker. It was just too hard for me to resist a great deal until the economy started unravelling in 2008. One would think I would be even more car crazy given the deals now, but the decline in my own net worth more than quenched that thirst.
If you have a car addiction, I highly recommend you face the addiction straight on and go to the car dealership! Isn't that like an alcoholic going to a bar you ask? Not so I say, as if you leave all your credit cards and checks at home, you will hopefully have a very difficult time buying a car. Instead, what you need to do is get in that car, sit in it, inhale that new car smell and ask the salesman to let you take that car out for a test drive!
Gun the heck out of that car, and pretend like you own it while your testing it. Afterwards, say thanks and simply walk away saying you have to think about it. If you do this, you will satiate that car buying desire for at least a month, all at zero cost to you except for a thrilling experience. You'll realize the car you have is just fine, and that to spend XXX amount of money on another car is just plain dumb.
Recently I test drove a 2010 BMW M3, and the brand new Mercedes Benz E550 coupe. What beauties, and what beasts! 0-60mph in 4.5 seconds is nuts, as is the person who buys one new! Ah, the plush leather and supple ride of the Benz is so nice. And turning the wooden steering wheel is just so wonderful.
And when both test drives were all done, I was smiling and happy, much like that feeling you get after riding that amusement park roller coaster. Away I rumbled in Moose, my 9 year old Land Rover, and I couldn't be happier. Getting from point A to point B for 1/10th the vehicle cost felt great!
FINAL RULE OF THUMB – The 1/10th RULE!



If you live in a major city, you realize a car is a big fat waste of money given the added cost of parking, insurance, and maintenance. The bus I take rocks, except when it skips me b/c it's so full in the mornings sometimes! One of the absolute best rules of thumb is as follows: The car you buy should cost no more than 1/10th your annual gross salary. That's right. If you make $40,000 a year, a good guide is to spend no more than $4,000 on a car.
Don't worry buddy, the ladies will love your frugality and common sense! If you make $750,000/yr, ok, maybe you can spend $75,000 on that 2010 BMW M3. 1/10th your annual gross salary should actually be a floor minimum. Many multi millionaires out there drive cars worth much less than 1/10th. After all, if you make $2million/yr, there aren't that many $200,000 cars one would buy, or be caught dead driving in these economic times!
So that's it. Buy a used car, negotiate, set a 1/10th gross salary spending limit, and never be afraid to just walk away. There are plenty of the same models out there. After you've found that dream car, you just need to find that right person to buy it from.
RECOMMENDATION
Lower Your Auto Insurance Costs: Check out Esurance online. They have some of the best plans with the lowest rates around due to their lower overhead costs. It's worth spending a moment filling out a quote to see if you can save some money. Car insurance is one of the largest ongoing expenses for car owners. Esurance has good driver discounts, and multi-product discounts as well.
Updated for 2020 and beyond. In case you're wondering, I know drive my favorite car, a 2015 Range Rover Sport. I plan to drive it until 2025 and then get an new Tesla since I'm long the company!