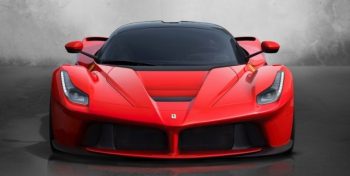 If you were to guess what the average new car price is nowadays, what would you guess? I guessed $25,000, since my Honda Fit is sweet for an economy car and only costs $19,600 new. Given I'm frugal, leaving a 20% upside pricing buffer seemed logical. Too bad I was way off!
According to Kelley Blue Book and the Bureau Of Labor Statistics, the average new car price at the beginning of 2023 is $49,388! That is an absurd amount of money to be spent on a car.
Back in 2021, the reported estimated average transaction price for a light vehicle in the United States was $37,876. Spending more than $40,000 for a new car if your household earns less than $200,000 a year is unwise. With this type of car spending, it is unlikely you will save and invest enough to live a comfortable retirement.
The median household income is about $75,000 in 2023. As a result, after taxes, the median household is spending about 80 percent of their income on a new car. Is there any wonder why the average American retirement is so woeful?
What's also surprising is that the average used car price has skyrocketed as well. The pandemic incentivized more people to buy used cars and take less public transportation.
Related: Is It Possible To Use A Credit Card To Buy A Car?
The Average New Car Price Is Crazy High
Take a look below at the most popular car brands and models on the market today and their prices. The chart just gives you a sampling of various car prices. Now take the figures and add another 25% to get the average new car price in 2023.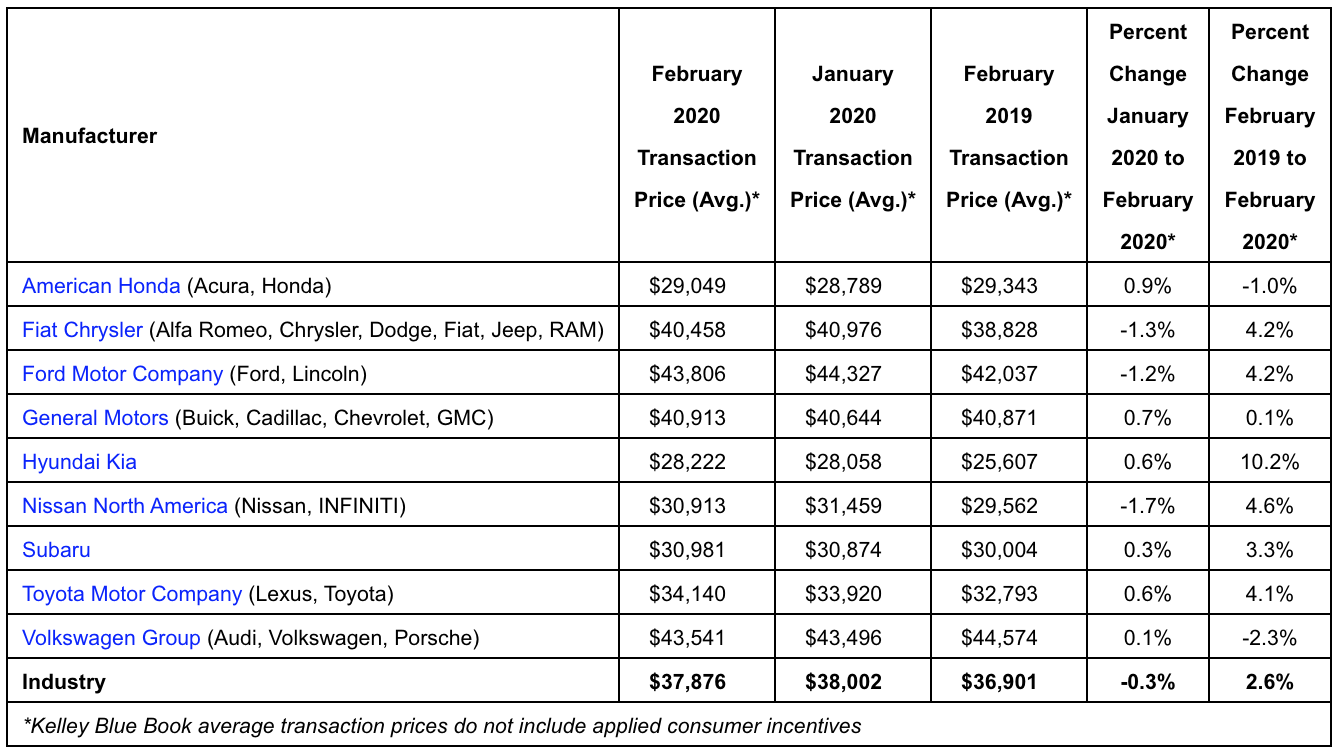 It really seems absurd that the average new car price is $49,366 according to Kelly Blue Book. However, who am I to deny their millions of data points? It's what so many people who read my 401k by age chart do when they aren't on track. They go in denial.
I've come to accept the reason why the average new car price is so high now is because demand is so strong and the average American is so rich! Forget the great recession and the pandemic. The economy is booming and people have money to spend.
Average New Price Historical Growth Versus Inflation
Below is a chart showing the average new car price of $48,094 as of September 2022. The average new car price was "only" $30,570 in January 2012. Even back then, the average new car price was way too high.
Starting in 2014, notice how the average new car price started increasing much faster than the rate of inflation. In 2021 and 2022, the industry saw an even bigger increase in average new car prices due to a decline in public transportation and supply shortages. Thankfully chain issues and shortages are working their way out in 2023.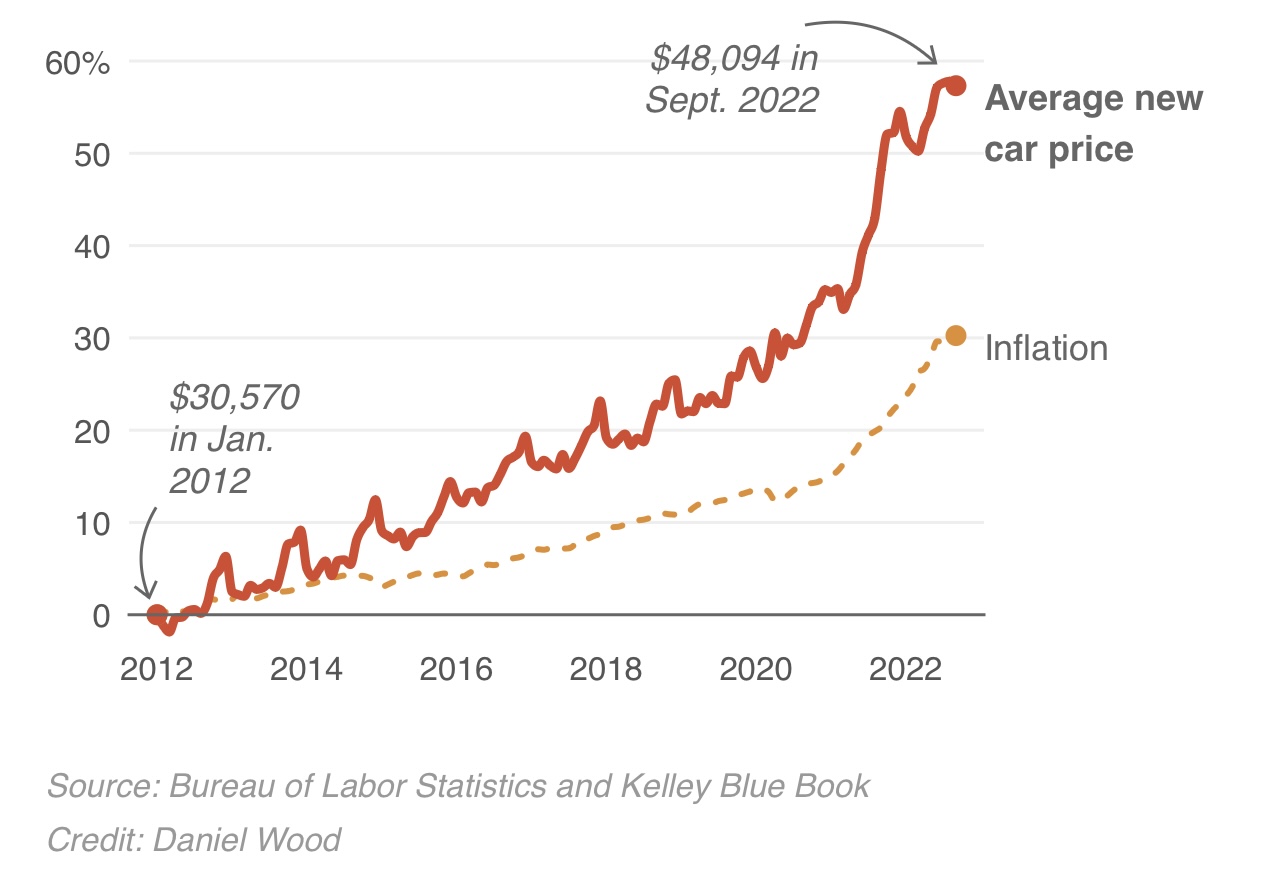 Below is an older chart highlighting the average cost of a new, used, and trade-in vehicle. Notice the big jump in trade-in vehicle prices starting in 2020.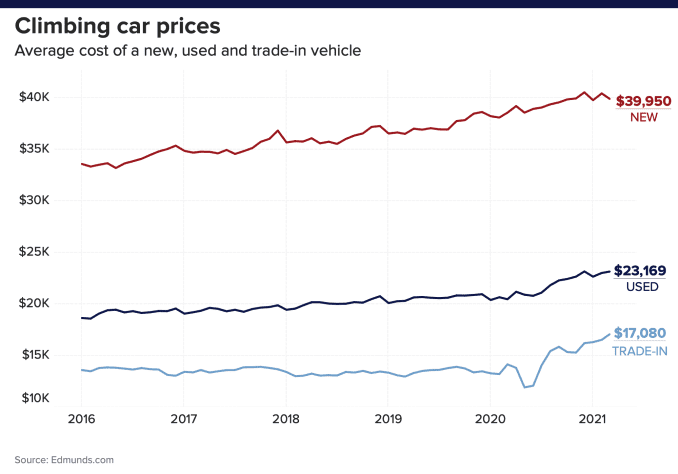 Average New Car Price 2023
Now take a look at the average new car price of $49,388 as of January 2023 according to Kelly Blue Book. Inflation continues to push the average new car price higher.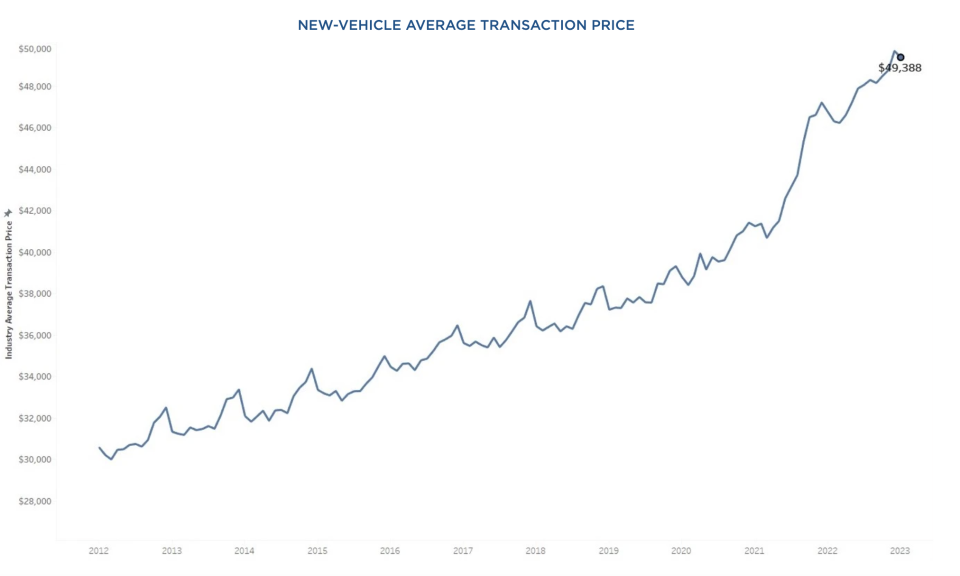 Related: What Your Car Says About Your Investing Style And Money Making Acumen
The Average Price Of Used Cars
Here's a more amazing stat. The average price of used cars is up even more! Due to supply-chain issues, the pandemic, and greater demand, there are simply not enough cars to meet demand.
You could literally lease or buy a car for three years and come out even based on a 40% increase in used car prices.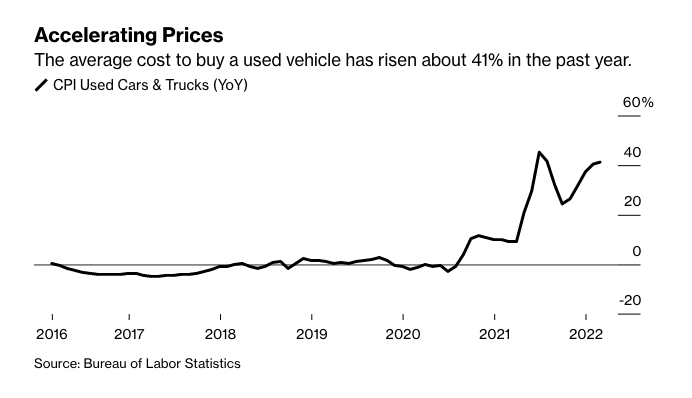 The Average New Car Buyer Is Rich
Given everything is rational, we can also assume the average new car buyer makes around $246,940 a year, or 5X $49,388, based on a 50% discount to my 1/10th rule for car buying.
If all new car buyers followed my 1/10th rule, they'd all be making ~$493,880 a year. But, I've still got a long ways to go to convince people not to throw too much of their money down the toilet, despite Financial Samurai being around since 2009.
With so many people from public train janitors to 26 year old programmers to food bloggers making $250,000+ a year today, $200,000 a year in income for the average new car buyer can't be too far off.
There's a bull market in the stock market. Meanwhile, real estate prices have recovered to pre-crisis levels and then some in some cities like San Francisco, LA, and New York City.
Based on the average new car price of almost $50,000 it certainly seems like only the rich or fools are buying new cars.
Don't Spend Too Much On A Car
To spend more than 20% of your gross salary on a car when you could be making mega bucks investing is completely irrational. Nobody I know would choose owning a new car over being able to retire years earlier.
Besides, those who don't make $200,000 a year will simply buy a used car for less. That's what I did for all but one of the previous cars I've owned. Everybody knows that a car is one of the worst financial independence inhibitors.
Therefore, it's clear that all new car buyers are making around $200,000 a year. Used cars buyers make much less because cars depreciate very rapidly.
Average Car Depreciation Rate Of A $30K Vehicle
Take a look at the chart below. In five years, a $30,000 car is worth about $12,000 using an average depreciation rate. Therefore, one can rationally assume the average buyer of a $12,000 car is making ~$60,000 a year, very near the median household income today.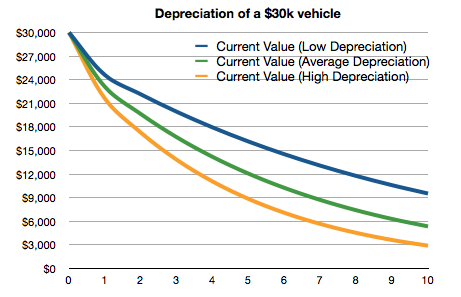 Average Auto Loan Size Is Absurd
Unfortunately, it turns out that most new car buyers are probably not making anywhere close to $190,000 a year. The reason why I know this is because the average auto loan is now over $30,000!
Holy hell. Who on Earth goes out and buys a $48,000 car and then borrows $30,000+ of it? Are consumers really that financially irresponsible? Borrowing lots of money to buy a depreciating asset is the best way to financial destruction. At least when you borrow money to buy a house, the house has a chance of appreciating long term.
The last salvation of hope for Americans is that maybe the $30,000+ loan is paid back over a very short period of time, like 1-2 years. Nope. The average term for an auto loan is 68 months (5.7 years) – the longest average term ever! In case you're wondering, the average auto loan payment per month is $503, for a total payment of $34,204 over the 5.7 years.
The Opportunity Cost To Borrow Money To Buy A Car Is High
The $30,032 borrowed today for a car would be worth ~$50,293 in 10 years. This is based on a 5.3% annual growth rate if invested in the S&P 500 instead. If we use a 7.2% growth rate for the S&P 500, the $30,032 invested would be worth $60,140 in 10 years. Opportunity cost is truly a car buyer's worst enemy.
Even if the borrower decided to invest his average auto loan monthly payment of $503 in the S&P 500 for 68 months, he would probably have over $40,000 invested given 68 X $503 = $34,204.
Is there any wonder why those who are frugal or follow my 1/10th rule for car buying end up much farther head financially than those with zero financial discipline? In 10 years, the $34,000 car will be worth less than $10,000 due to a ~70% depreciation schedule. The investor of the $30,000, however, could have investments worth 5-6X more!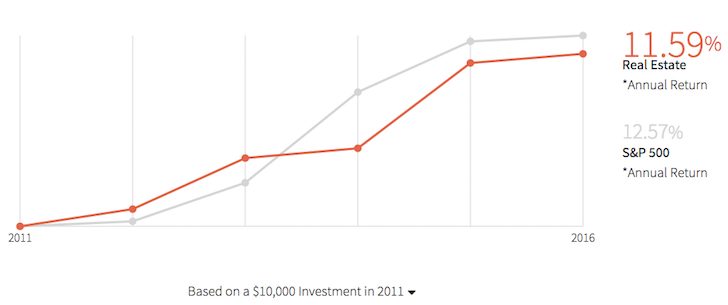 What's Bringing Up The Average Car Price?
It still baffles my mind that the average net car price is about $48,000. As someone who drove a $8,000 used Land Rover Discovery for 10 years and more recently, a $20,000 Honda Fit, the average new car price of $48,000 figure is hard to grasp.
Undeterred, I kept on looking for a reason for such a high average new car price when I came upon the SF Bentley dealer and their new Bentayga SUV for $235,000 MSRP, $250,000 nicely equipped.
The car sales people told me they can't keep them in stock because demand is off the charts. It's the same for their colleagues at the Ferrari, Lamborghini, Mercedes, BMW, and Maserati dealers.
In other words, forget about the top 1% who can barely afford a $250,000 vehicle. It's the super rich who have gotten super richer due to the raging bull market!
The top 0.1% are converting more of their funny money into real assets before it all goes poof like the last downturn. The super rich are also seeing folks like George Michael die at 53 with mega millions. As a result, they're telling themselves to live it up while they still can.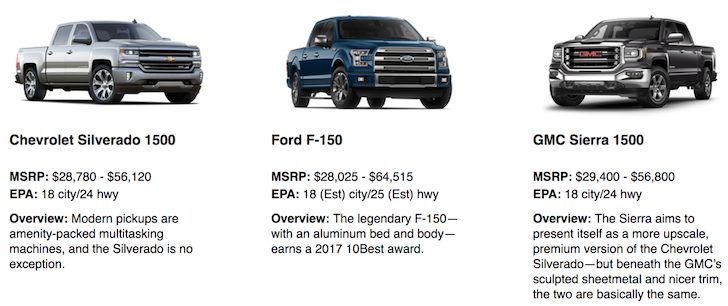 Money Out The Tail Pipe
So there you have it. The super rich and the middle class who don't read Financial Samurai are spending like there's no tomorrow. The super rich don't care about rising interest rates. They pay in cash or lease vehicles as a business expense.
The middle class don't care if they're spending a lot for a new car because they don't know any better. Eventually, the middle class will get crushed again, but for now, let the good times roll!
If you have a business, you might want to consider getting a heavy SUV or truck so you can deduct it's cost. This is one way the typical American business owner can lower the cost of a new car.
Achieve Financial Freedom With Real Estate
Instead of spending money on the average new car price, invest in real estate instead. Real estate is my favorite way to achieving financial freedom. It is a tangible asset that is less volatile, provides utility, and generates income.
The easiest way to invest in real estate is through a publicly-traded REIT, private REIT, or real estate syndication. Take a look at my two favorite real estate crowdfunding platforms. They are free to sign up and explore:
Fundrise: A way for all investors to diversify into real estate through private funds with just $10. Fundrise has been around since 2012 and manages over $3.3 billion for 400,000+ investors. 
The real estate platform invests primarily in residential and industrial properties in the Sunbelt, where valuations are cheaper and yields are higher. The spreading out of America is a long-term demographic trend. For most people, investing in a diversified fund is the way to go.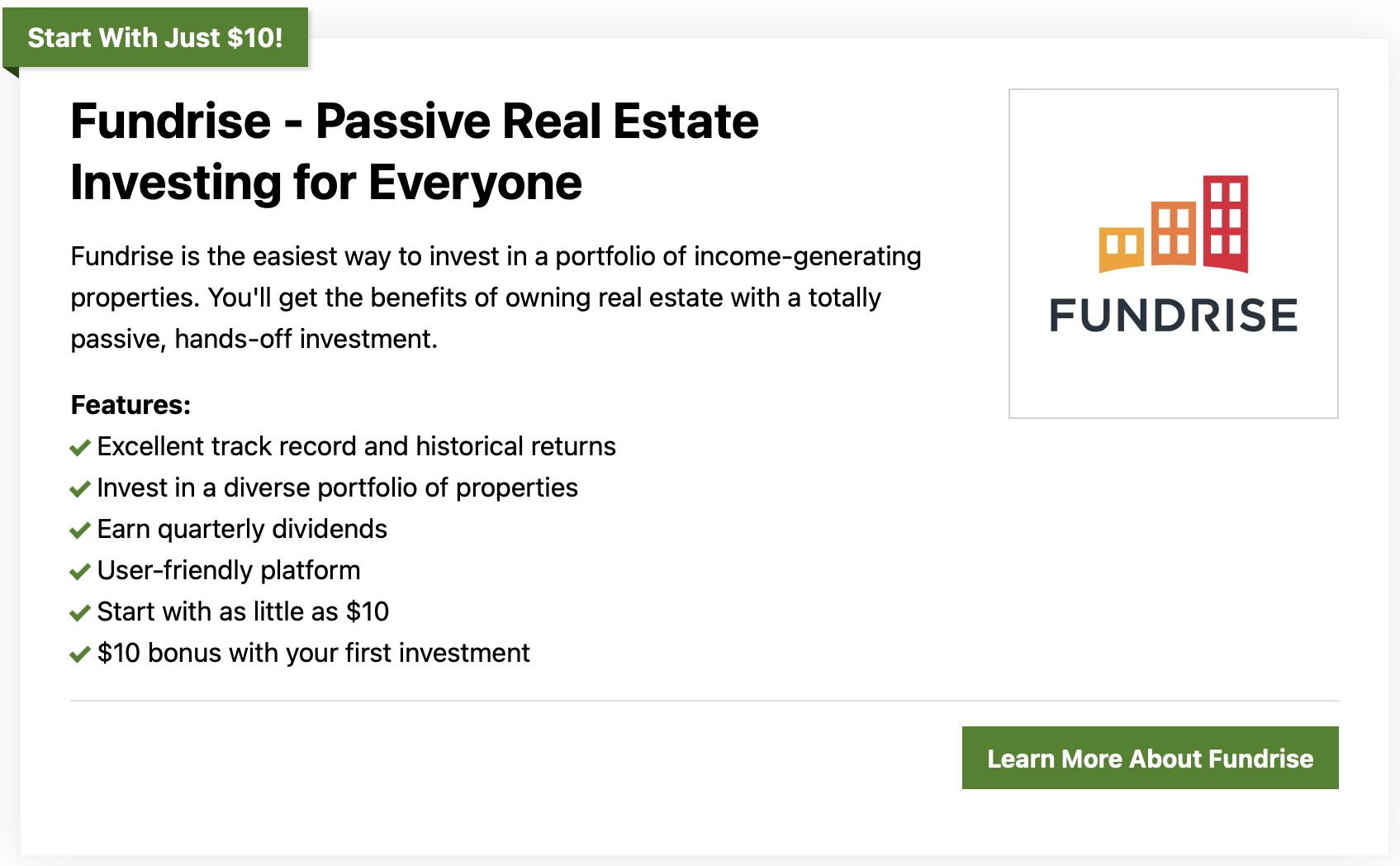 CrowdStreet: A way for accredited investors to invest in individual real estate opportunities mostly in 18-hour cities. 18-hour cities are secondary cities with lower valuations and higher rental yields. These cities also have higher growth potential due to job growth and demographic trends. 
If you are a real estate enthusiast with more time, you can build your own diversified real estate portfolio with CrowdStreet. However, before investing in each deal, make sure to do extensive due diligence on each sponsor. Understanding each sponsor's track record and experience is vital.
I've personally invested $810,000 in real estate crowdfunding across 18 projects. My goal is to take advantage of lower valuations in the heartland of America. My real estate investments account for roughly 50% of my current passive income of ~$300,000. 
Buy The Best Book On Becoming Rich, Happy, And Free
If you want to read the best book on achieving financial freedom sooner, check out my instant Wall Street Journal bestseller, Buy This, Not That: How to Spend Your Way To Wealth And Freedom. BTNT is jam-packed with all my insights after spending 30 years working in, studying, and writing about personal finance. 
Building wealth is only a part of the equation. Consistently making optimal decisions on some of life's biggest dilemmas is the other. My book helps you minimize regret and live a more purposeful life.
It'll be the best personal finance book you will ever read. You can buy a copy on Amazon today where it is a bestseller. The richest people in the world are always reading and always learning new things.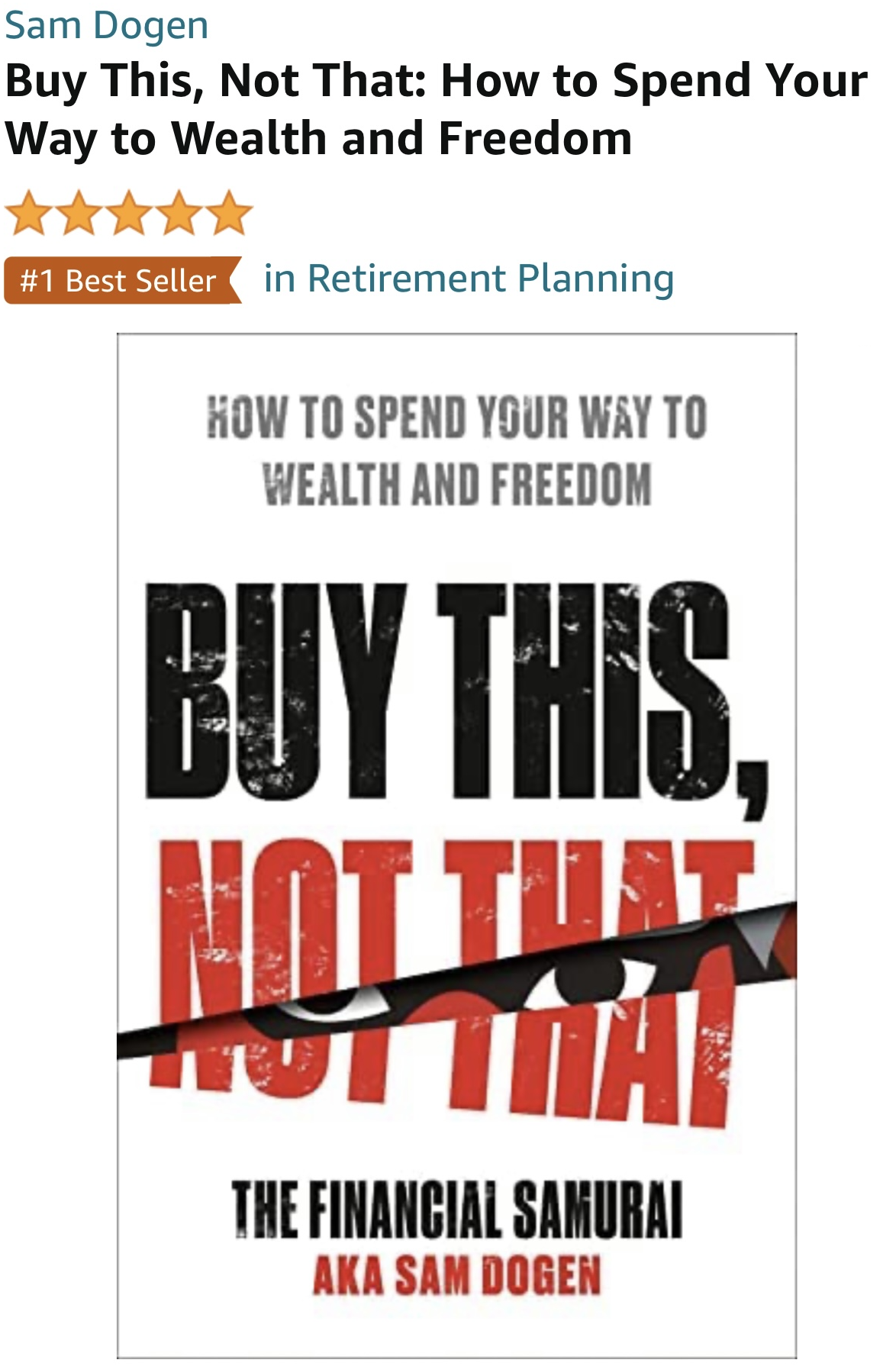 The average new car price will keep going up post-pandemic due to supply bottlenecks. Inflation is likely going to last longer. Therefore, it's important to invest to ride the inflation wave while keeping prices down.
Join 60,000+ others and sign up for the free Financial Samurai newsletter. Financial Samurai is one of the largest independently-owned personal finance sites that started in 2009.